Another Albany: Rapp Road Residents document the Great Migration
April 28, 2017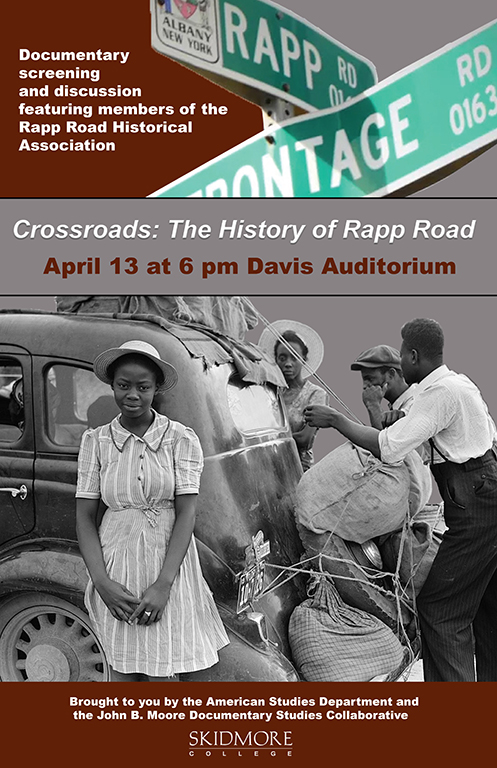 The American Studies Department hosted a screening of Crossroads: The History of Rapp Road, followed by a panel discussion led by Assistant Professor Amber Wiley with Stephanie Woodward, Dina Ranellucci, Beverly Bardequez and Todd Allen Ferguson, all members of the Rapp Road Historical Association and descendants of the original community settlers. Bardequez and Ferguson collaborated on the production of the documentary, which debuted on PBS's WMHT in fall 2016.

The Rapp Road Community Historic District is located in the Pine Bush area of Albany, New York. It is a 14-acre residential neighborhood. The Rev. Louis Parson, who left Shubuta, Mississippi, to escape the racism, oppression and terror of the Jim Crow South, founded the community in 1927. It is one of Albany's oldest structurally and socially preserved residential neighborhoods still standing today.
Below are excerpts from reflections by students in Wiley's courses "American Culture," "African American Experience" and "Cultural Geographies," offering nuanced responses to the film and discussion.
---
"Immediately upon entering Davis Auditorium, I was astounded by the strong sense of community that all members felt. Traveling all the way from Shubuta, Mississippi, the first-generation settlers all belonged to the church that had originally bought the land around a carriage road to partition off to community members. This sense of fraternity was not short-lived, however. For generations, the area was known to harbor resourceful individuals. Going as far as to dig a wider road so that a bus could transport their children to newly integrated schools and purchase old wood to support their newly built homes, the residents of Rapp Road came together in a large cooperative willing to help any of their brethren in need.
"When talking about the community and the individuals in the documentary, many discussed the way in which all of the community "pulled themselves up by their bootstraps" and were unapologetically themselves. In a storytelling fashion, the head of the Rapp Road Historical Society brought three generations of her family to discuss the visibility that the community gains in holding large events such as these. Viewing these three generations (she, her daughter and her daughter's son) provided the idea that the essence of history is not taught rigidly in classrooms, but taught through oral traditions. Thus this community is now not only a physical place but also one that ties people from across generations to tell the story of those who came before them.
"While attending this event, I could not help but to relate many of the struggles that individuals living on Rapp Road experienced to what many of the African-Americans were feeling throughout history. The self-help mentality that the residents of Rapp Road seem to have embodied closely resemble the ideals of Booker T. Washington, who preached the idea of racial solidarity. Building their own homes from the materials around them, supporting one another in times of financial hardship and spiritually uplifting one another through church services, this community truly embodied Washington's values.
"In addition, reference to the Rapp Road community as the "promised land" mirrors the biblical references many African-Americans referred to the north as during the early stages of the Great Migration. Combining the nostalgia of the physical surrounding with the newfound freedom that these former sharecroppers experienced, Rapp Road truly become their salvation for generations to come. These similarities ultimately makes Rapp Road an microcosm of major issues that African-Americans all over the country were grappling with."
—Alicia Gallant '20, AM 264 "African American Experience"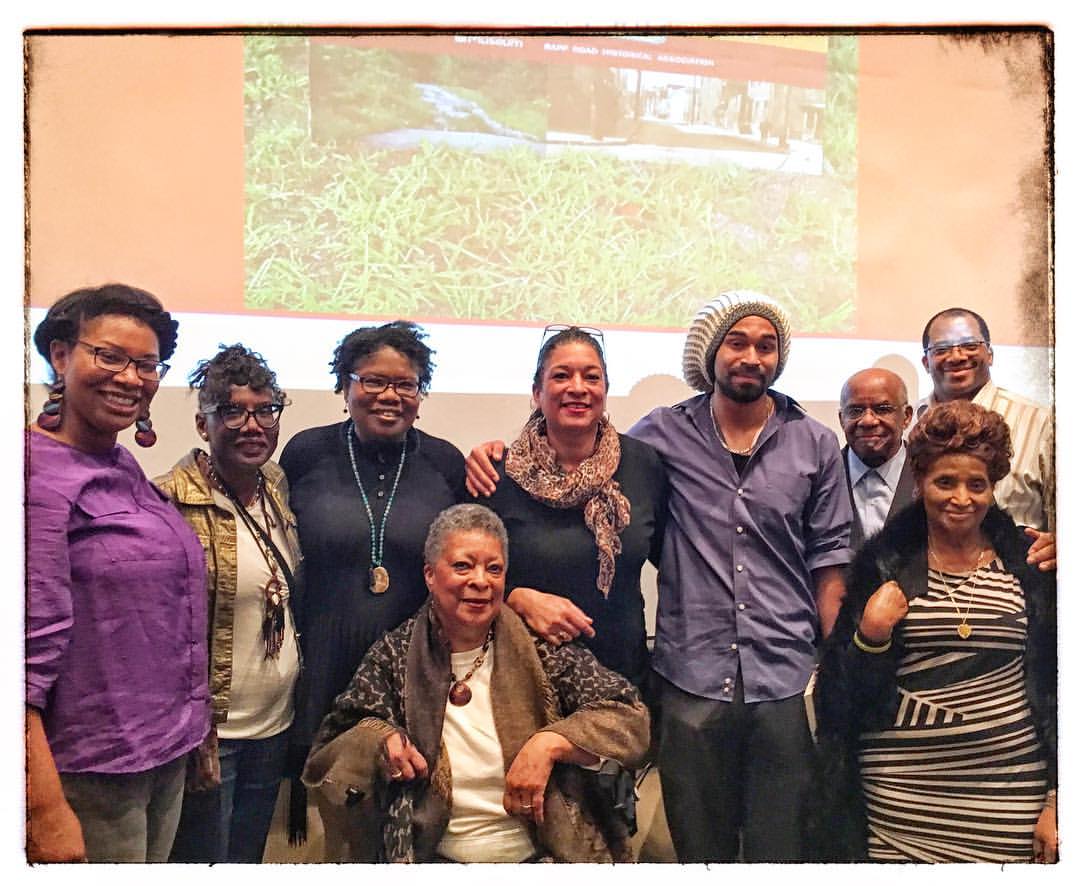 Wiley (left) with Rapp Road residents
"Shortly after leaving the presentation of Crossroads: The History of Rapp Road as well as the discussion that accompanied it, I attempted to explained the rich and important history of Rapp Road to my mother, ultimately concluding that we would have to take a tour of the community sometime, hopefully this summer. I was so enthralled by the story of the community, especially after hearing it firsthand from members of the community and children and grandchildren of those who had lived and breathed Rapp Road. I questioned to myself why such a seemingly important and intriguing place such as Rapp Road was so neglected in the national spotlight. While it is a nationally recognized historic site, the story of Rapp Road, including how it came to be and what kept it running, is something truly inspiring and fascinating.
"Part of what makes the story of Rapp Road so appealing and so special was the way in which it was presented in both the film and in the discussion by citizens of Rapp Road from many generations. They all expressed a special connection to the place as they personalized the significance of it to them and what makes it so special. The guests' ability to dictate their lives through Rapp Road was especially captivating and endearing. For example, clear illustrations of the annual family reunion barbecues revealed the true sense of community and love that the neighborhood was built on and lived on. Other stories of childhood trips to Rapp Road, running around in the fields gave the place a sense of relatability that should appeal to all Americans.
"Stories like these that came from the heart brought Rapp Road to life in Davis Auditorium. Those stories tie into the rich heritage of Rapp Road and religious roots of it.
"The backbone of the community as a religious community with a church at its core also intrigued me. Even in the discussion, the guests made many references to religion as a key component of Rapp Road. While I have heard stories like this where religion was a driving force in ensuring success and community, the way in which it drove migrants to Rapp Road to create what they did seemed truly unique and important. Regardless of the religious significance behind it, the story of Rapp Road itself is a forgotten and incredibly telling case of the American Dream and African-American experience. The story of Rapp Road should be seen as one of the most intriguing and important results of the Great Migration, yet it is often ignored. It is a collection of stories so often left out that a whole aspect of whole American experience is forgotten."
—Isaac Weiss-Meyer '20, AM 101W Cultural Geographies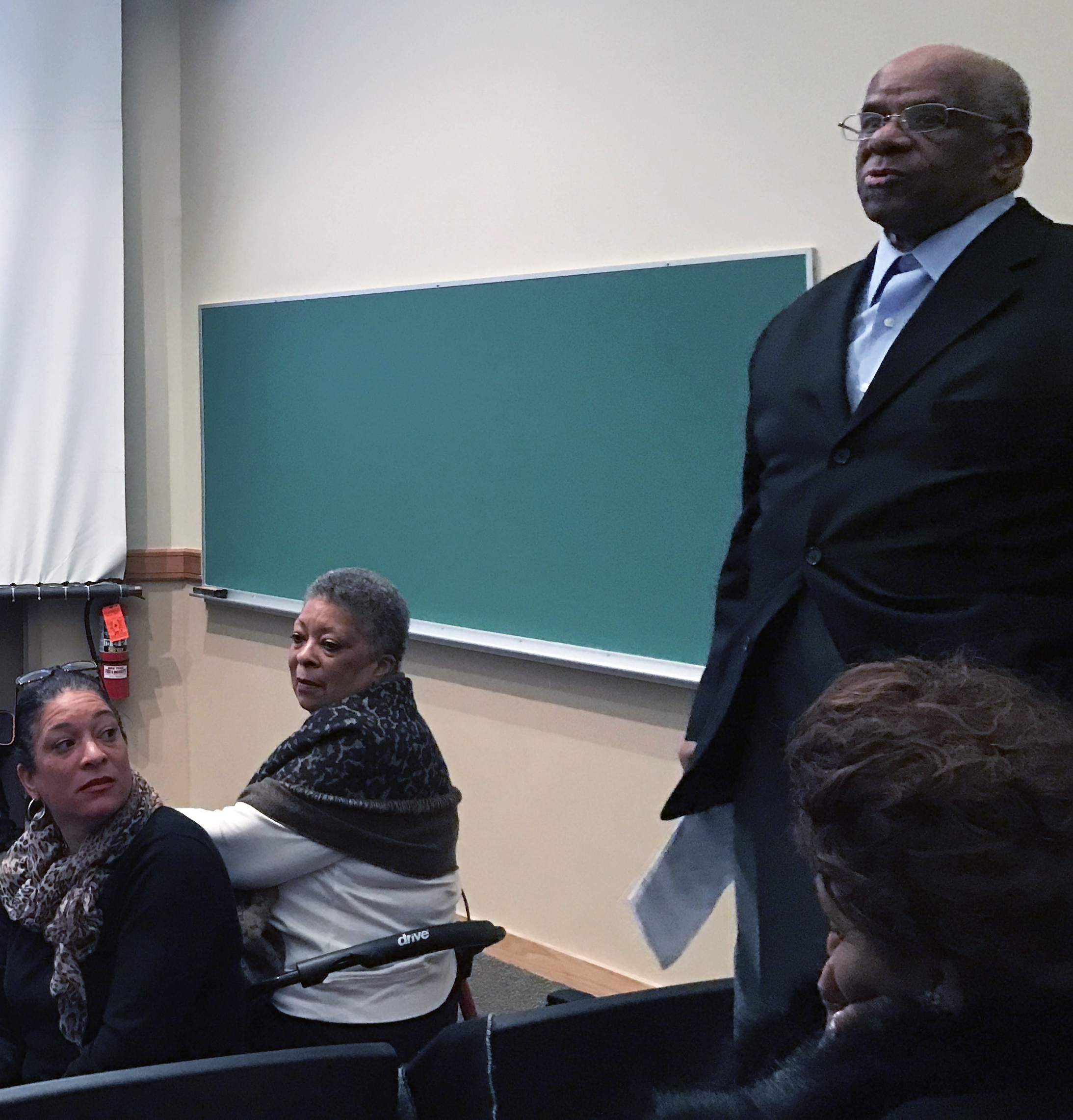 "The Rapp Road community encapsulates many elements of the Great Migration story, through its initiation, construction and perpetuation. The elders emphasized the faith and bravery the initial founders had to leave their homes in the Jim Crow South with little knowledge of where they were going or what future community might take shape.
"Upon arriving in Albany, they faced new challenges with discriminatory mortgage policies and school transportation systems, crime and unfamiliar urban life. One woman recalled how strange it was for her to live in Albany's tenant housing; to her a home meant a house with a yard, a place to grow vegetables and let the children play.
"The families in the church community relocated again, migrating from the South End of Albany to construct new homes in the Pine Bush. This unique ecosystem of tall pines and sand was reminiscent of many migrants' former homes in Shubuta, Mississippi. Here they constructed their homes, established a church and began to build a new relationship with this place.
"The gardens and livestock that stretched along Rapp Road were not only a means of sustenance and livelihood, but helped to sustain the migrants' sense of place. These plants and animals connected the migrants to the Pine Bush landscape by embodying a form of interaction with the land that also provided them with a sense of continuity from their Shubuta homes and lifestyles. 'We gotta go out to the country,' a third-generation resident recalls her grandmother urging.
"Today the community persists, with seven of the original 23 families still living on Rapp Road. It is listed on the National Registry of Historic Places and serves as a means of educating future generations about this piece of their past. It is also a vital gathering point for the families to reunite, both through the annual reunion and through ongoing documentation.
"However, Rapp Road continues to face challenges in the form of environmental siting practices and development encroachment. A highway expansion cut through the area and drastically altered traffic flow. Additionally, an Albany landfill was located on Rapp Road and was subsequently expanded multiple times. As the landfill is now being closed, with some modest efforts at habitat restoration, new threats emerge from urban expansion in the form of a proposed mall.
"The Pine Bush habitat itself has a long history with preservation organizations—the ecosystem is now designated as a National Natural Landmark, replete with a discovery center and interpretive trails. Meanwhile, the perpetuation of this community that has made this place their home continues to be precarious and uncertain."
—Julia Cavicchi '18, AM 352 City in American Culture
"Coming into the night, I did not know what to expect. I knew that the Rapp Road was of some historic significance, and that it is located in Albany, just 40 minutes away from us. I had no idea how moved I would be by the night and how much hope I felt for our future. Mostly, I felt honored to be in the presence of such strong, persevering people. The amount of strength present last night was astounding.
"The documentary film interviews first-, second- and third-generation inhabitants of Rapp Roads and is therefore able to give a range of depictions of not only how Rapp Roads functioned but how the inhabitants viewed it growing up and view it now. Toward the beginning of the documentary residents were asked what they knew Rapp Roads to be. One individual chuckled that Rapp Road was just a dirt road at first. Another individual said it was beautiful; another still explained how it was special to her as it was where her parents made a life for themselves and her family. Finally, one woman stated that it meant preservation of history, and no one could take that away. This comment really stuck with me. So much of black history has been erased and whitewashed. Rapp Road's historical recognition runs deeper than just being able to remember; it means no one can forget. It was because of these primary sources that I got such a deep understanding of how strong these peoples were (and are).
"Toward the end of the film, and later on in the discussion, it was explained that Rapp Road has been threatened with being moved. More people are trying to move into the area. This makes me think that there will be a level of gentrification, as more affluent white families come into the community. What was so powerful about last night was seeing such pride in lineage; such history of heritage. I see a lot of these kinds of dynamics threatened nowadays, as people overlook these incredible stories.
"Faith played a huge role in the lives of these individuals, created for members of the Parson's church, these individuals fought for their lives in the name of faith. They believed in God and continued to lived peacefully yet ambitiously, thanks to this belief in a greater good. This power had a profound impact on me. Strong and faithful, these people are some of the kindness humans I've come across and incredibly family oriented.
"I want to channel this faith that these families had, not in religion necessarily, but in the power and goodness of humans. As a sociology student here at Skidmore, I find I can often have a fairly jaded outlook on humanity. Last night restored a lot of that for me. I want to believe that Rapp Roads will not go unknown. I want to personally spread the word of it's existence and honor the people who immigrated there in search of refuge. I so enjoyed going to see Crossroads: The History of Rapp Road and listening to the discussion. I am incredibly thankful that I had the opportunity to go.
—Julia Gillis '19, AM 264 African American Experience