Book illustrator Arthur Szyk to be Fox-Adler topic
September 16, 2011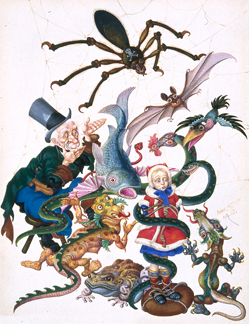 "The Girl Who Trod on a Loaf," from
Andersen's Fairy Tales, New York, 1945
Judaica scholar and art dealer Irvin Ungar will deliver this year's Fox-Adler Lecture at 5:15 p.m. Thursday, Sept. 22, in Gannett Auditorium of Palamountain Hall on the Skidmore College campus. The lecture is titled "Arthur Szyk: Book Illustrator Extraordinaire!" Admission is free and open to the public.
Ungar is an international authority on the work of Polish-born artist Arthur Szyk (1894-1951). In his early years, Szyk studied art in Paris, visited Palestine, and fought briefly in World War I. His illustrations appeared in a wide range of books, including one on the German revolution of 1918-19; he also created a series on George Washington and the American revolution. After moving to the U.K. in 1937 and to the U.S. in 1940, Szyk became famous for his caricatures of Hitler, Mussolini, and Hirohito during World War II. Along with these and other politically charged works, he illustrated Hans Christian Andersen and Mother Goose tales, The Arabian Nights, and books of the Old Testament. Perhaps his magnum opus was a richly decorated edition of the Haggadah, a central book in Jewish tradition and ritual. In 1948 he was thrilled to illuminate the Hebrew text of the new state of Israel's Declaration of Independence.
Unlike many other caricaturists, Szyk is known for his attention to detail and color, often reflecting medieval illumination and Renaissance painting traditions more than modern styles. His work and renown have seen a Renaissance of their own since the late 1990s, with exhibitions in Krakow, Warsaw, and Lodz, and with the wider advocacy and scholarship of Irvin Ungar.
A rabbi with degrees from the Academy for Jewish Religion, New York University, and New York Theological Seminary, Ungar has been a longtime Judaica dealer as CEO of Historicana, which specializes in the works of Arthur Szyk. Ungar has curated and consulted for major Szyk exhibitions in San Francisco, Chicago, and Washington, D.C., as well as at Berlin's German Historical Museum. He is the author of Justice Illuminated: The Art of Arthur Szyk, co-producer of the film Arthur Szyk: Soldier in Art, and publisher of limited-edition volumes such as The Szyk Haggadah (2008) and Heroes of Ancient Israel: The Playing Card Art of Arthur Szyk (2011). Ungar is the curator for the nonprofit Arthur Szyk Society.
Ungar's lecture is the 23rd annual Fox-Adler Lecture at Skidmore.The series is named for Norman M. Fox and Hannah Moriarta Adler, connoisseurs and collectors of rare books. Adler first loaned her extensive collection of 19th-century books to Skidmore in 1967, and after her death Fox and his family took charge of it, later donating it permanently to Skidmore's Scribner Library.
In conjunction with the Sept. 22 lecture an exhibition is currently on display in the Scribner Library titled "Arthur Szyk: Book Illustrator Extraordinaire." Wendy Anthony, special collections curator, Lollie Abramson, the new coordinator of Jewish life, and Catherine Golden, professor of English who annually coordinates the lecture, created the exhibit to provide information on Szyk and tocelebrate his range as an illustrator. The exhibit also showcases selections from the private collection of Norman M. Fox and Skidmore College.Admission is free.