Making GED a reality
December 14, 2012
Making GED a reality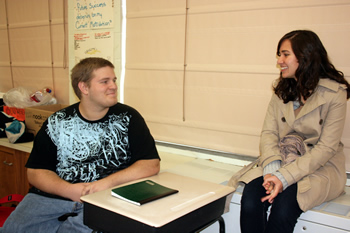 Lauren Narine '13 and GED student Rick Doyle.
December 14. 2012
Each week, a trio of social work majors (Erin Curran and Lauren Narine, both Class of '13, and Amanda Seres '14) spent time, one-on-one, with GED hopefuls at the F. Donald Myers Educational Center, located on Henning Road in Saratoga Springs. They zeroed in on everything from self-esteem to math fluency. But more important, these three and their professor demonstrated that attending college is an attainable goal.
"The whole idea of a GED is 'start here and go anywhere'," said GED teacher MichelIe Maddella at the center. "I see huge benefits for the students. The college students, who are close in age to my students, model behavior, and our students have a social experience with college students. It makes the idea of going college more real. I think it's going great."
The Skidmore students were enrolled in the course SW333 "Social Work Practice with Individuals and Families" and were required to complete 40 hours of volunteer service with an agency of their choice. They collectively decided on BOCES.
Narine got involved because "I wanted to learn about a population of students I hadn't worked with in a setting I did not know about." She initiated a community service project involving collecting empty bottles and cans from around the BOCES campus and redeeming them for the deposit, with a plan to donate the proceeds to Shelters of Saratoga. Said Narine, "This project allowed me to work closely with BOCES student Tanya of Saratoga Springs. She is very artistic and was great at making posters and promoting this project. It also gave us one-on-one time together, where I learned a lot about her plans after the GED. She said that she wanted to go to college, so I was really motivated to try and make the college visit of the GED students to Skidmore happen."
Three BOCES students (including Tanya) and Maddella visited the campus, where the Skidmore students took them to a class, to lunch in the dining hall, and on a walk around campus. It was a special event, said Narine. "It had been a few weeks since I'd volunteered at BOCES, and so when I met up with the students at Skidmore, Tanya seemed very happy to see me. I wasn't sure if I was making an impact in the students' lives. But that moment when I saw them again, there was a connection on both our parts. And the idea that we maybe opened up another option for these students' future is really important to me," she added.
Tanya said she loved working with Narine. "When I work with Lauren, I feel less nervous," said Tanya. "We are working together on some projects, and she is helping me bring out a more creative side. I feel close to her and can be myself."
Others agreed. Aaron, who worked with Curran on an art project, said her ideas helped him to get to know himself better—which helped others to understand him too. "It helps us relate better to each other," he said.
Curran's art projects centered on building confidence and self-esteem. She said, "Over the course of the semester I was able to build positive relationships with these students and serve as a support system for them. My experience at BOCES was one of the most fulfilling and rewarding things I have done at Skidmore." The social work major is looking forward to returning to BOCES in the spring semester to complete her senior field placement.
Seres, a social work and English major who minors in education, helped the BOCES students master quick math computations. She said students often spend too much time on the GED math section because they can't do multiplication or division with speed.
"We don't want them to lose time on a question," she explained. "So each day that I was there, I would catch up with them at first—talk about what's going on in their lives—and then we worked on multiplication. Everyone is at a different level, so I measured their baseline and then we go from there. Actually, coming here was my favorite part of my week."
The peer-mentoring program began as a result of BOCES Principal Shawn Hunziker receiving a letter asking him to nominate his favorite Skidmore College community volunteer. Realizing that the college students are present in many areas of the city, he reached out to Crystal Moore, associate professor and chair of Skidmore's Social Work Department.
"Students often feel that they don't have potential and that they can't go to college," said Hunziker. "We want to give them positive peer models. We also wanted to expose them to college students, to help them understand what college is. Later in the year, we'll do a college visit where the students shadow their mentors. Going with the mentors will make the experience more meaningful."
Moore, who dropped out of high school and later earned the California equivalent of a GED, said that the relationship between BOCES and Skidmore is a win-win.
"Mentoring is a two-way relationship, and my students can use their experience and skills to teach the BOCES students, and the BOCES students teach my students as well," Moore said. "My students are given the opportunity to interact with a person who has had a different set of experiences. It gives them a new and fresh way to look at education and the world."
Hunziker said he loves the bond that students are building; he finds that the students respond more when one of the college students advises them as opposed to one of the teachers. In addition, he said it's essential to show the GED students that the nontraditional route is a viable one.
"A lot of these kids feel they are at a dead end. This gives them hope."
Moore says she wants the BOCES students to discover the love of learning, as she eventually did.
"I made decisions that put my studies last and my social life first. I failed a few classes and decided to leave high school. Not too long after that, I realized that if I continued to take risks and lead my life in an unhealthy way, I wouldn't last very long," she said. "I hope the BOCES students are inspired to continue their education. I hope that my students can embody how exciting learning can be and that it can be a path to discover one's purpose and explore their dreams. Ultimately, I hope that each BOCES student can realize their unique potential. I know that each of them has something wonderful to give to the world to make it a better place."
Posted On: 12/14/12