Smith's new book focuses on Italians in China
March 25, 2012
Smith's new book focuses on Italians in China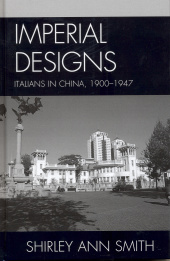 Shirley Ann Smith, associate professor of Italian, is the author of Imperial Designs: Italians in China, 1900-1947, released in early March by the Fairleigh Dickinson University Press Series in Italian Studies.
This is the first text in English dealing comprehensively with the subject of the Italian colonial experience in China in the 19th and 20th centuries. Recent scholarship on both the liberal and fascist Italian colonial enterprise centers on the Mediterranean and Northern Africa - expeditions, wars, ultimate occupation of territories, and their effect on and in Italy even up to most recent times. This study opens another chapter concerning the other side of the globe and three Italian enclaves there: Beijing, Tianjin, and Shanghai.
Starting with the publication of Rose Basile Green's The Italian-AmericanNovel in 1974, Fairleigh Dickinson University Press has been a leader in the field of Italian Studies. It has published Italian literature in translation, historical and literary studies on Italian themes, and many works on Italian-American immigration, literature, politics, and culture.
For more information on Smith's new book please visit the publisher's web site.