Thoroughbreds show their winning ways
September 24, 2012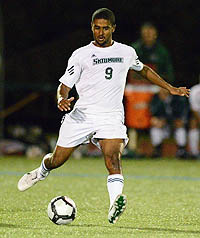 Adam Beek
Men's soccer posted a 2-0 record this week, highlighted by a 1-0 victory over No. 2 St. Lawrence. On Wednesday, senior Alex Amini (Brooklyn, N.Y.) scored and freshman goalie Eli Kisselbach (Stamford, Conn.) made six saves in a rain-soaked 1-0 shutout against Cazenovia. Against St. Lawrence, sophomore Adam Beek (Kingston, Jamaica) tallied the lone goal and Kisselbach made 10 saves for his fifth solo shutout of the season. The win snapped the Saints' 32-game, regular-season unbeaten streak and 17-game Liberty League streak. The Thoroughbreds are now 6-1-1 overall and 2-0 in league play. They travel to RIT for a 4 p.m. start Friday, Sept. 28.
Men's golf came from behind to defeat RPI in a one-hole playoff to win the Liberty League qualifier. With the win, Skidmore will now host RPI, Rochester, and St. Lawrence in the spring for the league championship. Senior Anthony DiLisio (Swampscott, Mass.) earned medalist honors with a one-over 72-71—143. DiLisio also earned first team All-League honors along with classmate John McCarthy (East Greenwich, R.I.), while sophomore Zach Grossman (East Hampton, N.Y.) and freshman Tim Manwaring (Keene, N.H.) earned second team honors. The Thoroughbreds return to action Oct. 14 at the Division III GolfWeek Invitational in Destin, Fla.
Field hockey improved to 8-0 with a pair of Liberty League wins over Vassar and Union. Against Vassar, Skidmore scored twice in the final 1:37, including the game-winner from freshman Dani DeGregory (Greenwich, N.Y.) with no time remaining to complete the comeback victory. The final score was 3-2. In Saturday's 6-0 win over Union, junior Kelly Blackhurst (North River, N.Y.) tallied three goals and an assist to extend the Thoroughbreds' Liberty League winning streak to 19 straight games. No. 6 Skidmore hosts No. 3 Middlebury at 4 p.m. Wednesday, Sept. 26.
Men's golf team
Volleyball improved to 7-4 this week with victories over Union, Trinity and Amherst. Against Union, junior Corinne Palmer (Montvale, N.J.) had 17 kills while senior Mallory Mendelsohn (San Francisco, Calif.) added 44 assists. In the doubleheader sweep of Trinity and Amherst, Palmer totaled 30 kills and seven blocks, while Mendelsohn had 76 assists and 21 digs in the victories. The Thoroughbreds are now 7-4 and host Clarkson and Bard in a pair of Liberty League matches this Friday, Sept. 28.
Men's tennis came from behind to earn a 5-4 victory at Trinity on Saturday. Juniors Oliver Loutsenko (Bellmore, N.Y.) and Danny Knight (Ponte Vedra, Fla.) were double winners for Skidmore who won four of the six singles matches to come from behind and earn the win. The Thoroughbreds return to action this weekend at the ITA Regionals in Ithaca.
Women's soccer went 0-1-1 in a pair of Liberty League games this week. In a 1-0 loss at Union, junior goalie Gab Lawrence (Yorktown, N.Y.) made 10 saves; she finished with four in a 0-0 tie at St. Lawrence. Skidmore is 1-5-1 on the year and hosts RIT and William Smith this weekend. ~ By Cody Berschwinger
Posted On: 9/24/2012