Play's lesson resonates long after curtain falls
December 12, 2013
Miguel Vicente Gonzales '14, assistant directorof Polaroid Stories, occupies the couch, which
was installed on the Case Center walkway.
(Photo by Madi Ellis '14)
Most theater companies shut down and disperse once the production has concluded. But that was not the case this fall for the students involved in Polaroid Stories, the fall Black Box production directed by Eunice Ferreira, assistant professor of theater. Weeks after the production, cast members were still fully engaged with the play's key themes.
Throughout the fall, as students prepared and rehearsed, Ferreira maintained dual roles as director and teacher. She helped students bring the play to life on stage, and encouraged them to learn about the reality that informed its stories. The play, by Naomi Iizuka, is "a visceral blend of classical mythology and real-life stories told by street kids. Polaroid Stories journeys into a dangerous world where myth-making fulfills a fierce need for transcendence, where storytelling has the power to transform a reality in which characters lives are continually threatened, devalued, and effaced," Ferreira wrote in her program notes. Critics have praised the work's gritty reality.
According to Ferreira, the play's interweaving of real stories and mythology lends itself to a "highly theatrical, metaphorical" story. "I wanted the students to be grounded in the reality of the stories," she said. She invited representatives of Shelters of Saratoga and CAPTAIN Youth and Family Services of Clifton Park to meet with the cast and crew during rehearsals and share information about homelessness in this region. Using Theater for Social Change as her starting point, she encouraged the students to reach out into the Saratoga Springs community to learn about youth homelessness in Saratoga County.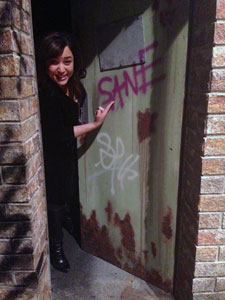 Eunice Ferreira on the set of Polaroid Stories.
"Theater for Social Change (which uses theater as a means to raise awareness of social issues and advocate change) influenced how I saw this play," explained Ferreira. It also influenced how the production was staged. There was no curtain call for the actors. Instead the play ended with a flutter of Polaroid images drifting onto the stage. "I wanted the audience to feel unsettled at the end, and to think of this as more than a piece of theater," she added.
An information table containing literature from groups that assist the homeless was set up in the lobby for the audience to see on the way out of the theater.
The Polaroid Stories epilogue took place a few weeks later, when members of the cast and representatives of CAPTAIN participated in "Couch Surfing" to mark National Homeless Youth Awareness Month. On a cold November afternoon and evening, cast members set up a table and couch on a main campus walkway, where they took turns sitting and talking to passers-by. Joining them were CAPTAIN representatives Sharah Yaddaw, street outreach coordinator, and Charlie "Sleepy" Howe, a member of the street outreach team. In their work they focus on building relationships with young people who live on the street.
For 14 years, Howe was homeless (he calls it "home free") in San Jose, Calif. His experience leads him to out-of-the way places — along highways and under bridge supports — to connect with homeless youths.
Howe said that there are about 300 registered homeless youth in the county. He and his colleagues believe that the true number is between 500 and 700. Although reasons for homelessness vary, he and his colleagues see a disproportionate number of lesbian, gay, bisexual and transgender youth in this population. Conflicts at home often lead to the banishment of youths who identify as LGBTQ, said Howe. Other reasons include aging out of foster care, childhood trauma (such as sex abuse or commercial sex exploitation), generational poverty and family dysfunction.
Charlie Howe and Sharah Yaddaw of
CAPTAIN. (Photo by Andy Camp)
Howe suggested that students could help combat the dehumanizing aspects of homeless through simple actions. He told them, "Just smile. If you don't have money, just say hello. Just recognize me." This was a powerful message for the students, said Ferreira, who recalled the action of a cast member. She was at a local grocery store and saw a woman looking for money for a meal. Said Ferreira, "The student gave her some money and sat and talked with her for a while. Another student bought complete meals for two homeless men she saw outside of Price Chopper."
Organized by cast member Alison Schaufler '14, "Couch Surfing" piqued the interest of many along the walkway. The project was designed to portray the face of youth homeless. Students were encouraged to take pictures of the couch and post to their favorite social-media site, using the tag #hiddenyouthhomelessness, to draw attention to the issue.
Xavier Hatten '14, who had a role in the play, was among the first to sit. The Cleveland resident said, "Doing this raises awareness in students. We're always busy, writing that paper. Our blinders are up and we're oblivious to these kinds of issues. As an African American male at Skidmore, I did not recognize my own privilege. I have a warm house and a change of clothes every day. Something as simple as changing your socks every day can be special."
Clara Moser '17, another cast member, said the event was designed to "get people to think of something else during their day. There is a Skidmore bubble. We're hoping to get people to see outside of the bubble."
The connection between the timing of the play and National Homeless Youth Awareness Month galvanized Ferreira. "When I found out about National Homeless Month I wanted to help promote it, because I felt an obligation to shed a spotlight on this topic. So I shared it with students, and they did an amazing job," she said.