American studies scholar to give Moseley Lecture Feb. 26
February 21, 2014
American studies scholar to give Moseley Lecture Feb. 26
Feb. 21, 2014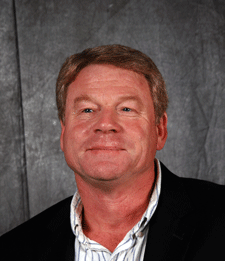 Greg Pfitzer (Andy Camp photo)
"The Unpopularity of Popular History: A Scholar's Pursuit of Non-Scholarly Things" is the title of the 2014 Edwin M. Moseley Faculty Research Lecture, to be delivered by Skidmore Professor Gregory Pfitzer at 8 p.m. Wednesday, Feb. 26. Free and open to the public, the talk will be in Gannett Auditorium, Palamountain Hall.
Pfitzer, former chair of Skidmore's Department of American Studies, is currently the Douglas Family Professor in American Culture, History, and Literary and Interdisciplinary Studies. He will discuss his 30-year ongoing interest in "popular" history—typically offered by journalists, fiction writers, and artists, among others—and "professional" history, as written and practiced by credentialed scholars. He studies how various genres rise and fall, and how popular history has changed over time. Said Pfitzer, "At some point we take all history on faith, although certain standards are used to determine what did or did not happen."
According to Pfitzer, pictorial histories influence people's perception of history, even when the pictures are grossly inaccurate. As an example he cites the Revolutionary War episode when Gen. George Washington crossed the Delaware River in 1776 in a surprise attack on Hessian soldiers based in Trenton, N.J. Extremely risky and shrouded in secrecy, the event was immortalized in a painting created in 1851 by German American artist Emanuel Gottlieb Leutze. His image depicts a bold general standing in a boat loaded with troops laboring to cross an ice-clogged river. The painting contains numerous historical and physical inaccuracies—Pfitzer calls it "over the top." Yet it remains an iconic image for many Americans.
He added, "Often, cinematic treatments of historical events resonate with people, even as professional historians object to such treatments."

Pfitzer's current research centers on history for young readers. He's studying children's historical books of the 19th century, which he calls "monosyllabic stories of historic exploits," often about the childhoods of famous adults or boys and girls. Currently, many of these books are being re-issued by publishers on the Christian right for the home-school market. Said Pfitzer, "Some students in America today are receiving history lessons from books that were written in the 1840s." He has titled his research project "History Repeats Itself: The Republication Phenomenon in Children's Historical Literature and the Christian Right." It will be Pfitzer's fourth book when published later this year.
While Pfitzer takes exception to those who reissue old, flawed histories for contemporary audiences, he enjoys reading works by skilled authors who are not necessarily historians, such as David McCullough, the award-winning writer known for narrative histories, who Pfitzer said deserves credit for "making John Adams sympathetic." He added, "There are different ways of thinking about people, like John Adams. I am interested in a broad sweep of popular and professional writing. It's great that authors like David McCullough bring people like Adams to life for readers."
Said Pfitzer, "I think this is a great time to be a historian. There are many exciting debates and discussions about multiple histories—what do you like better and why? This makes history so much more interesting."
Pfitzer earned a bachelor of arts degree in American studies and history at Colby College, and then a master of arts degree in history and a doctorate in the history of American civilization, both at Harvard. He taught at Colby and at Knox College before joining the Skidmore faculty in 1989. In 2003-04 he was honored with Skidmore's Ralph A. Ciancio Award for Excellence in Teaching.
Pfitzer is the author of three books on popular historical writing: Samuel Eliot Morison's Historical World (Northeastern University Press, 1991); Picturing the Past: Illustrated Histories and the American Historical Imagination, 1840-1920 (Smithsonian Institution Press, 2002); and Popular History and the Literary Marketplace, 1840-1920 (University of Massachusetts Press, 2008). In addition, he has published widely in academic and professional journals on a range of history topics.
Selection as the Moseley Lecturer is the highest honor the Skidmore faculty can confer upon a colleague.