Veteran environmental activist Rod Coronado to lecture
February 24, 2014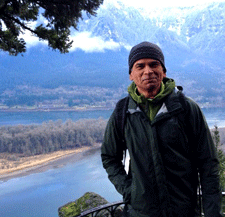 Rod Coronado
Environmental activist Rod Coronado will present "A Voice in the Wild: Citizen Action to Save the Wolf... Again" at 7:30 pm Monday, March 3, in Davis Auditorium of Palamountain Hall on the Skidmore College campus. Admission is free and open to the public.
Skidmore's Environmental Studies Program and Sociology Department are sponsors of the program.
Perhaps best known for his work in the areas of environmental and animal rights, Coronado was active in the Sea Shepherd Conservation Society, Earth First!, the Animal Liberation Front, and Earth Liberation Front. He spent six years in federal prison for his role in ALF and EF! activity related to fur farming, animal experimentation, and government mountain lion hunts in Tucson, AZ. In 2006, he was sentenced to a year in prison, because, according to The New York Times, he "violated a rarely invoked antiterrorism statute" when he gave a very detailed answer to a question about building an incendiary device.
Now 47 and a resident of West Michigan with his wife and their two children, Coronado has returned to the lecture circuit to talk about his life as a so-called "eco-terrorist," and to address the challenges many activists face as they continue to organize against environmental destruction during what he calls "an era of anti-terror legislation, FBI infiltration, and government spying." Coronado will explain his own path toward protecting American predators with organizations such as Earth First! and describe how those efforts led to some change, but also to legal consequences that resulted in his imprisonment.
As a 30-year veteran of the environmental movement, Coronado believes that progress now centers on engaging in campaigns that involve participating in the same public process that is used to develop public policies toward wildlife. He is currently helping to build a citizen-led campaign to stop the hunting and trapping of wolves in his home state of Michigan, where they were hunted this year for the first time since their recovery from near-extinction. He hopes to build a grassroots campaign against the recreational hunting of wolves.
A descendent from the Yaqui tribe of northern Mexico, Coronado incorporates Native American spiritualism into his life and activism. He is currently touring the country giving lectures after an eight-year hiatus, when he was forbidden from writing or speaking as a condition of his release from federal prison.