Tang Museum presents three solo shows
August 4, 2014
The summer lineup at the Tang Museum includes three solo exhibitions of cutting-edge contemporary art.
Opener 26: Jeff Sonhouse: Slow Motion features striking mixed-media portraits of African-American men by the New York-based painter in his first solo museum show. Opener 27: Beverly Semmes: FRP presents works on paper and ceramics from the artist's Feminist Responsibility Project. A third show, Opener 28: Erika Verzutti: Mineral, showcases an installation of bronze, concrete, and wax sculptures in the Brazilian artist's first solo museum show. The exhibitions are organized by Tang Dayton Director Ian Berry in collaboration with the artists.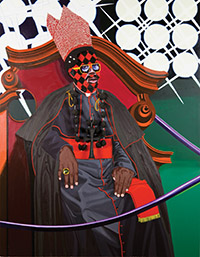 Exhibition A, Jeff Sonhouse
All three artists have developed unique ways to represent their generations and to build on certain histories — issues of race and art history for Sonhouse, images of women and feminism for Semmes, and Brazilian modernism and conceptual sculpture for Verzutti. "The artists build on their particular traditions, and at the same time invent new ways of making and speaking about their experiences and ideas," says Berry.
Sonhouse, for example, "is of a generation of African American artists that are pushing against race as the only way to find meaning in contemporary portraiture and, in turn, makes paintings that resist categorization," Berry explains. Over the past decade, Sonhouse has created a powerful body of work, depicting often-masked figures that move painting into a third dimension. Vibrant in color, enlivened with harlequin patterns and fantastical settings, the works incorporate unusual materials — charcoal, shells, and matches — and are in many instances incendiary, literally. In Meeting at the Crossroads (2003), the figures' hair is constructed of hundreds of matchsticks that the artist individually glued into place and lit for a few seconds before extinguishing. Evidence of the burning becomes part of the work.
Peek, Beverly Semmes
The power of his paintings, says Berry, comes from Sonhouse's unique play on traditions such as: "the formal portraiture of Picasso and the outside edge of pop from the '60s and '70s." The first solo museum exhibition devoted to his work, Opener 26: Jeff Sonhouse: Slow Motion brings together a selection of the artist's paintings from 2003 to the present, including several recently created pieces that will be shown for the first time at the Tang.
At the heart of Opener 27: Beverly Semmes: FRP is a series of new works on paper with page spreads from porn magazines that the artist has "censored" or "clothed" by roughly drawing and painting over explicit parts. Of her Feminist Responsibility Project, the New York-based artist says, "Picture a committee of rogue censors responding to the imagery of porn. They blot out the literal; what is left behind and altered now speaks in a different voice." The resulting works, colorful and visceral, can both shock and seduce. The installation also includes video, sound, a recent series of deep red, floor-standing ceramic sculptures and low-hanging glass chandeliers that join to form an organic, otherworldly scene.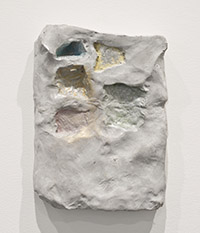 Book of Gems, Erika Verzutti
Opener 28: Erika Verzutti: Mineral is an installation of sculptural works that builds on the artist's presentation at the critically acclaimed 2013 Carnegie International in Pittsburgh. Verzutti creates objects in earthy materials—bronze, clay, concrete, wax—cast in natural shapes suggesting fruits and vegetables as well as ceremonial forms such as totems and gravestones. While the works are organized as one installation, each piece has its own name, and "depending on how one looks at them, they are abstract and fantastical or everyday and familiar," says Berry. Accompanying them is a series of small bronze wall pieces with indents made from molds of things such as eggs or pieces of wood. This is the first solo museum show for the Sao Paulo-based artist, whose work is informed in part by Brazilian avant-garde art of the '50s and '60s that merged minimal conceptual work with organic modernist patterns.
Calendar of Exhibitions and Events
Current exhibitions at the Tang also include I was a double, a multi-layered group exhibition/composition interweaving music and art, co-curated by Pulitzer Prize-winning composer David Lang; Elevator Music 27, Kamau Patton: Torus–Variation 1; and an exhibition curated by Celia Caldas, Class of 2014, Winter Intern.
The public is invited to the following events:
Tuesday, August 5, 1 p.m.—Tour of the Winter Intern Gallery Show student exhibition, with Celia Caldas, Class of 2014.
Tuesday, August 12, 1 p.m.—Tour of I was a double, with Dayton Director and exhibition co-curator Ian Berry.
Tuesday, August 19, 1 p.m.—Tang Inside/Out behind-the-scenes tour, with Assistant Director for Engagement Michael Janairo.
Tuesday, August 26, 1 p.m.—Tour of Opener 26: Jeff Sonhouse: Slow Motion and Opener 27: Beverly Semmes: FRP, with Assistant Director of Curatorial Affairs Rachel Seligman.
For more information visit the Tang web site here.