Skidmore students to perform at Saratoga's international food festival
October 8, 2014
Cuisine from around the world will be available at locations throughout downtown Saratoga Springs on Saturday, Oct. 11, 11 a.m.–4 p.m., when the city hosts its first Saratoga International Flavorfeast, with some 23 local restaurants offering samples of their best international dishes.
Skidaiko in an on-campus performance
There will be plenty of entertainment as well, including performances by Skidaiko, Skidmore's Japanese-drumming club, and 213 Crew, the College's new urban-style dance troupe. Skidaiko will perform at 12:15 p.m. in the parking lot of the Downtowner Motel on Broadway; 213 Crew will perform at 2:30 p.m. in the parking lot of the Parting Glass on Lake Avenue. Other entertainment will include Latin dance demonstrations, a roving bagpiper, a mime, Irish step dancing, and Chinese dance. All entertainment is open to the public free of charge.
Food samples will cost $1 each and will be available from the following restaurants: Alaturco Mediterranean Grill, Capriccio Saratoga, Chez Pierre, Inn at Saratoga, Jacob & Anthony's, Kilwin's, Merry Monk, Mexican Connection, Mingle on the Avenue, Park Side Eatery, Parting Glass, Phila Fusion, Prime at Saratoga National, Ravenous, Saratoga 5 Points Market and Deli, Savory Pantry, Sperry's, Sushi Thai Garden, T.C. Paris, Wheatfields, and the Wine Bar.
As a special incentive for Skidmore students, there will be tickets for free tastings available at the festival information desk in front of Fingerpaint Marketing on the corner of Broadway and Division Street. The first 100 students with a Skidmore ID will receive two tickets (the information desk opens at 9 a.m.)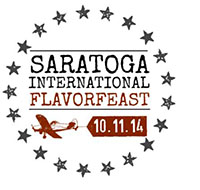 "The Capital Region has become increasingly diverse in culture in part because of Global Foundries and the employees it draws from all over the world," said Fran Dingeman, owner of Network Saratoga, which is organizing the event in conjunction with Saratoga Food Fanatic. "The Saratoga International Flavorfeast was created to highlight the international food styles that make Saratoga Springs a unique and diverse culinary experience.
Skidmore College also adds to the international makeup of the area, with an international student population of 268, which includes 215 non-U.S. citizens and 53 U.S. citizens whose home base is outside the U.S. These two groups account for about 9 percent of the College's student population.
For those inspired to travel abroad, the festival is making a special offer—the downtown Saratoga Springs Post Office (475 Broadway) will be open that day 11 a.m.–4 p.m. to process passports, including the taking of passport photos. Payment for the passports can be make by check only.
The Saratoga International Flavorfeast is organized by Saratoga Food Fanatic and Network Saratoga. Major sponsors include the Saratoga County Chamber of Commerce, Skidmore College, Decrescente Distributing, Saratoga Convention and Tourism Bureau, Adirondack Trust Co., Social Radiant, Fingerpaint Marketing, the Saratogian, and Saratoga Downtowner Motel.