Art and activism in an intergenerational setting
November 13, 2014
During the 20 years of her life thus far, Skidmore junior Tashawn Reagon has sat down many times for conversations with her mother and grandmother.

But her meeting with them Friday, Nov. 14, will be different. It will take place on a stage in Dallas with 1600 people watching. In fact, it will be the keynote address of the annual Facing Race National Conference, the largest multiracial, inter-generational gathering for organizers, educators, creatives and other leaders.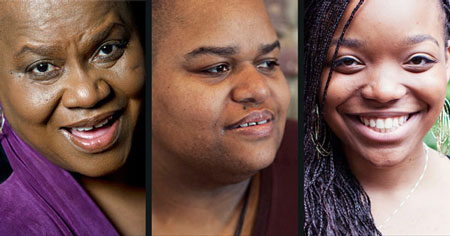 From left, Bernice Johnson Reagon, Toshi Reagon, and Tashawn Reagon '16.

This all makes sense if you know that Tashawn's grandmother is Bernice Johnson Reagon, who rose to prominence during the Civil Rights Movement with her powerful political songs, then founded the all-female, African-American a cappela ensemble called Sweet Honey In The Rock, and went on to become a noted composer, teacher and scholar.

Tashawn's mother, Toshi Reagon, also is a noted composer and the producer, founder, and leader of her own ensemble, Toshi Reagon and Big Lovely. She and her mother have created two operas and they have written the music scores for "Africans in America" on PBS and "BEAH: A Black Woman Speaks" for HBO.

The two often join each other on stage in live performance (as they did at the White House in 2010). Now, at this conference in Dallas, they will be joined by Tashawn, a sociology and gender studies major, an intergroup relations minor, and the co-facilitator of a two-credit, intergroup dialogue between students of color and white students on race.

"I'm excited just to be on the stage with them," she said. "I feel like I've gotten to a place in life where I now have the language and the words that I wish I had when I was younger and I would talk to them about race."
Their conversation will be livestreamed from 4:30 to 6 p.m. here.

The Facing Race National Conference is "an important way to stay connected to past struggles and triumphs, as we also embrace the intersections of different generations and experiences," said Rinku Sen, president of Race Forward, which organizes the annual event. "The Reagons have a story to tell that illustrates how art and activism can come together in an intergenerational setting and mobilize us all."