Tang show re-examines Civil Rights Movement
January 13, 2015
A current show at the Tang Teaching Museum, Hope and Anger—The Civil Rights Movement and Beyond, takes a fresh look at the nation's civil rights struggle.
The exhibition, which runs through Feb. 15, was curated by Rachel Seligman, assistant director for curatorial affairs at the Tang, and Megan Williams, visiting assistant professor of American studies.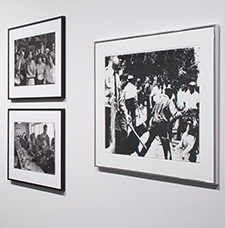 Photographs in the"Hope and Anger"
show
"By presenting everyday activists; movement leaders like Malcolm X, Huey Newton, and Martin Luther King Jr.; and other images evoking oppression and its legacy, the works in the exhibition suggest the multiplicity of voices and experiences that contributed to this period of intense activism," said Williams. "The paintings, prints, and photographs raise numerous questions: How do we come to understand important historical moments? Which voices dominate, which are silenced, and why? How could a nation 'conceived in liberty' have persisted in denying basic rights to a significant percentage of its population? And what is the relationship between this historical moment and our contemporary struggle for social justice?

"
Students in Williams's fall-semester course "Race, Gender, Sexuality, and the Civil Rights Movement" used the show to explore the dominant narratives of the Civil Rights and Black Power Movements and the shifting perceptions of those narratives over time through the examination of the work of such artists as Andy Warhol, Kara Walker, Rashid Johnson, and Danny Lyon. The students' research forms the basis of a brochure with analysis of each work in the exhibition.
Support for the exhibition is provided by the Andrew W. Mellon Foundation and Friends of the Tang.
For more information visit the Tang website here.