Trinity College names Ángel Pérez '98 VP of enrollment and student success
February 20, 2015
As the Northeast copes with a cold and snowy winter, it's worth asking why Ángel Pérez '98 is "ecstatic" about leaving a job in greater Los Angeles for a similar post in Hartford, Conn.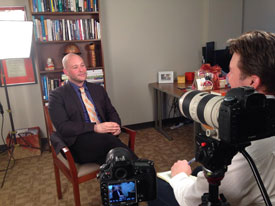 Pérez being interviewed while at Pitzer College.
True, it's a homecoming of sorts for Pérez, who grew up in the South Bronx and landed his first job at Skidmore as an admissions counselor before returning to New York City to help first-generation college students with the application process.
But his decision is mostly about a subtle, yet significant change in the scope of his new responsibilities as Trinity College's first-ever vice president of enrollment and student success, a position he starts in June after he finishes his Ph.D. in international education.
Pérez has spent the last eight years leading an 18-member team—first as director of admissions, then as vice president and dean of admissions and financial aid—at Pitzer College in Claremont, Calif., a time during which the school's application numbers and yield and admit rates reached historic highs, as did the enrollment of first-generation students.
Says Pérez of Trinity, "The opportunity to lead a division that is responsible for not just admitting students, but also strategizing around their success on campus, is a dream. It's a tribute to the president's forward-thinking agenda for the college's future."
As someone who grew up in poverty and attended one of New York City's poorest-performing schools, Pérez says he will be forever grateful to a Skidmore admissions officer who "changed my aspirations by bringing college to life and painting a picture of all that was possible." His high school grades and SAT scores were weak, and he needed financial aid. He enrolled with the Higher Educational Opportunity Program, which provides educational opportunity and financial support to students with strong academic and personal potential. "Skidmore took a huge chance on me," says Pérez, who describes his college years as "transformational."
No surprise then that Pérez is a big believer in the importance of equity and access when it comes to college. As he wrote in The Journal of College Admission in 2012, "Can you imagine a day when the National Association of College Admissions Counselors bases its success on how many students attend college, receive aid, and graduate with little debt? What if we ranked colleges based on how many underrepresented students they enrolled and most importantly, retained?"
Toward that end, Pérez says he's eager to create a strategic plan to admit students based on predictors of success besides the traditional grades and SAT scores. "I'm interested in giving credit to students for overcoming adversity, creativity, resiliency, and delayed gratification," he says. "I hope to take the research I've studied about what actually predicts success and use it to inform best practice in our admission process."
Pérez has long been interested in student retention, as well, though his term for it is student success, which he equates with institutional success. At Pitzer, he became "increasingly interested in being intentional about admitting students," regularly trolling through data and talking with enrolled students and colleagues to find out who thrives at the college, who doesn't, and why. High-impact experiences that often lead to success, according to Pérez, include taking leadership positions, being an admissions tour guide, and establishing a close relationship with an advisor or community member on campus.
On the flip side, he adds, a number of international students struggle in year one because their expectations about the U.S. college experience aren't met.
The Pérez plan (in the making): Take a hard look at what actually predicts success in college. Build these factors into the admissions selection process. Then, partner with key campus offices. Identify high-impact experiences. Do them. Identify strategies that don't work. Fix them. Create a data-driven, student success model. Monitor and adjust accordingly.
At Trinity, Pérez just might be able to execute his plan, as his role involves overseeing admissions, financial aid, institutional research, career development, and retention; and his charge includes strategizing around issues of retention and student success. "It's a different job in a newly created division," he says. "We can think strategically about how students succeed on campus—a cradle-to-grave approach, if you will. It's the wave of the future. I can't wait to get going."
NOTE: Ángel Pérez is often called upon by domestic and international media outlets to lend his voice on issues of higher education and college access. Here is a selection of his articles. If you would like to contact him directly, please email him.
The 'Best and The Brightest' Aren't Always Obvious | From The Chronicle of Higher Education – July 21, 2014
Becoming an Admissions Dean | From Inside Higher Ed – November 6, 2013
From Where I Sit – Admission Attachés | From the Times Higher Education (U.K.) – January 24, 2013
Want to Get Into College? Learn To Fail | From Education Week – January 21, 2012
Higher Education for The Public Good | From The Journal of College Admission – Winter 2012
Waiting for The Incredible Hulk | From Inside Higher Ed – November 16, 2010
College admissions strategies: Don't listen to friends, and more | From The Washington Post – March 7, 2010
How To Realistically Focus Your College Search | From The Washington Post – February 24, 2010
College Admissions' Wrenching Ins and Outs | From The Los Angeles Times – April 3, 2009
How College Affects Identity Construction | From The Journal of College Admission – Winter 2009
I'm Tired, and So Are You | From The Chronicle of Higher Education – January 27, 2009
The Hispanic Presidency in Academia | From The Hispanic Outlook – August 15, 2005