Skidmore to host Geopalooza March 17-18
March 13, 2015
Approximately 100 engineers, policy makers, and students will visit Skidmore Tuesday and Wednesday, March 17 and 18, for the annual conference of the New York Geothermal Energy Organization (NY-GEO).
Dubbed "Geopalooza," the two-day event will focus on geothermal heat pumps (GHP) as a way to cleanly and renewably heat and cool buildings and eliminate reliance on fossil fuels. Attendees will hear from cutting-edge technical and policy experts on how GHPs can eliminate greenhouse gases and reduce energy bills.
Another focus of the event will be net zero buildings, where GHPs and renewable electricity combine to eliminate all greenhouse gas emissions.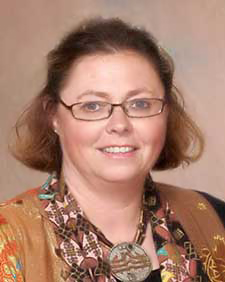 Catherine Hill
Catherine Hill, Skidmore's F. William Harder Professor of Business Administration, will deliver the keynote address at the event. Hill, who also serves as executive director of New York Executive Clean Energy Leadership Institute (NY EXCEL), will discuss "Living in a Sustainable World," as the headliner for the conference dinner, scheduled for 6:30 p.m. March 17 in Skidmore's Murray-Aikins Dining Hall.
The conference and the dinner are open to the public. In addition, scholarships are available to cover the costs of attendance (see below for additional details).
This is the first time that Skidmore is hosting Geopalooza. Paul Lundberg, project manager in Skidmore's Facilities Services, says Skiidmore was selected because it has implemented a number of sustainable initiatives that align with the NY-GEO agenda. "We've received national recognition for our work," said Lundberg, citing a 2012 Sustainability Leadership Award from the Association for the Advancement of Sustainability in Higher Education. He added, "Why not have a conference where these ideas have been in practice in some cases for more than a decade?"
Since being recognized three years ago for its use of geothermal heating and cooling, Skidmore has expanded this approach to approximately 40 percent of the campus buildings. In addition, Skidmore last year installed one of the largest solar farms in upstate New York, which generates approximately 12 percent of the College's electricity. Skidmore also generates electricity using a small hydropower dam about 60 miles from campus, contributing approximately 18 percent of its electrical demand.
Said Lundberg, "Whereas a campus-wide net zero approach is limited at best at other institutions, Skidmore is strongly poised, given its sustainable infrastructure, to actually achieve that goal. We're running super-high-efficient heating and cooling systems and driving those systems with renewable energy. It doesn't get more net zero than that!"
Skidmore employs a "district" approach to geothermal, with two fields or energy nodes. The first field covers the arts quad—Filene Music Building, Bernhard Theater, Arthur Zankel Music Center and Saisselin Art Building. A second node was installed to serve Wiecking Hall (a residence hall), the Tang Museum and the Dance Center, with future tie-in ability for the Williamson Sports Center and Greenberg Child Care Center.
Tuesday's keynote will give attendees a chance to learn from Hill's experience growing cleantech companies in private industry. In 2013 she launched NY EXCEL with a $400,000 grant from the New York State Energy Research and Development Authority. Skidmore has partnered with the Syracuse Center of Excellence, Brookhaven National Laboratory, the New York Battery and Energy Storage Consortium and the Pace Energy and Climate Center on this initiative.
"Renewable energy practitioners often need to find the right balance of passion and disciplined business practices," said Hill. "I'm glad to have the opportunity o share some lessons learned from other cleantech businesses and accelerate the adoption of geothermal throughout the state."
To register to attend Geopalooza, please call 518-3136-GEO or visit nygeo.org/collections/register
NY-GEO is a not-for-profit trade association dedicated to geothermal heating and cooling, and to promoting the use of ground-source heat pumps to heat and cool buildings in New York State. Members include geo designers, installers, manufacturers, drillers, consultants, and distributors.