Class project a powerful tool for acceptance
May 11, 2015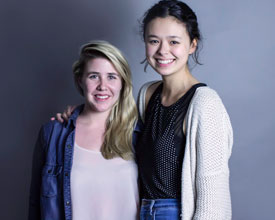 Kenny (left) and Goodman
Clare Kenny and Aria Goodman, both seniors on Skidmore's volleyball team, spent a large part of the spring semester encouraging fellow athletes to help make Skidmore a visibly anti-homophobic community. Their medium: Compelling portraits used in a series of posters titled "Show Your Sport." Their message: Skidmore athletics supports queer and ally players and peers.
The photos, all taken by Goodman, show 136 athletes, solo or in small groups, wearing a Skidmore team uniform. The black and white images depict athletes in strong poses, looking confidently at the camera, and are accompanied by messages from the athlete, including:
• "This is about equality and representation, which can't be reached until people come out openly in support of the cause." ~ Courtney Platte '18, Riding
• "Supporting my teammates doesn't end after practice." ~ Maia Paul '15, Field Hockey

• "The only thing we will not accept is someone's inability to be accepting." ~ Geoff Grant '17 and Leif Cantania '17, Lacrosse
The entire photo gallery may be accessed via Facebook.
The project resulted from Kenny's class assignment to incorporate identity-based movements with art as a form of protest. A gender studies major who is a member of the LGBTQ community, Kenny said declaring her identity was something she struggled with early in her college career. During an information meeting to recruit photo subjects, she explained, "As a first-year practice player on the volleyball team, I saw that the politics could be very personal and I did not know if my voice and identity were valued." She said she "felt like I was hiding."
Kenny led educational information sessions which served as a prerequisite for being photographed. During the meetings she explained how sexuality and homophobia are ongoing issues in the world of athletics. She wanted to encourage vocal "ally-ship" by athletes. She told those at the meeting,"Athletes are often battling stigmas. People say they are not as smart or as hard-working. Some say that being a student-athlete enables less-smart people to attend a good school like Skidmore. There is pressure to appear intellectual and hard-working to professors."
She explained, "I wanted to promote athletes as thinking people. And I thought that having them identify as allies would help people who are LGBTQ feel less marginalized, as I did early on."
The reality, said Kenny: "There are gay coaches, gay teammates, gay professors, and gay students here."
She reached out to Goodman for her photography skills and now credits her "artistic integrity and drive" for the quality of the images. Before diving into the project, Kenny and Goodman sought support and printing funds from the Student Athlete Advisory Committee and Athletics Director Gail Cummings-Danson.
"Aria and Clare gave a great presentation," said Cummings-Danson. "This was easy for me to support, because my goal is to have everyone cheering for Skidmore. This is an important conversation to be having. It doesn't matter who you are--we all chose Skidmore, and for all of us the colors are green, yellow and white." There was no question that the Athletics Department would provide full support, she said, adding, "People have been impressed with the job the students have done."
Once funding for the posters was approved, Kenny and Goodman got to work. Kenny recruited athletes via informational meetings and social media, and Goodman took and edited photos and designed the posters. Said Goodman, "When Clare came to me with this idea, I was happy to get involved because I believe in and understand the cause." She called it "a complete collaboration. It is amazing to see the kind of change two people can make."
She spent her final spring break on campus in the art studio developing the visual component of the campaign. She said, "At first all I wanted was to get the project done. I like to be behind the scenes and I was a little leery of the attention. Clare was the message person. But I realized I had a responsibility to be public as well."
Both were amazed at the response to the campaign. "It's been very positive," said Goodman. Also, "I've met so many student-athletes and made a lot of meaningful connections as a result of this project."
Kenny said, "We believe that what we are doing is bold and brave and that we as an athletic community need it." Student and faculty responses have been gratifying.
Said Kenny, "I've been getting lots of positive feedback from Facebook friends. It creates a platform to have a conversation. We all have a stake in this."
Both women envision careers that will allow them to combine their skills and passion in a similarly meaningful way. "This project helped me put my academics into action," said Kenny. Said Goodman, "Everything we put into this project we learned at Skidmore."
Show Your Sport's anti-homophobia campaign is set to continue into the fall semester, under the direction of Tori Eldridge and Caroline Hobbs, both Class of 2016. A new topic will be determined for 2016.