Public welcome at Solomon Northup Day celebration
July 15, 2015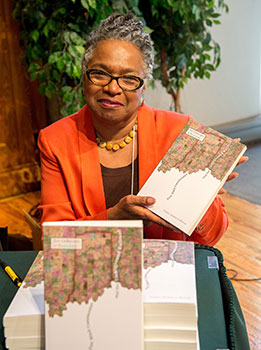 Cheryl J. LaRoche
The 17th annual Solomon Northup Day, inspired by a powerful memoir of enslavement and eventual freedom, will take place Saturday, July 18, from noon to 4 p.m. in Filene Recital Hall at Skidmore.
The story of Solomon Northup, an African-American local citizen abducted into slavery in 1841and transported to Louisiana, is now known internationally thanks to the acclaimed 2013 film based on his autobiography, Twelve Years a Slave. But a grassroots effort to raise awareness of this compelling story has been going on for nearly 20 years, in particular through the annual Solomon Northup Day launched in 1999 by Skidmore College graduate Renee Moore, a project and community outreach coordinator.
Skidmore is hosting this year's celebration, featuring talks by noted scholars and a musical presentation. In addition, several Northup descendants will be in attendance to offer reflections and stories.
The keynote speaker is Cheryl J. LaRoche, an archaeologist and American studies professor at the University of Maryland in College Park. The author of Free Black Communities and the Underground Railroad: The Geography of Resistance, she has researched the landscapes of 18th- and 19th-century free black communities, churches, cemeteries and institutions in the U.S. and Canada. She has consulted for the National Park Service and for the Smithsonian and other museums.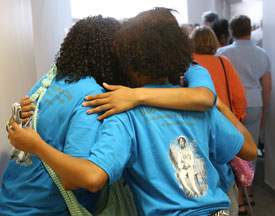 Descendants of Solomon Northup at the 2014 gathering.
Also speaking is Don Papson, co-founder and past president of the North Country Underground Railroad Historical Association and co-author of Secret Lives of the Underground Railroad in New York City. His association's work has included the restoration, with SUNY-Plattsburgh students, of a barn in Peru, N.Y., where fugitives were hidden, and the establishment of the North Star Underground Railroad Museum. He won a 2012 leadership award from the Underground Railroad Free Press.
Given that Solomon Northup was a gifted violinist, music is important to the day's activities. The featured group will be Jazzage, with fourth-generation Saratogian Carol Daggs (piano, voice) with James Daggs (double-bass) and Billy Arnold (percussion). Jazzage debuted in 2006 with the New York City Jazzmobile and has played at the Jazz in the Valley festival in Rosendale, N.Y., the Wadsworth Atheneum in Hartford, Conn., and other venues. Chronogram has said Carol Daggs "brings a looseness and organic quality to the music. The songs are given enough air to breathe, and they bubble with life."
Books by the guest speakers and CDs by Jazzage will be on sale.
Event founder Renee Moore's vision for Solomon Northup Day includes her desire to "bring to light all of the people involved in the struggle for freedom in the Americas and to encourage a better understanding of freedom and justice through the eyes of the African-American experience past and present."