American Studies to sponsor talk on history of hate speech
September 16, 2015
American Studies to sponsor talk on history of hate speech
Sept. 15, 2015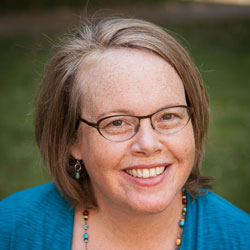 M. Alison Kibler, Franklin and Marshall College
M. Alison Kibler of Franklin and Marshall College will discuss "The Long History of Hate Speech: Irish, Jewish and Africa America Struggles Against Racial Ridicule, 1890-1930," at 6:30 p.m. Wednesday, Sept. 16, in Emerson Auditorium, Palamountain Hall.
Admission is free and open to the public. Skidmore's Department of American Studies is sponsoring the talk.
Kibler, a professor of American studies and women's and gender studies at Franklin and Marshall, is the author of Censoring Racial Ridicule: Irish, Jewish and African American Struggles Over Race and Representation, 1890-1930, published this year by the University of North Carolina Press. The book uncovers, for the first time, powerful and concurrent campaigns by Irish, Jewish and African Americans against racial ridicule in popular culture at the turn of the 20th century. Censoring Racial Ridicule explores how Irish, Jewish, and African American groups of the era resisted harmful representations in popular culture by lobbying behind the scenes, boycotting particular acts, and staging theater riots. Kibler demonstrates that these groups' tactics evolved and diverged over time, with some continuing to pursue street protest while others sought redress through new censorship laws. Exploring the relationship between free expression, democracy, and equality in America, Kibler shows that the Irish, Jewish, and African American campaigns against racial ridicule are at the roots of contemporary debates over hate speech.
According to her web site, Kibler researches the history of American popular culture, with particular focus on social groups' struggle for equal access to theatrical space and to what they consider favorable representation on stage and screen. She is the author of Rank Ladies: Gender and Cultural Hierarchy in American Vaudeville (University of North Caroline Press, 1999), and is currently at work on a project titled "Media Rights," focused on second-wave feminists and television reform, particularly their use of the Federal Communications Commission's "fairness doctrine" to pressure television stations to improve their representation of women and feminism.
Kibler is a summa cum laude, Phi Beta Kappa graduate of Brandeis University, where she earned a bachelor's degree in American studies. She earned masters and doctoral degrees in American Studies at the University of Iowa.