Flare-ups tackled in class
January 5, 2016
An unarmed black man in Staten Island is choked by a white policeman, left facedown, and asphyxiates. Five months later a grand jury declines to indict the officer.
An unarmed black youth in Ferguson, Mo., is shot dead in a confrontation with police. The officer is not indicted, and a federal probe concludes the shooting was self-defense.
In Brooklyn, a black bystander is killed when an Asian-American policeman fires his gun by accident. Three months later, the officer is indicted for manslaughter and negligent homicide.
Such cases raise hot questions and hotter emotions for headline readers of all races. "It's hard to stay objective," says Becky Treen '16, a business major and sociology minor, but "I try really hard to argue as logically as I can." On issues like these, Sam Shapiro '16—majoring in physics, minoring in computer science, and participating in the dual-degree engineering program with Dartmouth—enjoys "hearing a lot of different perspectives." Matt Weale '16, a math and computer science major, likes "open-ended, exploratory discussions" as long as the parties are "attentive and analytical."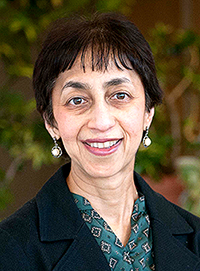 Pushkala Prasad
The trio of seniors formed one of seven teams in this fall's "Multicultural Flare-ups" seminar. Zankel Professor Pushkala Prasad, who taught the class, assigned research and readings, umpired discussions, and applied disciplines from history to anthropology to media studies. Cases on the docket included racial vs. sexual bias policies on campuses, the proposal to build a mosque near 9/11's ground zero, and a county clerk's refusal to issue same-sex marriage licenses.
For their final project, the trio chose the 2012 shooting of Trayvon Martin by George Zimmerman near Orlando, Fla.
Mid-November, and pressed for time: "We need to come back from Thanksgiving and really bust it out to get our research done," says Weale. "We have a good group dynamic. We can work well together," says Shapiro. "Oh, my gosh, good thing for Google Docs," says Treen. But how to focus their paper and presentation when the case has so many angles? Was gun control a factor? How about Zimmerman's role as a "neighborhood watch" member? His own ethnicity? Martin's personality, or just his race, age, and gender?
In a pre-holiday meeting with Prasad, Treen suggests the case may be more about two individuals than any pattern of racism—she wants to explore "agency vs. structure." Prasad reminds the team of the stand-your-ground law that Zimmerman cited to justify killing a trespasser. Shapiro wonders whether Florida's or other stand-your-ground laws "might have an underlying racial bias." Prasad also recommends analyzing media coverage and public reaction.
Last May Minneapolis marchers protested that
a white Madison, Wis., officer would not be
charged in the killing of a 19 year-old biracial man.
"My baseline goal in this course," Prasad reflects, "was for students to develop an understanding of institutional bias, as distinct from personal prejudice." She says most students learned it from "case after case after case" in criminal justice, the military, and the workplace . . . One reading, recounting how many civil-rights supporters changed their minds when protests weren't peaceful, asked why "black anger" was so intolerable. Prasad says, "I pushed the students, though it was a bit uncomfortable for them, to engage with this idea that people who believe they're not racist—just like institutions that refrain from racist acts—may still harbor a deeper, subtler racism."
The "most gratifying and interesting" development for her: while white students knew very little about the civil-rights era beyond a few famous names, she says, "the black students already knew a lot—Emmett Till, the freedom riders, Medgar Evers, the marches, the strikes—so the black students were looked to for their insights and information, which empowered them in a way that I haven't seen in other classes. It was an important moment for both groups."
By exam week, Treen, Shapiro and Weale are exhausted but pleased with their project. Its main conclusion: Zimmerman was morally wrong, yet within the law, when he shot Martin. Of the course over all, Weale says, "Preparing presentations, and hearing other group's cases, was a good way to learn." He saw some students "fighting with their emotions. Nevertheless, Treen says, "It's good practice to talk openly about these issues."
Having taken "Flare-ups" to fulfill a cultural-diversity requirement, Shapiro concludes, "It's easy to complain about requirements outside your interests, but this course was a good example of why they're valuable. I feel much more literate about social issues and controversies now."