Innovator and scholar joins Tang Museum
November 21, 2016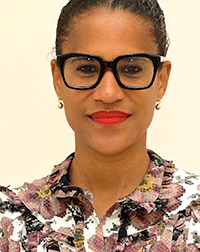 Isolde Brielmaier has been appointed curator-at-large for Skidmore's Tang Teaching Museum and Art Gallery. A curator, scholar, and writer with experience in innovative contemporary art exhibitions and programming, she is expected to help plan and implement exhibitions and other projects, expand interdisciplinary research and scholarship, advise the Tang about acquisitions, and share her expertise with Skidmore faculty, staff, and students.
One focus for her will be the $1.2 million Mellon Foundation initiative to strengthen the way the Tang uses its collection to engage with issues of identity and race. The program aims to expand scholarship into its works of contemporary artists of color by enhancing the digital archive, bringing visiting artists and scholars to campus, and forging partnerships with other colleges and universities. It advances Skidmore's liberal arts mission and can also serve as a national model for fostering inclusion and engagement through the arts.
With a Ph.D. in art history from Columbia University, Brielmaier is an assistant professor of critical studies in the Department of Photography, Imaging, and Emerging Media at New York University's Tisch School of the Arts and also oversees arts and cultural programming at Westfield World Trade Center. She has earned fellowships from the Mellon and Ford foundations, the Social Science Research Council, and others for her scholarship in fields such as global visual culture; race, gender, and class; technology; and the international art market.
Formerly she was chief curator of the SCAD Museum of Art in Savannah, Ga., and she has developed programming at Prospect 3 New Orleans, the Bronx Museum of Art, the Guggenheim Museum, and the New Museum. A strong promoter of arts education, global women's issues, and justice reform, she was a White House guest for President Obama's declaration of National Juvenile Justice Month in October 2015.
Citing Brielmaier's "deep knowledge of the art world, global awareness, and strong scholarship," the Tang's Dayton Director Ian Berry says he is eager to work with her to expand the museum's range of programs, artists, and projects. Brielmaier says the Tang has shown that it "understands the role art can play in parsing out contemporary issues. . . . I am very much looking forward to building upon its great history of innovation and creativity."
As curator-at-large, she will be based in New York City and make regular visits to the Tang.