Colbert bandleader on campus
June 29, 2017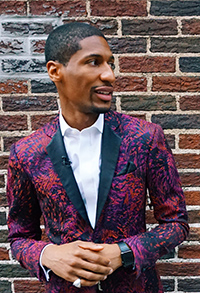 Jon Batiste
Acclaimed musician Jon Batiste brings his Late Show with Stephen Colberthouse band Stay Human for a Skidmore concert on Thursday, July 6, at 8 p.m. in the Zankel Music Center. Tickets, $30 each, are available here. All proceeds from this Stewart's Signature Series concert will benefit the McCormack Scholarship Fund for students attending the summer Skidmore Jazz Institute.
"Jon was a student at the Skidmore Jazz Institute in 2004, and bandmate Joseph Saylor was also a former Jazz Institute student," notes Todd Coolman, the institute's director. "Having Jon and Joe here on the 30th anniversary of the Jazz Institute is especially meaningful," Coolman says, adding, "This will be Jon's second time performing in our concert series; his first performance was in 2009."
Batiste is known for his soulful performances, often on his signature melodica (a hybrid harmonica and keyboard instrument), as well as for his engaging "social music" experiences involving audience participation and occasional impromptu street parades.
A Juilliard-trained pianist and a Forbes "30 under 30" honoree, Batiste is artistic director at large for the National Jazz Museum in Harlem and recently received an American Jazz Museum Lifetime Achievement Award. His independent albums include My N.Y., recorded on New York City street corners and subways; his 2013 Social Music spent over a month atop both the Billboard and iTunes jazz charts.
Along with drummer Joe Saylor, Stay Human includes Louis Cato (bass, acoustic guitar, vocals), Ibanda Ruhumbika (tuba, percussion), Patrick Brantley (alto and tenor saxophones), Louis Fouche (alto and tenor saxophones) and Corey Wilcox (trombone).