Career competitors: The athletic edge
July 13, 2017
Jed Garfield '85, left, and Matt Lesser '05
"A lot of our business is collaborating," explains Matt Lesser '05 from his office at Manhattan's boutique real-estate brokerage Leslie J. Garfield. "It's so vital, especially early on, to be able to work with one another and take criticism. You have to be able to learn from the person that's better than you."

It's not only Skidmore academics that got him where he is today; it's also his athletics background. He played basketball all four years at Skidmore and was hired shortly after graduation by fellow alumnus Jed Garfield '85. Now Lesser muses, "I think of myself 13 years ago, wandering around and listening to my senior partner on the phone. I learned by watching others—it was like watching Michael Jordan and trying to be as good as that."

He's just one of many former Thoroughbreds who have parlayed varsity experience into career success.

Caylyn Sullivan '12 has been working with Lesser and Garfield for the last five years, since contacting them through the Skidmore alumni network. With four years of field hockey and a year of rowing to her credit, she showed the sort of drive the firm values.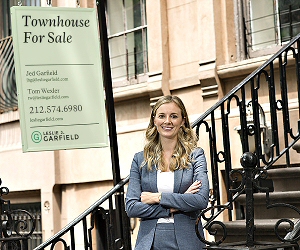 Caylyn Sullivan '12
In real estate, "the results of your hard work are not instantaneous," Sullivan explains. "You really need to stay focused on the goals and persevere. It's the same sort of mindset you need to compete as an athlete." Lesser agrees. "It's 'eat what you kill'—this isn't really a salaried field. So you need to understand that working hard and fighting through will get you to success."

How athletes stand out

Abigail Thomas '16 entered M&T Bank's management development program after interviewing on campus at Skidmore. Although she majored in business and minored in economics, it was her experience as an equestrian that especially translated into the workplace.

Joining the equestrian team in her junior year (and riding in the Intercollegiate Horse Show Association nationals as a senior), she found that "competing in an individual sport like riding was an introduction to accountability that I hadn't experienced before. A judge examined each detail of my performance and scored me accordingly."

Drawing on that experience, Thomas views setbacks and imperfections as opportunities for improvement. "Nothing is more satisfying than succeeding in something you never thought you could do," she says. "Being an athlete has always meant striving to be the best I can."

Sullivan, who majored in health and exercise sciences, points to time management as one of her career skills. "At Skidmore I had to make sure that I was on top of my course assignments, and I organized my days so that I could get everything done well and on time. Working in real estate is very similar, because I have business-generating and business-servicing activities."


While Lesser's business degree applies directly to his career, he cites the work ethic and commitment that he learned on the basketball court. He says it serves him well today and remains a skill he values in the people he hires. He also credits his college teammates for their inspiration and example. "I gained a lot from my peers and teammates and how they figured out how to approach tasks in life," he says. Sullivan agrees: on his team, "each person had an admirable trait that made you work that much harder and want to be that much better."

Bringing the sporting life to work

During the spring 2017 term, current Skidmore athletes benefitted from a program presented by the Athletics Department and the Career Development Center, "Champions for Hire: Why Employers Seek Athletes." The panel discussion featured Garfield, Lesser, Sullivan and other contacts representing Ayco, M&T Bank, the Vermont State Police, and two startups.

In addition to networking with the speakers, student-athletes learned about research showing that businesses prefer hiring individuals with athletics experience. To capitalize on this trend, they received advice about how best to market their involvement in sports and their transferable skills during their job hunts.

At the same time, 10 student-athletes were immersed in a project spearheaded by Rene LeRoux '78, a longtime Wall Streeter who is now executive director of the New York State Baseball Hall of Fame. The three women and seven men joined in pioneering a new method of supporting potential inductees for the National Baseball Hall of Fame in Cooperstown, N.Y. Under the guidance of LeRoux and Skidmore business professor Tim Harper, the students took up the Cooperstown applications three former big-league players, pulling statistics, conducting player comparisons and developing arguments for induction.

"I was amazed at their aptitude, intelligence and enthusiasm for the project," LeRoux says. "They may end up interning for the Red Sox or the Yankees—in fact, this could lead to any number of opportunities." He asserts, "Their high-level work may change the landscape for induction. These students could form a public relations company and expand this to a saleable model."

In any event, alumni often carry their sports interests with them. Lesser says, "Basketball will always be part of who I am. I play with a group of guys once a week. We talk about what's going on in our industry, and they've become a great resource." Also, he adds, "I play golf with clients. An email is easy to ignore, but four hours on a golf course with someone makes you memorable."
Alumni advice
Matt Lesser '05 now hires new employees, but he's never forgotten the rigors of being on the other side of the interview desk. His hints to career seekers, athletes or not:

What's on paper doesn't always match what comes through the door. Make sure your resume addresses practical skills as well as listing employment history, especially early in your career. "It's about being put together and presenting properly," Lesser says, "being able to communicate your experiences and what you did in college."

You never know who you'll meet. Follow up with thanks for the hiring manager's time, even if you're not interested in the job. Be courteous because "you never know who that person knows in different industries," Lesser explains, and what if a shared connection asks about you for some other job?

Know when to pick up the phone and talk. "Our business is based on relationships," Lesser says, "so we're always figuring out ways to stay top of mind." Today, it's easy to send an email or a text, but "we look for people who know when to make a call. And meeting face to face is worth 20 years of two-minute phone calls."

Overcome rejection and move forward. As a new employee, your job is to learn from more experienced colleagues. "I'll be the first one to admit I'm still learning," says Lesser, though he's been a partner for three years. "People can be sensitive and let criticism negatively affect them, but you have to forget the bad feelings, listen, and learn from the experience."

Immerse yourself in your industry. "We're selling the most expensive real estate in the city, or even the world," Lesser says, so it's crucial to learn all about the competition and his firm's niche. "We look to hire people who are knowledgeable and persistent and just plain smart."