Oh, the places you'll go . . .
August 25, 2017
. . . And oh, the lessons you'll learn
"Funding from alumni, parents, and the college lets students participate in relevant internships without having to work at summer jobs that don't relate to their interests," says Penny Loretto of the Career Development Center. The number of stipends available for internships and other hands-on experiences has grown from eight to 113 over the past nine years, and this summer students from virtually every discipline got involved, addressing important questions and needs in myriad ways.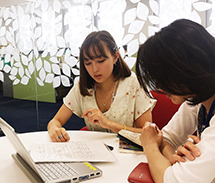 Marketer Sophia Fox in Tokyo
Interns around the world
Among the farthest-flung activities this summer:
Producing digital-media content and photography for Vogue magazine in Bangkok, Thailand – Schuyler Alig '20, art major
Marketing convention services in Tokyo, Japan – Sophia Fox '20, undeclared major
Educating the world about Mongolia to promote cultural connection and preservation (based in Ulaanbaatar, Mongolia) – Amanda Muir '18, anthropology
Teaching women to read and write at a women's center and orphanage in Kathmandu, Nepal – Doris Donelan '19, social work
Assisting at refugee settlement camps in Uganda and Germany – Tabitha Krondorfer '18, anthropology and international affairs

Emily Rizzo's Capetown filmmaking

Kate Bjorkland's clean-water work

Producing social-justice-related documentary films in Cape Town, South Africa – Emily Rizzo '17, English
Creating a fundraising database and campaign for a clean-water nonprofit based in northern Ghana – Kate Bjorklund '20, environmental science
Winning one of this summer's 42 SEE-Beyond stipends, allowed Tabitha Krondorfer '18 to spend six weeks in Uganda's Kyangwali refugee camp with families fleeing unrest in neighboring countries, and then to visit a refugee camp in central Germany, set up for immigrants from across Africa, the Middle East, and elsewhere.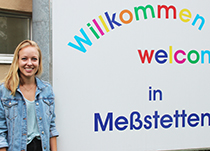 Tabitha Krondorfer at the Messtetten camp
Krondorfer's research project, on how international aid groups respond to gender inequality in Ugandan camps, taught her that she cannot simply "implement Western ideas"—that she can explain the differences in women's rights between the U.S. and Uganda but change can only come from the local women and men themselves. But she did see lives transformed. In the German camp she witnessed Hope, a shy kindergartener from Nigeria, hearing that she and her mother had received official refugee status, a rarity for Africans. "After having to convey so many negative results," Krondorfer says, "it was especially moving that I was asked to translate the decision that Hope and her mother could stay for the next three years. I could see in Hope's face the transformation from disbelief to happiness."
A local German newspaper interviewed Krondorfer and described her work, including her future plans to continue gathering data, facts, and stories about refugee experiences and use the data to promote new legislation.
Interns from coast to coast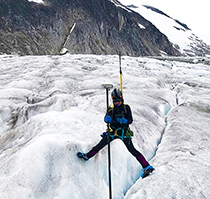 Ann Hill's Alaska ice-sheet research
This summer's 80 funded summer experiences around the U.S. included:
Documenting Holocaust survivors' experiences through film and photography for a museum in Los Angeles, Calif. – Liv Fiddler '19, American studies major
Research in two cognitive psychology labs with the University of Oregon in Eugene, Ore. – Alexandra Tremblay-McGaw '18, psychology
Field research on the health of glaciers through the Juneau Ice Field Research Program, Juneau, Alaska – Ann Hill '18, geosciences


Legislation advocacy work for NARAL Pro-Choice Massachusetts in Boston, Mass. – Margot Friedman '18, chemistry



Margot Friedman educating voters

Analyzing data for Washington, D.C., public schools to improve college access for first-generation and low-income students – Noa Maltzman '18, psychology
Providing strength and conditioning programs to elite athletes at Athletic Evolution in Woburn, Mass.) – Paul Yoon '18, exercise science
Developing acting skills more deeply at the Stella Adler Summer Conservatory in New York City – Kallan Dana '19, theater
Researching the genetic roots of Alzheimer's and Parkinson's at a VA hospital in Bedford, Mass. – Joseph Pagliarulo '19, neuroscience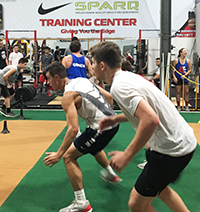 Paul Yoon's elite training work
Exercise science major Paul Yoon '18 earned a Thorne Award (expressly for first-generation college students) to intern at Athletic Evolution in Woburn, Mass., the only official NIKE SPARQ training center in New England. Sport-specific group training sessions and a one-on-one program in plyometrics, footwork drills, conditioning, and strength were the foundations of his daily work with elite athletes of all ages.
Yoon says, "I was surprised by how simple (not meaning easy) the programs and individual exercises were. A lot of thinking goes into each plan—movement deficiency, injury risks, and more—but at the end of the day, it's less complicated than I once thought. Final workout programs are not much different than the average Joe's—just more intense and tailored to the individual." His bottom line: "This experience will help me tremendously for applying to physical-therapy schools, not to mention being successful in PT school."
Interns close to campus
A sampling of summer experiences in the Saratoga area:
Helping at Mary's Haven home for the dying in Saratoga Springs – Joshua Kalloo '17, biochemistry major
Interning in human resources at GE Global Operations in Schenectady, N.Y. – Andrea Tehan '18, business
Working directly with a zookeeper in New York's Bear Mountain State Park – Angelea McPartlin '18, biology and environmental studies
Conducting research for Skidmore business professor Tim Harper on campus in Saratoga Springs – Zhengyuan Lin '19, business and international affairs
Discussing life issues with girls and promoting breast-feeding for a community health agency serving Orange, Ulster, and Sullivan Counties in New York – Caldonia Noland '18, self-determined major in public health
Preserving Irish, Italian, and Black oral histories in Saratoga Springs – Maddi Callan '19, anthropology and education studies
Angelea McPartlin and friend

Providing graphic design services for Saratoga County's Economic Opportunity Council in Ballston Spa, N.Y. – Chelsea Nuesi '17, self-determined major in communications design
With support from the Skidmore Summer Funded Internship Program, Angelea McPartlin '18 was a zookeeping intern at Trailside Zoo and Museum in New York's Catskill Mountains. She was struck by how diverse and extensive the job was: "Zookeepers clean cages, educate, and run errands. They act as caretakers and provide enrichment for their animals. There is a never-ending list of things to be done; there is rarely a dull moment."
A highlight for the biology and environmental studies major was "hosing down a bald eagle named Sammi. It's the only time she is happy to see me. She flaps her wings while in the water, and it is amazing to watch." The best outcome for McPartlin: "I am now certain that zoology is the field for me. I've loved my time at Trailside Zoo and Museum, and I've developed a real interest in environmental education as well."
For full information about all of Skidmore's funded internships, click here.