Faculty summers
September 1, 2017
Skidmore faculty activities over the summer are as diverse as the faculty itself is. From a nearby pond to sites across the pond, here are three very different reports from three very different professors.


Onishi at writers'workshop
Brad Onishi, religious studies: I spent a week at a conference called the Writer's Hotel. It was a new experience for me to sit in writer's workshops, learn from accomplished authors, and have my work critiqued by the class—all good reminders of the pressures of being a student. At a public event, I read a personal essay, which was nerve-wracking but also wonderful.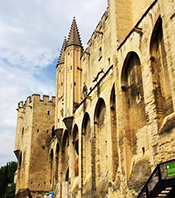 Popes' palace in Avignon
I conducted research in Paris for my forthcoming book, working through notes and manuscripts at France's national library, and attended an international conference at the Catholic Institute, where I had studied in graduate school. Unlike many of my colleagues (and some students at Skidmore), I didn't learn French from a young age, so it has been a long journey to become both competent and confident enough to work and live in France, but it's one of the most rewarding things I've ever done.
My wife and in-laws joined me in Avignon, in the south of France. And I finished up in St. Andrews, Scotland, visiting sites from the history of the religious wars, as well as my old roommate from my days at Oxford. It was awesome to see my old Paris friends and to learn about St. Andrews with an old friend as a guide.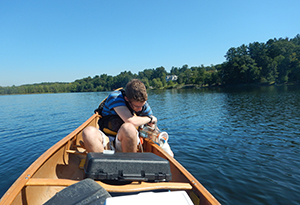 Halstead's student Devon McLane '19 tests the water.
Judy Halstead, chemistry: I wrote a report for and spoke to the Lake Lonely Improvement Association to present results of a 2016 study I did with Prof. Kurt Smemo and students Nathan Van Meter '17 and Devon McLane '19. We concluded there was no statistically significant change in the nutrients in Lake Lonely from 2000 to 2016. We also examined E. coli and fecal coliform and found that the lake was safely swimmable in 2016 by New York State standards.
My talk to the lake association came just three days after foot surgery, but Devon McLane got the projector to the site and was generally a big help that morning. The members of the association also really enjoyed meeting him.
And by early August, I was able to dance the night away at my younger son's wedding in Ogunquit, Maine, where I stayed on for some paddling adventures with my husband, before a bit of sailing with my older son in Boston on the way back to Saratoga Springs.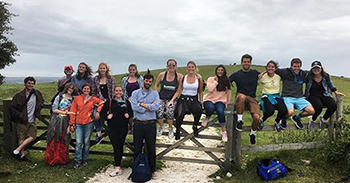 Lindner and students on England's southern coast
Andrew Lindner '03, sociology: Skidmore is an affiliate campus for Advanced Studies in England, and I jumped at the chance to teach a course through ASE. I've found global education to be among the most transformative learning experiences for students: to see firsthand how societies are organized differently is incredibly powerful.
I taught "Public Media, Private Media in the Land of the BBC" in Bath, a charming city that I got to discover along with my nine students, five of them from Skidmore. We visited the Daily Telegraph newsroom and learned about the history of the BBC. Each student conducted quantitative analysis of some feature of UK media, and a highlight for me was seeing the fascinating results of the students' projects on topics like depictions of gender in newspapers, sportsmanship in soccer and rugby, and representations of self on dating apps.
ASE also ran a weekend trip to Swanage, on England's south coast, where several of us hiked about nine miles along the chalk cliffs known as the Purbeck Hills.