Collegial collaboration
January 18, 2018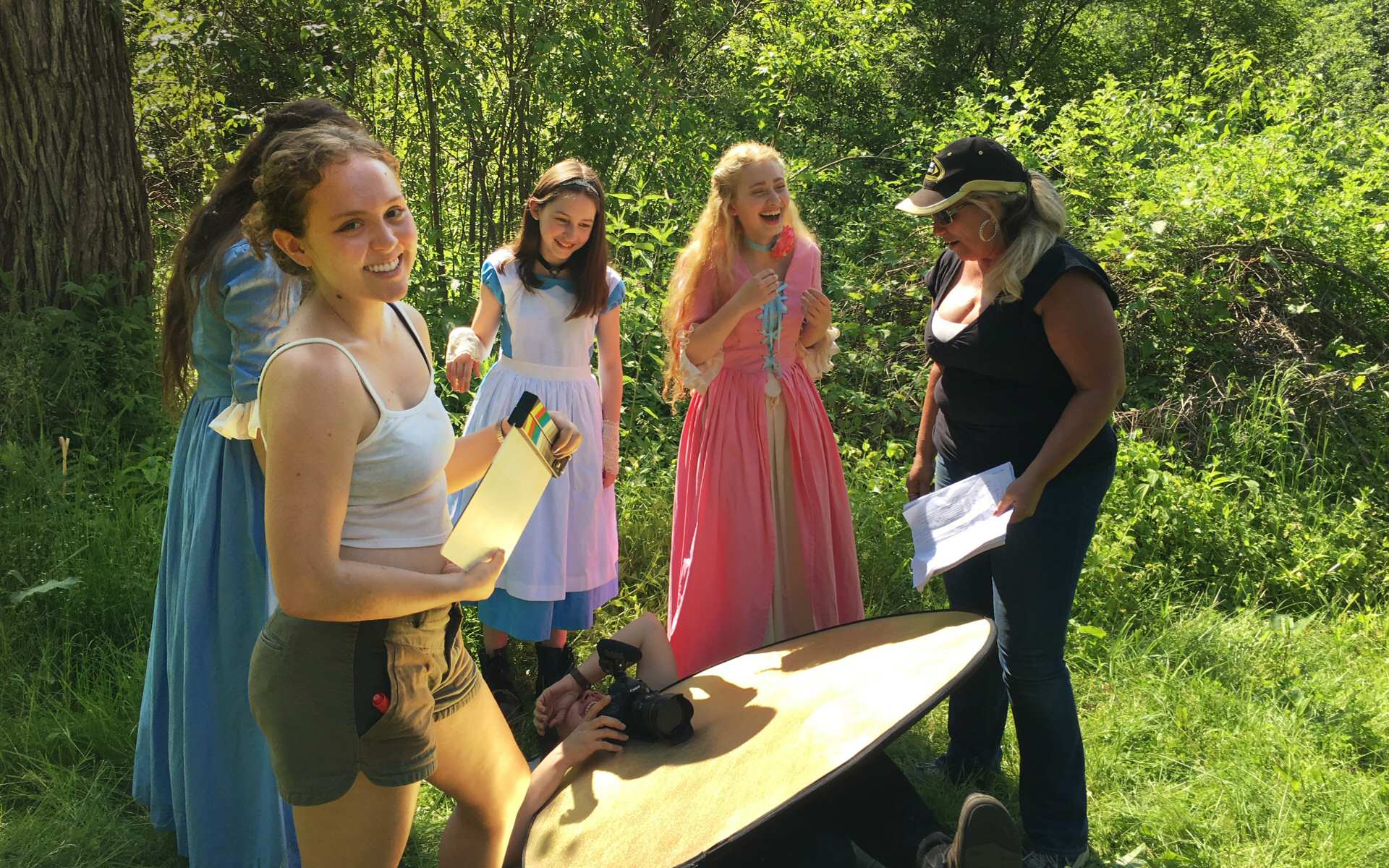 When a member of Skidmore's documentary-studies faculty started creating a TV series for Amazon Video, she hired students and alumni to work in crafts from writing to wardrobe.
Hollywood screenwriter Nicole Coady has more than 20 years' experience with the likes of MTV, New Line Cinema and 20th Century Fox, and she authored two video games for toy company MGA. Now she teaches screenwriting for Skidmore's Moore Documentary Studies Collaborative. Coady left Hollywood because she wanted more control over her scripts after they go into production, so she returned to her hometown outside Saratoga and partnered with Andrew and Katie Balog to form a new production company, Trident Fantasy Films. As she led MDOCS courses, she says, she realized that "there are students here with as much talent as most young Hollywood writers."
Roll credits!
Here are the Skidmorites, with majors from art
to sociology, listed in the credits:

Olivia Anderson '16, gender studies major: writing
Amanda Corey '17: producer's assistant
Arelis Cruz '17, sociology major: costume assistant
Jennifer Davies '17, art major: editing, key grip
Jolynn Dubois '19: props, wardrobe assistant
Sam Florsheim '20: production assistant
Alexandra Marello '19: writing, production assistant
Mirella Nappi '16: writing
Daisy Rodriguez '20: marketing intern
Ashley Saiwa '18, sociology major: costume assistant
Amina Theis '17, theater major: cast
Wasting no time, Coady and her Trident partners got to work on a kids' series called The Adventures of Snow White and Rose Red, got it picked up by Amazon Video, and got the six-episode first season produced in time for an April debut. [view trailer]
To help carry off the ambitious project, Coady recruited a writing staff including Olivia Anderson '16, a gender studies graduate, who worked from Birmingham, Ala.; Mirella Nappi '16, with an English degree, working from New York City; and Alexandra Marello '19 who was also a production assistant for the series. Art major and cinematography student Jennifer Davies '17 was hired to help with editing after having served as key grip (supporting all camera operations). Theater major Amina Theis '17 joined the cast to play Cinderella in one episode. Three students worked in wardrobe, two in production and one in marketing.
Even the locations made good use of Skidmore resources, as some scenes were filmed amid the old-fashioned lawns and gardens behind the college's Surrey-Williamson Inn. Elsewhere around the region, a state park's warming hut served as Snow White and Rose Red's house. Pam Fisher, an associate director at Skidmore's Career Development Center, worked with Coady over the
summer to find internship opportunities with Trident Fantasy Films for some of the students involved in the production.
With the series' editing in its late stages, Coady told a local reporter, "We are very excited. It's wonderful to be able to create a show that we want to create, without interference, and share our vision with the world." Aimed at children from around 3 to 8 and their families, the series is a way for Coady to bring classical fairy tales, updated with messages of uplift and empowerment, to today's kids. As she was raising her daughter, now 12, Coady says she found a lot of popular kids' TV featuring kids being "snarky or mean. They were not good role models for my daughter." For her show, she also "opted for very minimal special effects. That way, it's more about the roots of the folk tales themselves."