Why are Skidmore faculty calling 600 first-year students this summer?
July 13, 2018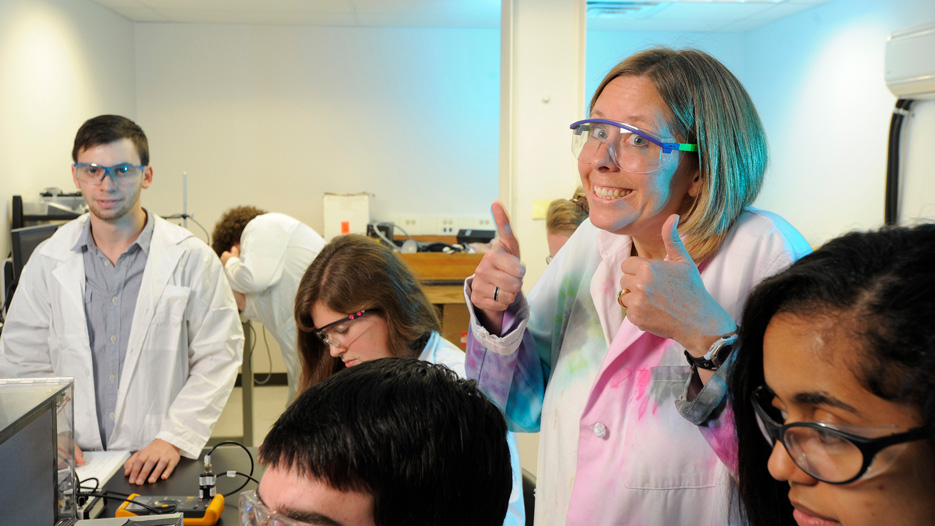 They can't wait for this moment. They look forward to it every year. About 40 Skidmore faculty members, serving as Summer Advisors, are rolling out the red carpet and welcoming nearly 600 incoming students to their new home. And it's before they even arrive on campus.
Skidmore's Summer Advising Program is officially underway.
Each summer, every member of the incoming class receives a personal phone call from an advisor. Advisors listen to what's on each student's mind, ease their concerns, answer their parent's questions and help them plan for their very first semester of college.
Their questions are as individual as the students. How do I choose fall classes? What if I want to do both biology and ballet? When will I be able to study abroad? But each one is answered with care.
"This is one of Skidmore's signature programs," says Director of Academic Advising Kim Marsella, who oversees the Summer Advising Program. "Having faculty members personally call first-year students is not something many other colleges offer."
"I had my first call today," Professor of Chemistry Kim Frederick wrote in an email to Marsella. "I love summer advising! The students are just awesome!"
Says Frederick, "The possibilities for each of these students is boundless at Skidmore. It's fun to work with them in this moment, guiding them toward their first concrete college decisions. I always offer to talk to them again or correspond by email and many take me up on that option."
Professor of Sociology Rik Scarce concurs: "It's a blast to introduce new students to Skidmore. I sense relief when their vexing questions are answered. I hear them understand a system that can be opaque or daunting, and the overall vibe is excitement."
"And students are so appreciative of our time," continued Scarce. "I've had students come up to me in the first week of class to share how helpful our conversation was. So, it's rewarding to know I made a difference in their run-up to college."
Art Professor Janet Sorenson sees her calls this way: "I hope to help students replace doubt and fear with confidence, even excitement. I want them to leave the conversation with some 'insider information,' ready to pursue their interests and take advantage of the liberal arts and its ability to transform."
In general, the Advisor's role is to:
Give students a warm welcome to the Skidmore community
Clarify how to approach academics based on their individual interests and goals
Encourage them to take advantage of the freedom and opportunity a liberal arts education offers
For her part, Frederick says she aims to accomplish the following:
Get to know the students as individuals and help link them to people and resources on campus that meet their blend of interests
Help students make the best course choices for the fall semester
Help students have a good experience as an official student at Skidmore
As director of the Health Professions Advisory Committee (HPAC), Psychology Professor Denise Evert has specific advice for students interested in the health sciences: "I want to make sure they join our health professions network as soon as possible so they can begin working with an advisor specific to the field."
Scarce calls these details the "brass tacks side of things," adding that he makes sure his new students "understand things like the importance of counting credit hours, not courses, because college doesn't work like high school in that regard. If they're undecided, they need to think of shopping for a major as their top priority." Scarce is there to help them find the resources they need to begin that process.
For undecided majors, Sorensen also has some advice: "It is possible to love math and music, studio art and biology, dance and literature." And she will help them see ways to follow their passions, whether it's pursuing a minor or participating in a club.
The most important summer advising lesson for first-year students is this, as put by Scarce:
"There are 400 instructors on this campus who want to support you. You will be surrounded by great teachers and every one of them is here for you. Even if you're struggling, we're there for you. No one works without a net."
Visit the Office of Academic Advising for more information, contacts and schedules for summer advising.