Skidmore Speaks probes bounds of free speech
November 15, 2018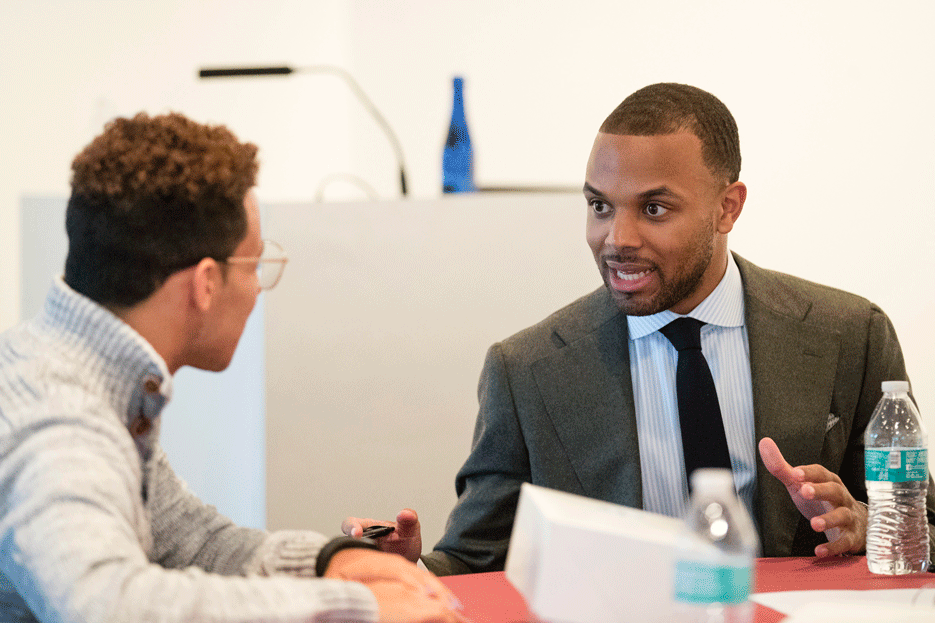 Prominent journalists and academics examined the meaning and limits of free speech during a series of community conversations at Skidmore College.
The Nov. 5-8 series — "Skidmore Speaks: Conversations About the First Amendment and the Meaning of Free Speech" — considered challenges associated with free speech on college campuses, questions related to race and privilege and means of ensuring that colleges present diverse viewpoints while maintaining an inclusive learning environment.
Zachary Wood, author of "Uncensored: My Life and Uncomfortable Conversations at the Intersection of Black and White America," met with students, staff and faculty and offered ways to engage people with different viewpoints.
"Find ways to see the humanity in someone you deeply disagree with," Wood said. "Disagree tactfully and argue thoughtfully."
Wood, a 2018 graduate of Williams College, served as president of the student group Uncomfortable Learning that brought speakers with controversial perspectives to campus.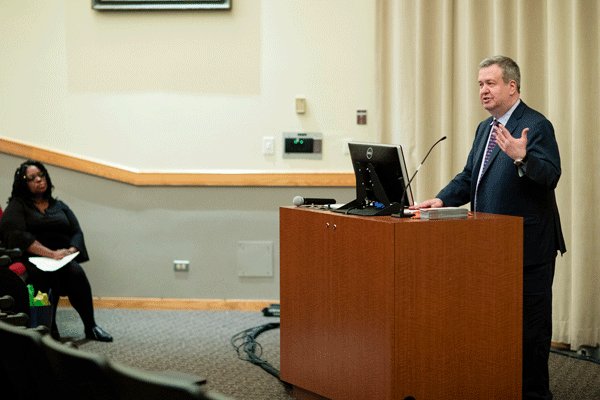 Scott Jaschik of Inside Higher Ed speaks discusses "Free Speech Contradictions."

Scott Jaschik, editor and founder of Inside Higher Ed, noted that institutions of higher learning worked hard to encourage an environment that fostered the free exchange of ideas, but also recognized that marginalized groups could be hurt by some speakers.
"We need to acknowledge both the importance and imperfection of free speech," he said. "Free speech isn't shouting for the sake of shouting. It's inviting people into a conversation to understand, agree or disagree."
President Philip A. Glotzbach, Sanford J. Ungar of Georgetown University and
Cerri Banks, dean of students

Veteran journalist Sanford J. Ungar, who now heads the Free Speech Project at Georgetown University, joined a panel discussion with Skidmore President Philip A. Glotzbach and Cerri Banks, dean of students and vice president for student affairs. Ungar described a "paradox" in the status of free speech in the United States.
"Speech enjoys greater legal protection in the United States than ever before," said Ungar, Yet "the First Amendment is under actual attack."
Skidmore President Philip A. Glotzbach called free speech "integral to democracy" and said that the United States also carried a "special responsibility."
"We should be modeling for the rest of the world how to deal with controversial issues," Glotzbach said.
Banks, who organized the "Skidmore Speaks" series, noted that free speech was at the heart of Skidmore College's liberal arts mission.
"We learn and grow as scholars, citizens and as a college community when we are exposed to a diverse range of perspectives," Banks said.
Sigal Ben-Porath in front of an image of her book.
Sigal Ben-Porath, a professor at the University of Pennsylvania and author of "Free Speech on Campus," led campus workshops for faculty, staff and students.
Wendy Moore of Texas A&M University and Joyce Bell of the University of Minnesota, considered the intersection of race and free speech in their talk ""Challenging the Right to be Racist in College: Racist Speech, White Institutional Space and the First Amendment." The lecture was hosted by Assistant Professor of Sociology Jennifer Mueller's Race and Power class.
Concluding the "Skidmore Speaks" series, a film by alumna Emily Rizzo and current Skidmore student Sanjna Selvarajan presented a range of perspectives from the Skidmore community about freedom of speech. Lively discussions followed screenings of the film.
"We interviewed various students, faculty and staff to get a sense of how our community views freedom of speech on campus," Selvarajan said. "We were pleased that students, faculty and staff were able to engage with each other about the topic in an open and safe space."
"Skidmore Speaks" was sponsored by the Office of the Dean of Students, the Office of the President and the Tang Teaching Museum.