Starting college with K-pop
December 4, 2018
The flashy, horse-trot dance of "Gangnam Style" is just a footnote in anthropology professor Joowon Park's first-year Scribner Seminar on K-pop at Skidmore College.
Park is using the vibrant music phenomenon from South Korea to help students explore interdisciplinary ideas, challenge their assumptions about the world and help them acclimate to the rigors of academic life at Skidmore.
"I'd started to see a lot of interest in K-pop not just from students, but from other faculty. And I didn't want FYE to be boring — I wanted something that I could enjoy teaching and that everyone could have fun learning," Park said.
An eclectic range of Scribner Seminars — from Gods and Monsters to Galaxies and the Cosmic Web — are a hallmark of Skidmore's First Year Experience or FYE.
The seminars are designed to be intellectually challenging while providing a support network for new students. Offering a range of diverse topics, from sex in texts to the mathematics of sports, interdisciplinary Scribner Seminars cater to diverse interests, allowing students to explore a range of fields and even possible majors.
"I deliberately pull from current scholarship in many disciplines — literary studies, film and media studies, ethnomusicology, art history, sociology, anthropology," Park said. "Students develop the ability to formulate questions and use different types of evidence. They're able to communicate their ideas and they're taking an active role in their educational experience."
Park's K-pop course is structured around a progressive series of assignments, starting with a single reflection about what K-pop means to each student. Students then complete literature reviews and summarize their findings.
Students also are exposed to nitty-gritty components of college-level learning, such as how to conduct research in Scribner Library and how to properly document sources through footnotes and bibliographies.
"I'm really loving the course," said Sophia Rubien from Manhattan's West Village, who is taking courses that range from marine biology and environmental science to creative writing and dance at Skidmore. "We have a smaller class and everything is very discussion-oriented."
A main goal of Park's course is helping students understand interconnectedness on the global scale. Park explains that K-pop music, while produced in South Korea, has a global reach through social media and smartphones. In 2012, PSY's "Gangnam Style" was the first YouTube video to reach 1 billion views.
"It's not just a thing being produced 'way over there' in Asia," Park said. "It's not just exotic color. It's tied to YouTube, creative content development and collaboration between American and Korean artists. I want students to see these connections and not compartmentalize."
Despite that strong social media presence, Emma Shaw of Ithaca, New York, had only limited familiarity with K-pop before taking the seminar.
"When I first told my new friends, they kind of laughed. I had to explain that we talk about more than the music," she said.
"We're learning things that can be applicable later, like writing and analysis that works across cultures. We're learning to do those things respectfully, especially on such a diverse campus."
The diversity of students and faculty in the course, who come from a half dozen countries across North America, Asia and Africa, as well as from a variety of backgrounds, has added to the learning experience.
"Hearing all the different opinions has been by far the best part of the class," Shaw said. "Also, learning from someone who has direct experience helps. He (Park) speaks the language and can properly interpret cultural context."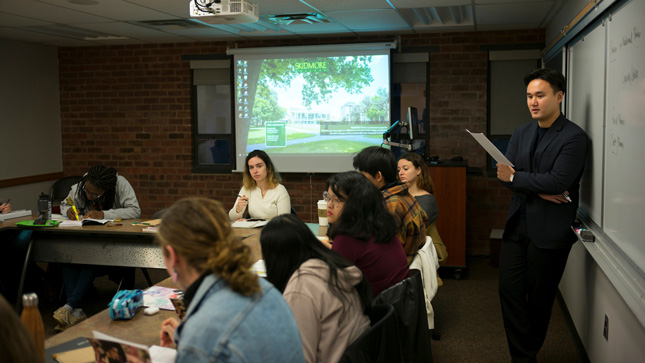 Park is originally from South Korea but was raised in Kenya. After completing his doctorate at the American University in Washington, Park returned to South Korea to complete military service. He joined the Skidmore faculty in 2017.
Park explains that, as a music genre, K-pop reflects global influences and South Korea's increased prominence on the international stage.
South Korea "is investing in it," he explained. "They're finding that it offers new national branding and soft power in international relations. It can be used in diplomacy, so it's an export with government support."
Recently, K-pop superstars BTS even addressed the United Nations General Assembly as part of a UNICEF initiative engaging the youth of the world.
"Inviting them expressed the hope that their message would reach millions of audience members," Park says.
In the end, Park's course has less to do with the fancy footwork of K-pop and more to do with footnotes.
"This course teaches students to think differently about diversity and global cultures," Park says. "We're living in this very globalized world. So the hope throughout liberal arts education is that they'll think critically and then become producers and connectors of knowledge themselves."