Photo essay: Skidmore's Commencement over the years
May 29, 2020
This year, Skidmore College is celebrating the Class of 2020 with a virtual Commencement ceremony as it also prepares for a future, in-person celebration. The unprecedented virtual event took shape amid restrictions on gatherings due to the COVID-19 pandemic, but it is not the first time Skidmore's celebrations have adapted.
Over the years, Commencement has ranged from intimate garden parties with College founder Lucy Skidmore Scribner to the large gatherings at Saratoga Performing Arts Center (SPAC) of recent decades.
Even before it officially became Skidmore College in 1922, the institution endured World War I and the 1918-1919 Spanish flu epidemic. In 1917, the Skidmore community formed its own branch of the Red Cross, and, by the following year, one of its residence halls, Brown Hall, was transformed into an infirmary for hundreds of influenza patients.
"One point that stands out to me is just how 'get-it-done' we have always been — no matter the circumstances — and ready to adjust and try something new at every turn," said Wendy Anthony, special collections curator in Scribner Library.
Here is a small selection of images from Skidmore's enduring tradition of celebrating its graduates.
Commencements throughout history
Skidmore's founder, Lucy Skidmore Scribner, hosted a garden party for graduates and their families in 1913. Here, Scribner, right; Skidmore's first president, Charles Henry Keyes, second from right; and the president's family wait in a receiving line for graduates at Scribner House, today the official residence of Skidmore's president.
Skidmore's Commencement traditions continued to evolve and included familiar traditions such as the graduates' processional, shown in this image from Skidmore's former campus in downtown Saratoga Springs in the 1930s.
Over the years, Skidmore's Commencement and its graduates have adapted to changing times. The Class of 1949 included two men, the first of the returning GIs who studied at Skidmore in the early postwar years.
Although the ceremony has changed over the years, the spirit of celebration and joy has remained a constant. Here, Miya Umaki Uyeda '58 shares a special moment with loved ones.
Skidmore held its Commencement celebrations at various locations on its campus downtown. Here, a graduate in the early 1960s receives her diploma in front of Moore Hall, which was built in 1957 and continued to house students until 2006. The building, affectionally known as the Pink Palace, was razed in 2016.
In 1966, Skidmore hosted Commencement on its new North Broadway campus, which would remain under construction into the 1970s.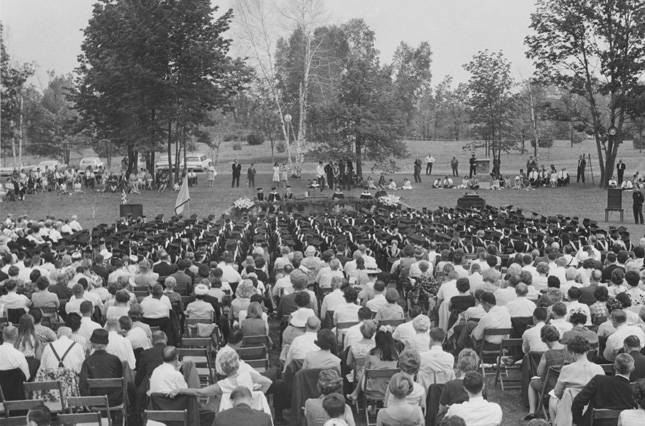 In 1967, Skidmore hosted its first Commencement at Saratoga Performing Arts Center, which opened the previous year and continues to host Commencement celebrations.
An important shift occurred in 1971, when coeducation began; two men graduated the following year. Here, ballet dancers Violette Verdy and Edward Villella were honored. They offered a dialogue instead of speeches for graduates.
Skidmore gave an honorary degree to acclaimed astronomer Carl Sagan in 1976. Over the years, the College has awarded degrees to anthropologist Margaret Mead, poet Gwendolyn Brooks, diplomat and writer Jaime Torres-Bodet, dancer and choreographer Martha Graham, novelist John Cheever, ornithologist Roger Tory Peterson, historian David McCullough, playwright Arthur Miller, writer Chinua Achebe, poet Maya Angelou, media giant Oprah Winfrey, baseball great Joe Torre and many others.
As Skidmore maintains its longstanding tradition of celebrating graduates, it is also creating new ways to celebrate. Skidmore's virtual Commencement on Saturday, May 30, features familiar traditions, including addresses from Jinan Al-Busaidi '20, senior class president, President Philip A. Glotzbach and Jennifer Mueller, assistant professor of sociology and director of Skidmore's Intergroup Relations Program, who was chosen by the Class of 2020 as faculty speaker.