Skidmore seniors exhibit creativity, social impact and a global outlook
May 19, 2021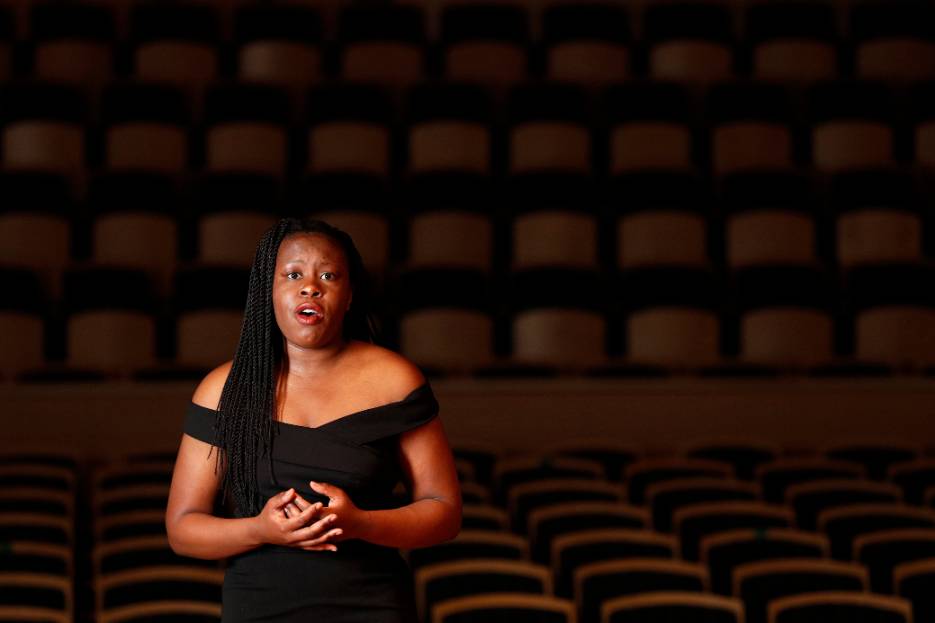 Through a range of unique of projects, members of the Class of 2021 have traversed the globe, made real-world contributions to pressing social issues and shown exceptional creativity during an unusual senior year.
As they maintained the strict COVID-19 guidelines that have kept the campus community safe, seniors brought resilience and innovative approaches to research, capstone projects, recitals, artwork and many other pursuits.
"Although it was a challenging year, Skidmore seniors demonstrated incredible perseverance as they put together a terrific array of performances, exhibitions and timely research topics, highlighting the creativity that is at the heart of Skidmore," said Associate Dean of the Faculty and Associate Professor of Classics Michael Arnush.
Topics crossed the globe, from senior economics major Zola Mirenge's "The Effect of Mobile Money on Women's Investment Decisions in Kenya" to senior international affairs major Bridget Wong's "Shifting Yin and Yang: Changes and Continuities in Chinese Gender Ideals Between Generations and in Response to Film."
Many capstone projects were also presented at the Academic Festival, Skidmore's annual showcase of academic excellence.
Although travel was limited due to the pandemic, seniors found ways to engage with the important social issues facing the world, the country and the local community.
Environmental studies and sciences majors Haja Bah '21 and Sophia Livecchi '21 teamed up with a student at Albany College of Pharmacy and Health Sciences, Saima Hannan, to create a collaborative capstone project that combined rigorous social scientific analysis with a commitment to justice.
"The purpose of this research was to address the ongoing environmental justice issues faced by the residents of Ezra Prentice Homes, a predominately Black, low-income community next to the Port of Albany," said Assistant Professor A.J. Schneller. "The capstone project provided a great example not only of solid academic research but also ways that our students can partner with other institutions to bridge disciplinary divides and engage enduring racial, environmental and social justice issues in the Capital Region."
Their project, "Environmental Justice is Exhausting: Five Decades of Air Pollution at Ezra Prentice Homes in Albany, New York," was among the five inaugural recipients of the President's Racial Justice Award in Honor of Samantha Sasenarine '21, part of the Racial Justice Initiative at Skidmore.
Filene Scholar Jonathan Goff '21, a physics major with a business minor, performs Claude Debussy's "Jardins sous la pluie" from "Estampes" for his senior recital.
In their capstone course, mathematics students considered important issues facing Skidmore and the local community. Partnering with Skidmore's Sustainability Office, Simon Chen '21, Alina Luo '21 and Cynthia Qin '21 set out to project future demand for electric vehicle charging on campus, while Jack Firestone '21, Ian Maywar '21 and Connor Leaf '21 considered ways to incorporate post-consumer food waste into Murray-Aikins Dining Hall's composting plan.
Other students in the course worked with the Saratoga Senior Center to examine important health care topics: Jesse Kelley-Derzon '21, Misha Mrotchek '21 and Jake Stark '21 explored ways to provide transportation for seniors to dialysis appointments, while Sarah Miller '21, Jordana Weinberger '21 and Katie Yan '21 applied math to the creation of a sustainable palliative care pilot program in the local community.
"I'm so proud of the work that they've done!" said Teaching Professor of Mathematics Csilla Szabo. "Their contributions will help improve campus sustainability and help the Senior Center determine if these programs are financially possible."
As the local community, the nation and the world continued to grapple with the impact of COVID-19, seniors applied the skills and knowledge they gained at Skidmore to issues raised by the pandemic.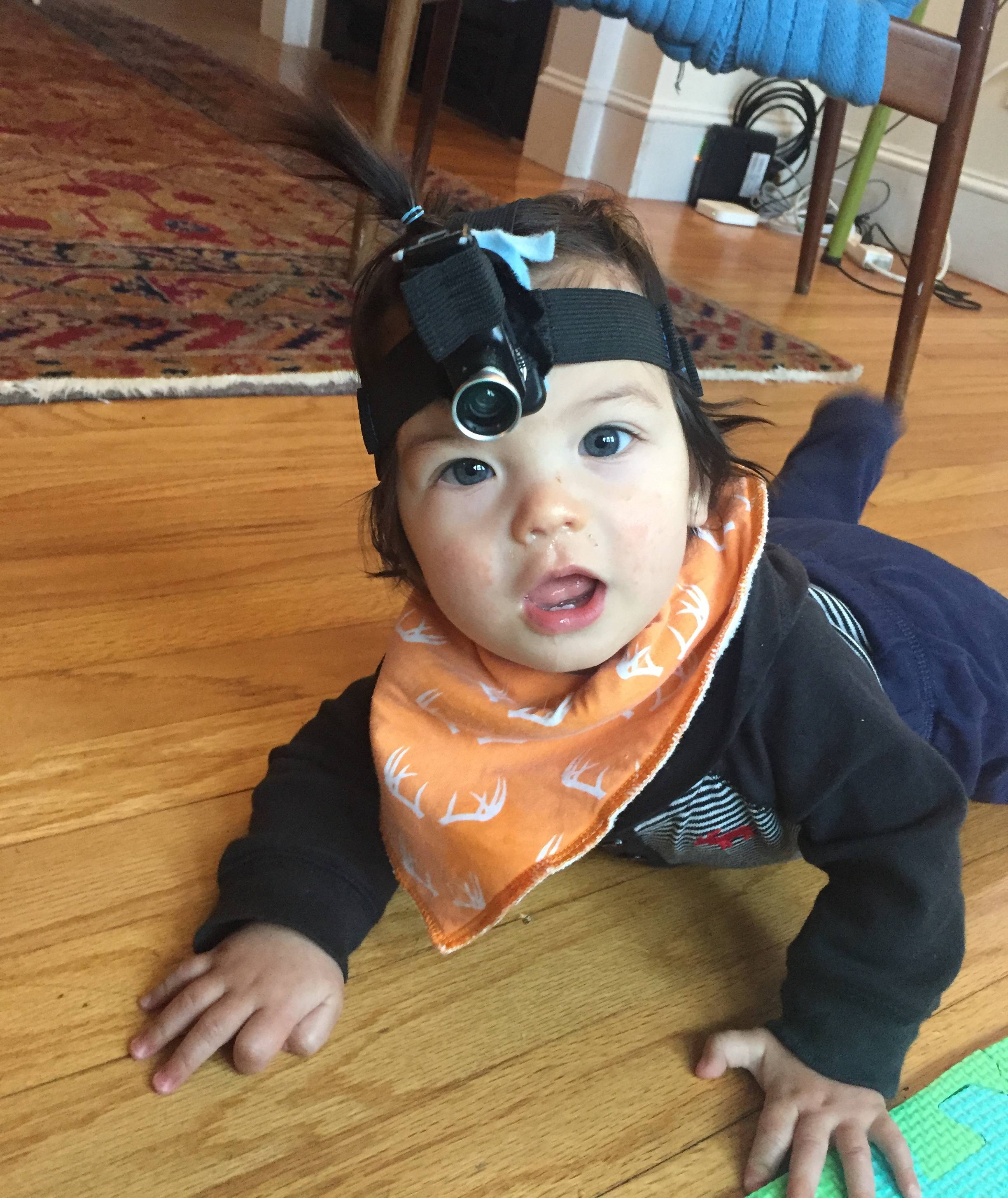 Sarah Goulding '21, a computer science and neuroscience double major, worked with Assistant Professor Erica Wojcik on her thesis, which used computational methods to describe the early language environment of babies. Goulding used a one-of-a-kind dataset, called SAYcam, which comprises footage from head-mounted cameras that three babies wore twice a week. This dataset was created in part by Wojcik and Associate Professor Jess Sullivan.
Earlier this year, Ban Canter '21 presented his research, "The Goals of Care during the COVID-19 Pandemic: Implementing DNI, DNR and DNH Orders in a Skilled Nursing Facility," at the poster session of the American Medical Directors Association — the Society for Post-Acute and Long-Term Care Medicine annual meeting. He was the only undergraduate to present at the conference.
Students in Associate Professor Sarah Sweeney's Digital Media II: Advanced Project course considered some of the tragedy associated with the pandemic in innovative ways. Isabel Hacala '21, a computer science and art double major, worked on an animated game based on the five stages of grief, while self-determined major Claire Maske '21 created an animated documentary about an embalmer working during the pandemic.
The embalmer "talks about her experiences with her work in general and addresses the taboo of death in American culture. It's heavy subject matter, but I think I have addressed it in a way that makes it more approachable," Maske said.
As a senior project, Taylor Jaskula '21 served as production manager for SpringFest, organized by the Theater Department. The productions involved more than 140 Skidmore students.
Through their work, other students demonstrated ways in which the arts can help us see beyond the challenges of the past year.
Hannah Carey '21 and 25 other senior studio art majors are displaying their work at the annual Senior Thesis Exhibition at the Tang Teaching Museum, May 15-22. Carey's pieces included artwork she developed in both ceramics and communication design.
"The resulting artwork is exciting because it relates two contrasting media, and draws analogies between the digital and the geological that reflect on the human condition and human relationship with the natural world," said Associate Professor Deb Hall.
Carey sees the work and the exhibition as both the capstone of her time at Skidmore and a way of looking beyond the pandemic.
"This has obviously been a very difficult, very strange year," she said. "Working on the senior show … provided me a sense of escape from COVID. So much of my time was spent working on these objects. It was also a way for me to connect with fellow artists on campus. It's very exciting to see this show come together."
The work of Hannah Carey '21 will be shown at the Senior Thesis Exhibition at Tang Teaching Museum.