Building a community of trust: President Marc Conner
September 28, 2021
Shortly after Marc Conner was selected as Skidmore's eighth president, Skidmore students, staff, and faculty gathered together in Zankel Music Center to welcome him for a visit to campus in early February 2020.
There, Conner — a prolific scholar, committed teacher, and visionary college leader, who was accompanied by his wife of three decades, Barbara Reyes-Conner — outlined his understanding of the liberal arts as deeply and firmly rooted in principles of diversity and inclusion.
His highest aspiration was to build at Skidmore "a community of trust, a place where everybody feels at home, everybody feels they can thrive and everybody feels safe enough to challenge and be challenged by an education that we know is daring."
"The liberal arts education we offer has never been more exciting, it has never been more challenging, and it has never been more necessary," said Conner, then provost at Washington and Lee University in Virginia.
Little did anyone know in February 2020 how much more challenging the delivery of a liberal arts education would soon become.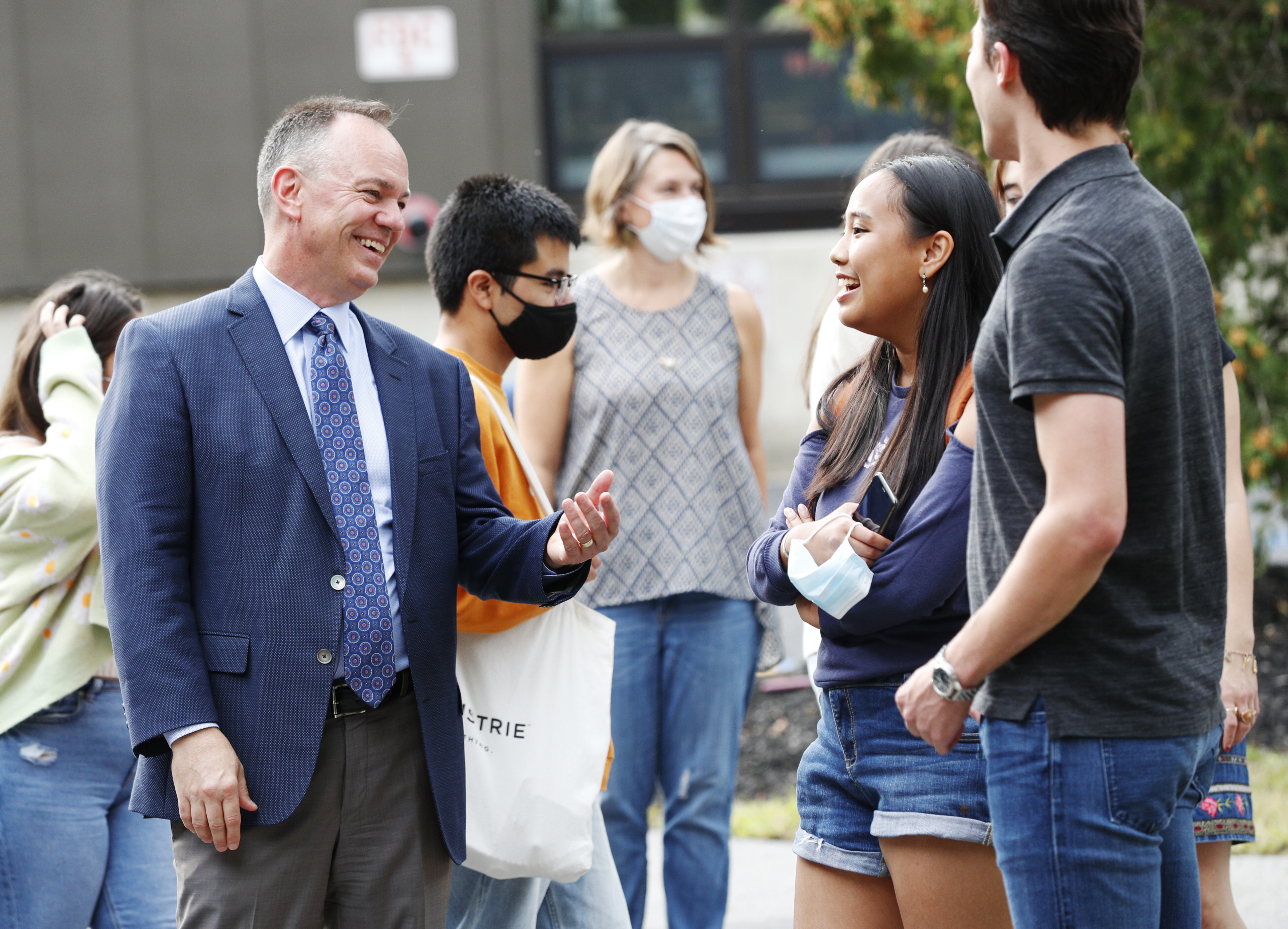 President Conner speaks with Ayesha Domingo '22 and other students at a campus event this fall.
A leader from day one
One month after the event to welcome the Conners, there would be no more gatherings in Zankel or elsewhere on campus as Skidmore — and virtually all of higher education — transitioned to remote learning due to COVID-19.

In the months that would follow, Conner would contribute to Skidmore's transition to online learning before officially taking office as Skidmore's president on July 1, 2020.

Under Conner's leadership, Skidmore introduced bold measures that far exceeded what many schools were doing: comprehensive COVID-19 testing for all students and employees, strict safety protocols, and guidance based on the leading health and safety advice, affecting nearly every aspect of campus life. But above all, Conner asked the entire Skidmore community to unite and make the heroic choices that would steer the campus through the crisis.

Rooted equally in science-based decision-making and the conviction that the Skidmore community, especially students, would do the right thing, Conner's appeal reflected both his collaborative approach to leadership and his perpetual optimism. His calculus paid off as Skidmore brought nearly every student back to campus, and delivered an unusual but also extraordinary 2020-21 academic year through a mix of in-person and online coursework. During a time when many schools faced severe financial crises, Skidmore even ended the year with a budget surplus.

I think my biggest takeaway from my first year is just how much this community cares about each other and about what Skidmore wants to be.

Marc C. Conner
Even so, Conner understood that the entire campus community would need to be together for 2021-22. Long before most peer institutions would introduce similar steps, Conner again announced bold measures, including mandatory COVID-19 vaccines for all students, faculty, and staff. By the start of the fall 2021 semester, more than 98% of faculty, staff, and students have been inoculated.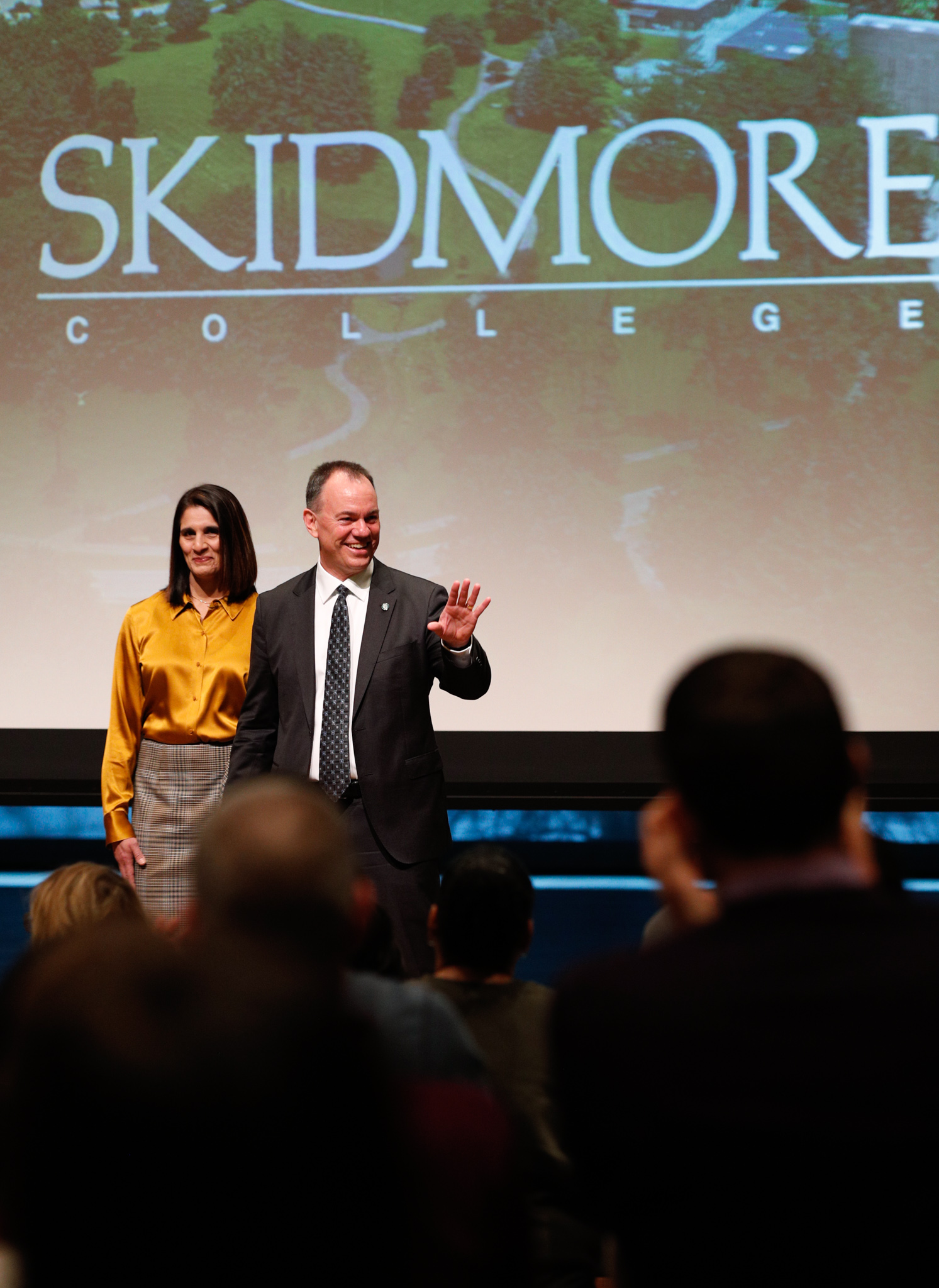 Then President-elect Conner and Barbara Reyes-Conner greet members of the Skidmore community at a welcome event in February 2020.
His goals — and those of the College — have remained constant throughout the pandemic: ensuring the health and safety of the Skidmore community, and fully delivering Skidmore's liberal arts education, which he understands to depend deeply on everyone being together on campus.
"Everybody is a teacher at Skidmore — the faculty, of course, but so too the staff. Every one of us plays a role in that educational process," President Conner said at forums with the Skidmore community in August. "That's one reason why it's such a priority that all of our employees returned to campus."
Few are in a better position to understand liberal arts education than Conner, who is, by all accounts, a teacher to his core.
At heart, a teacher
"Marc has been teaching since we were in high school. Junior high school," Barbara Reyes-Conner told Scope. "He got me through physics. Once, we were doing our physics homework and he was explaining it to me. He said, 'You got it? Teach it back to me then. If you can't teach it to me, you haven't learned it.' He's always been a great teacher."

A native of Washington state, Conner was born and raised in Tacoma, Washington, where he met Barbara. He earned bachelor's degrees in English literature and philosophy from the University of Washington, where he studied with the acclaimed African American novelist and philosopher Charles Johnson, who would later be featured in his scholarship. Conner went on to earn a master's and doctorate in English literature from Princeton University.

In 1996, he took the position of assistant professor of English at Washington and Lee, and the Conners moved to Lexington, Virginia, where they would raise three sons, Matthew, Noah, and Isaac.

As an English professor at Washington and Lee for 24 years, Conner led an exemplary academic career, teaching courses and writing extensively on African American, American, and Irish literature, including the work of Ralph Ellison, James Joyce, Toni Morrison, and Charles Johnson (with whom he has forged a lasting friendship).

Noah, Marc, Barbara, Matthew, and Isaac Conner.
Conner has published dozens of essays and seven books on literature, including "The Selected Letters of Ralph Ellison," which The New York Times Book Review named a notable book of 2020.
As chief academic officer, Conner led Washington and Lee in reaffirmation of its accreditation, co-chaired its strategic planning process, and oversaw the revitalization of its law school. He also established Washington and Lee's Office of Community-Based Learning and its Center for Academic Resources and Pedagogical Excellence, created interdisciplinary programs in data science and law, commenced a major science center renovation project, and steered its faculty recruitment, hiring, and retention diversity efforts.
For Conner, teaching can't be separated from college leadership: His leadership is an outgrowth of his experience in the classroom and his understanding of the liberal arts.
"I have always been a teacher, and I can't imagine not calling myself a teacher at any point in my career."

Marc C. Conner
"I continued to teach as provost at Washington and Lee — sometimes more than they wanted me to — but I couldn't pull myself out of the classroom," he told Scope magazine in a 2020 interview.
For Conner, equally fundamental to the liberal arts is the pursuit of diversity, which he said has provided him with his "strongest sense of mission" throughout his career.
"We only learn from difference; it's what teaches us what we do not know," Conner added.
At Washington and Lee, Conner advanced major efforts to broaden the curriculum and diversify faculty. He co-founded Washington and Lee's African American studies program in 2007 and was the program's director until 2012. He helped launch a program to increase retention of underrepresented students in STEM (science, technology, engineering and math) fields and in other areas of study through an early research experience. He also served as co-chair of the University Committee on Inclusiveness and Campus Climate.
Strengthening community
On his first day as Skidmore's president, President Conner announced his commitment to building a community of trust at Skidmore through a bold series of projects known as the Racial Justice Initiative. The message of commitment to address the realities of racial injustice locally, nationally, and globally was powerful, given the simultaneously daunting challenge of the pandemic.
"Yes, we find ourselves in challenging times in multiple ways. But my excitement and enthusiasm for this noble work is undiminished," Conner said then.
Building community remains at the core of Conner's mission at Skidmore.
In addition to the Racial Justice Initiative, the College is also moving forward with a highly collaborative Campus Master Planning process involving the entire Skidmore community. The end result is designed to reflect the collective hopes and aspirations for the future of the College. But, according to Conner, the process undergirding the project is even more important by involving all members of the community in the discussions. "Yes, we want to produce a great campus master plan by year's end," he recently told the community. "But even more important is how we get there: together, in collaboration and transparent communication."
In the years ahead, Conner is eager for the opportunity to more deeply engage with the Skidmore community, especially now that everyone is back on campus. He has enjoyed the opportunity to watch athletics competition with Barbara and is looking forward to some of the experiences that COVID-19 would not allow, like enjoying delicious meals with students in Murray-Aikins Dining Hall or attending in-person concerts at Zankel.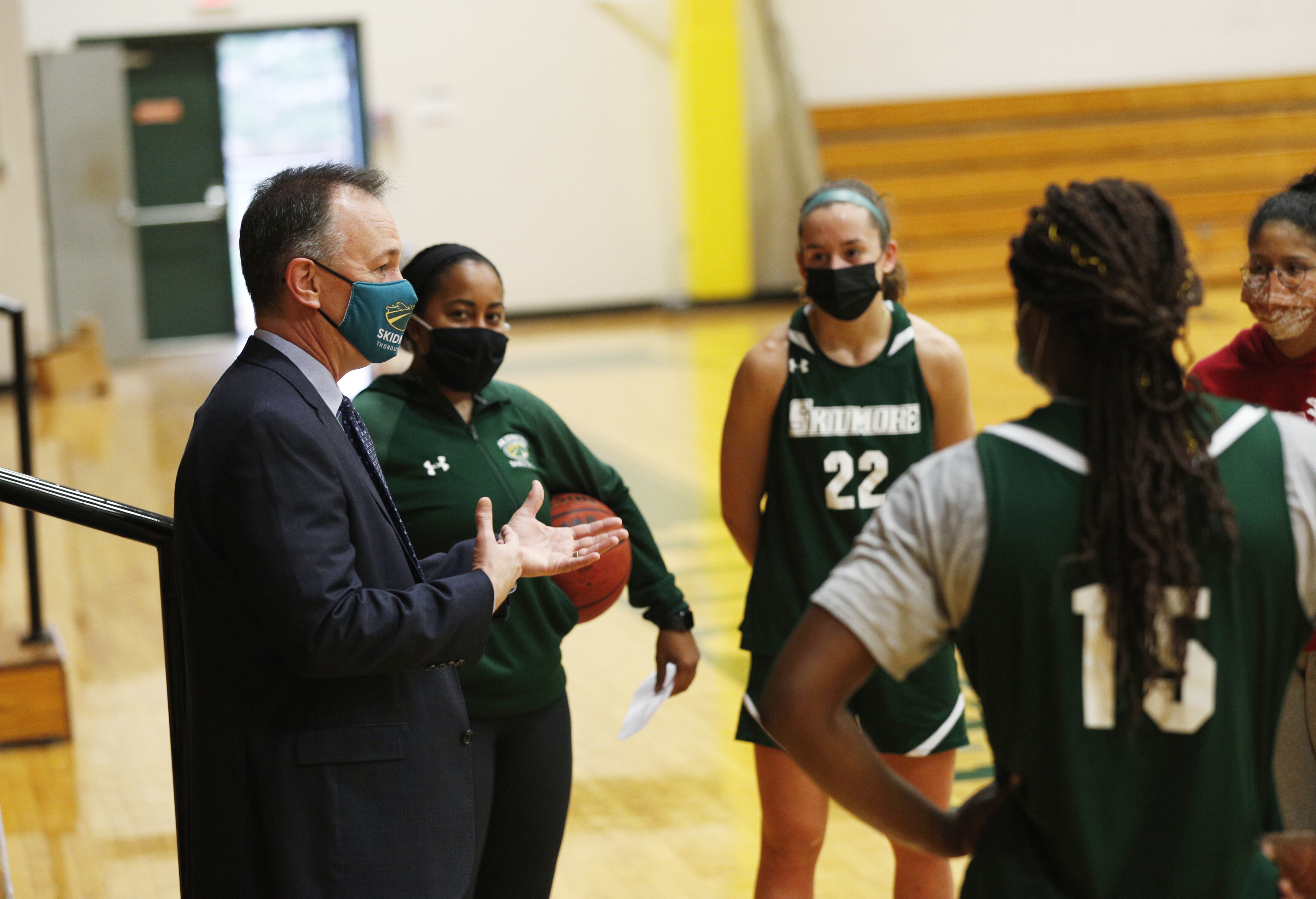 President Conner speaks with members of the women's basketball team in fall 2020.
And at heart, Conner remains a teacher-scholar, somehow finding energy at the end of long days at Skidmore to complete articles, a lecture series about Ireland for The Great Courses, and even a new book — "Global Ralph Ellison: Aesthetics and Politics Beyond U.S. Borders," which was just published this fall.
"Of course, what a president does is also a teaching role, not in that old-fashioned sense of letting me teach you what we're going to do, but in that liberal arts college mode of we're all at the seminar table together," he told Scope magazine. "Let's learn and teach each other and figure out what's the best thing for the institution."
---
Skidmore College celebrates the inauguration of Marc Conner as its eighth president on Oct. 16, 2021.