Inspiring creative careers: The Tang Teaching Museum
January 11, 2022
When Alec Unkovic '12, a classics major, applied for the inaugural Eleanor Linder Winter '43 Endowed Internship, his future was uncertain. He had little idea how the experience at Skidmore College's Tang Teaching Museum and Art Gallery would change his career trajectory.
Throughout his senior year and the summer after graduation, Unkovic learned to handle art and write condition reports about the objects in the museum's care. He conducted research and wrote for catalogues and exhibitions. He assisted visiting artists like Nancy Grossman, Pam Lins, and Kiki Smith with their exhibitions. He even interviewed Smith on stage. For his capstone project, he curated "Twisted Domestic," an exhibition of work from the Tang collection that explore people's complex relationships with the idea of home.
The Tang was foundational in giving me the skill set that allows me to have the career I have now."
"I learned from the Tang how to make an artist feel welcome, which has a direct impact on my career," said Unkovic, exhibitions manager at the Fabric Workshop and Museum in Philadelphia, which is known for working with artists to create and show new work. "I also learned from the entire Tang staff, who were generous and kind to me, and always willing to say yes. So I try to emulate that generosity to create an atmosphere of collegial collaboration at the Fabric Workshop."
Alec Unkovic '12
Unkovic is one of numerous Skidmore alumni whose lives have been shaped by Tang experiences over the past two decades. Each semester, hundreds of students visit the Tang for classes, events, and exhibitions, which are fully integrated into Skidmore's liberal arts mission.
"Students who find their way to the Tang are curious, open-minded, and creative thinkers who are often attracted to art, or ideas about art, and are often surprised by the rigorous work involved at the museum and how much we ask of them," said Dayton Director Ian Berry, who has worked at the Tang since before it opened in 2000 and has served as a mentor to Skidmore students ever since. "At the same time, students bring energy and ideas that help us see the work in our growing collection of more than 17,000 objects in new ways, but also about what a museum can be."
Today, nearly 30 students work at the Tang in all departments each semester, including four students who hold a year-long named internships. More than 50 students volunteer on the Tang Student Advisory Council, helping program events for College and public audiences. Their work behind the scenes gives them valuable work experiences and extraordinary access to art, artists, and ideas that can prepare them for careers both inside and outside the arts.
An aha moment
Meredith Mowder '08, an art history and studio art double major, experienced an aha moment in the Tang during her first semester at Skidmore. For the course English 105: Writing in the Tang, she wrote papers that focused on analyzing objects on view at the museum and how they engage the space around it. Through that process, she said she realized: "This is it! This is what I want to do!"
The next semester, she got a job as an exhibitions assistant, and spent much of the rest of her time at the museum. Looking back, she still marvels at the responsibility she was given. She wrote extended labels for the 2006 exhibition "Twice Drawn," which were then published in the exhibition catalogue.
"To say I had a catalogue essay under my belt as an undergrad? That was amazing!" Mowder said.
You're asked to do some big stuff (at the Tang), and I think that sets you up for what it's like to have a career in the art world."
Another big experience was curating the exhibition "Smack," which explored sound through audio recording, video, photography, drawing, and painting by contemporary artists, including Martin Kersels, Barry Le Va, Susan Turcot, and William Wegman. Meredith Mowder '08
"'Smack' was a real opportunity to ask those questions that I hadn't seen asked in the classroom," she said. "And to ask in a real formal way, in a reputable museum space, fundamental questions about how we make sense of these things that exist outside of visual art."
Those questions also informed her Ph.D. dissertation at CUNY Graduate Center, focusing on performance art in New York City in the late 1970s and 1980s and the social and economic networks that made it possible. She will be teaching at Cornell University next semester.
The birth of an idea
Laila Morgan '18, an art history and American studies double major, was the 2016-17 Carole March and '57 Endowed Intern at the Tang. Her capstone project was the 2017 exhibition "Birthing Bodies," which featured video, photography, sculpture, and painting to explore childbirth through a feminist lens.
"The agency and autonomy the Tang gave me exploded my interest in birth," Morgan said. "My time at the Tang gave me access to art objects and ways of thinking that I don't think I would have ever been able to access had I not worked at the Tang."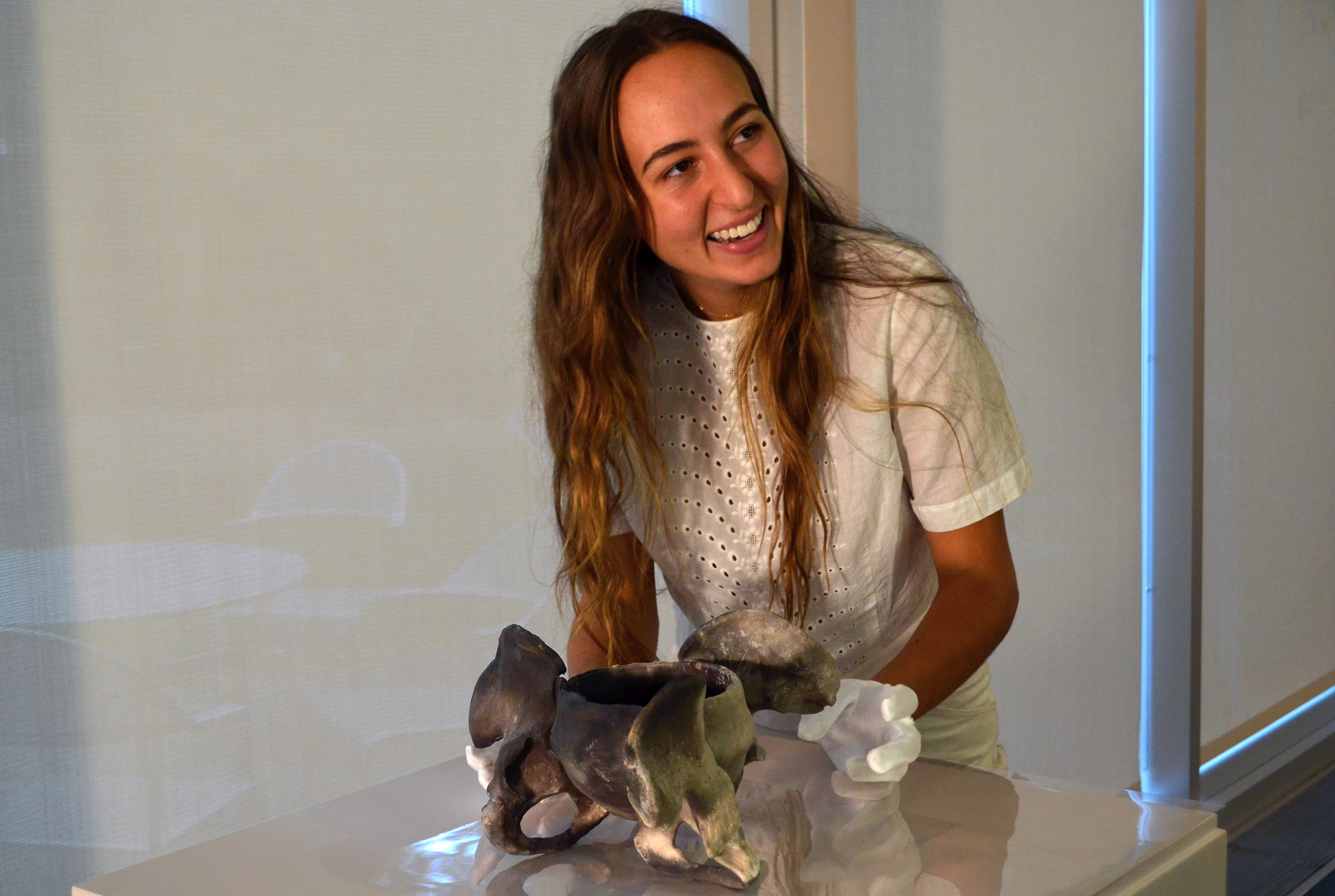 Laila Morgan '18
At the time, Morgan was starting to train to be a doula, a person who provides physical and emotional support to those going through pregnancy, childbirth, and afterward.
In addition to exploring her interest in the subject of childbirth, Morgan credits her Tang experience with giving her the valuable skill of being able to take complex information, synthesize it, and present it in an accessible way for her patients, who are going through one of life's most intense experiences.
Today, Morgan works as doula in Brooklyn and is applying to enroll in a certified nurse midwife program, continuing her exploration of childbirth in a new way.
A sense of community
Dayna Joseph '19, an art history major and arts administration minor, held the 2017-2018 Carole Marchand '57 Endowed Internship. For her capstone project, she organized the exhibition "New Ms. Thang," which examines glamour as defined by classic Hollywood and as redefined by contemporary black female photographers and their subjects.
"I had always had and still have a complicated relationship with my identity," she said. "When I went to Skidmore, I explored my racial identity more and felt proud of it. That led me to want to do a topic like 'New Ms. Thang' for my show."
The idea for the exhibition sprang from a moment in Ian Berry's office when he was showing her a portfolio of photographs by George Hurrell of Hollywood stars from the 1930s and 1940s like Gene Harlow, Veronica Lake, and Rita Hayworth. She thought the women all looked glamorous but looked nothing like her. Then she wondered why she thought the way she did.
"It seemed like the pinnacle of what I had discovered about myself in college," she said.
Though she had every intention of working in the arts, she also learned during her time at the Tang that she wanted to work in a place that had the same kind of community and respect.
Dayna Joseph '19
In fall 2019, she found that in her position of alumnae manager on the development team at The Spence School, the all girls' school that she had attended from kindergarten through high school.
She credits the Tang with giving her the skills to see a project all the way through. In her new job, she helps organize four to six alumnae events each month. She said, "My ability to start with looking at photos in Ian's office and ending with the exhibition is very similar to event planning: You're working with different people and different companies, working to make the event happen, and those skills are crucial to my success now."
She also credits her Tang experience for giving her the confidence to add her voice to the Spence School's Anti-Racism Task Force. "My ability to articulate the need for identities other than whiteness allowed me to articulate on the task force why non-white identities are needed and should be appreciated in the school. I wouldn't have been able to articulate that if I hadn't had my experiences during the exhibition process."
The Tang abroad
Sami Israel '19, credits her Tang experiences with helping her see and find stories for her job as an associate producer at the English-language television broadcaster i24 in Tel Aviv.
As a college and public programs intern, Israel helped plan and put on numerous public events, including Accelerator Series discussions that brought together art from the Tang collection, artists, scholars, activists, and influential thinkers to discover new perspectives that disrupt the status quo about urgent issues, ranging from race and migration to cultural appropriation and food justice.
Sami Israel '19
Those experiences made it possible for her to appreciate and understand the importance of an Arab-Jewish intercultural center in the city of Haifa called Beit Hagefen. She pitched it as a story that she would report. The center uses art and cultural activities as a catalyst to facilitate dialogues across religious and cultural divides and to emphasize shared humanity.
The story she reported and produced aired in May 2020, at time of rioting in many areas of Israel, including Haifa. "The video carried a lot of weight," Israel said. "A lot of people said it was really hopeful because I did it right after this episode."
Israel also found another connection to the Tang. A curator at Beit Hagefen told Israel that they knew about the Tang Teaching Museum. They had researched the Tang as a pioneering art space as they prepared to open a new wing called The Third Space, which uses visual art as a means for exploring ideas about identity and belonging in a multicultural society.
---
This article first appeared in the fall 2021 issue of Skidmore College's Scope magazine.