Alumna gallerist provides a path for historically marginalized artists
November 15, 2022
With the opening of her own New York City art gallery earlier this year, Hannah Traore '17 has been making a meaningful impact in the art world, advocating for and celebrating artists who have been historically marginalized from the mainstream narrative.
"That means artists of color, queer artists, indigenous artists, immigrant artists, women, neurodivergent and disabled artists," she explained in a recent interview at Hannah Traore Gallery on the Lower East Side in which she talked about discovering her passion at Skidmore College, having the courage to take risks, finding and building community, and everything in between. "I think it's really important for artists to be able to work with a gallerist who understands the idea of otherness. It's been really wonderful to hear the feedback from artists that I work with, and how much it means to them and how seen they feel by a young Black gallery."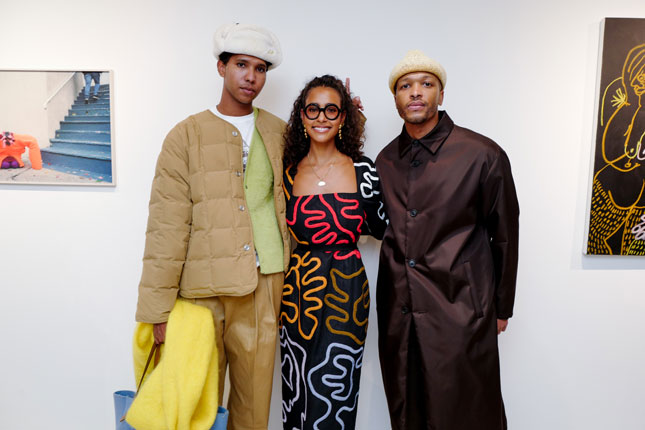 Featured in Vogue, Harper's Bazaar, New York Magazine, and Wall Street Journal Magazine — among a number of other art, business, fashion, and culture publications — Traore's work is helping to shift the power dynamic in the art industry while fostering a space where all visitors can feel welcomed and comfortable.
Her journey to opening her own gallery began at Skidmore, she recalls, with the curation of her first show, "Africa Pop Studio," for the Frances Young Tang Teaching Museum and Gallery as her senior art history thesis. Inspired by her father's culture, the show centered on Malian photographer Malick Sidibé — one of the first artists to document Malians after the country gained independence from France in 1960 — as well as about a dozen artists who conceptually or aesthetically looked to him.
"That show is really important for a lot of reasons," Traore said. "One, because it showed me kind of the path that I wanted to take in the arts, which is curatorial. But it also, in my opinion, is the reason I got all the jobs that I applied for after college, because it was such a powerful show, and I wouldn't have been able to make it so powerful without the help of Ian Berry and the Tang."
The show also introduced her to Moroccan artist Hassan Hajjaj, one of the first artists she went on to work with at Hannah Traore Gallery.
In this 2017 Tang video, Traore describes her first curatorial experience, creating the show "Africa Pop Studio" for her senior art history thesis at Skidmore.
Traore also credits Skidmore's Art History Department with helping her realize her passion and career path. "It's such an incredible program," she said. "I was really proud to be a part of a department that was looking toward diversity in a real, authentic way."
After graduating from Skidmore, Traore went home to Toronto for a year, then secured an internship at the Museum of Modern Art (MoMA) and moved to New York City. She then joined MoMA's Black Arts Council, and her network of art connections in the city grew in depth and scope. Among those relationships, she found fulfilling friendships with other young women of color who were curating and operating galleries as well.
With confidence in her ideas, connections, and the credibility she gained through her Tang and MoMa experiences, Traore realized during the pandemic that she was ready to take a risk and open her own gallery.
"I felt like I just had enough support to do something like this. And I also trusted myself to find people to help me with my blind spots," she said. "It's the kind of thing where you're never ready to open a gallery until you just do it."
An additional source of support came from Skidmore's "beautiful community of alumni," she noted.
So many of the friends I still have today are from Skidmore. But also, it was so beautiful when I had my opening, because my little brother said it felt like a Skidmore reunion.
"People from all grades — my grade, his grade, because he also went to Skidmore, and every grade in between — came out to support me, which meant so much. And the first piece that was purchased from the show was purchased by a Skidmore alum, so that meant a lot too."
Traore says founding and directing her own gallery has made this the most exciting time of her life, and she couldn't have done it without the values instilled by her family, the experiences she had at Skidmore, and the communities she is a part of today.
"I really do believe that everything in life has a lot to do with luck. And though obviously I've worked really hard, so many people have been so involved in my journey," said Traore. "I have met such incredible people who have become like family, and so much of this experience has been a surprise."
"I just honestly am so excited to keep going, to keep showing people my program, to keep working with amazing artists, and to keep doing what I do."
ARTWORK FEATURED IN THE VIDEO,
'Hannah Traore '17 - Creating an inclusive gallery'
(Beginning at 0:53)
First slide
Left: Moya Garrison-Msingwana, "PILE_012," 2022
Right: Moya Garrison-Msingwana, "PILE_019," 2022
Second slide
Left: Meriem Yin, "PLASTIC-HAND," 2018
Right: Installation views of Mi Casa Su Casa, 2022
Third slide
Left: Camila Falquez, "Miss Patsy In Decline (She/Her)," 2021
Center: Camila Falquez, "Miguel Angel Heredia (He/Him)," 2020
Right: Camila Falquez, "Natalia Mendez from La Morada (She/Her)," 2021
Fourth slide
Left: Installation views of Renee Cox: Soul Culture, 2022
Right: Renee Cox, "The Awakening of Mr. Adams," 2016
Also featured
James Perkins: Burying Painting, 2022
Moya Garrison-Msingwana: LAUNDRY 002 – A Thread Is A Vein, 2022
Additional images provided by Hannah Traore Gallery