Honors Convocation celebrates student achievement, aspirations, and community
May 10, 2023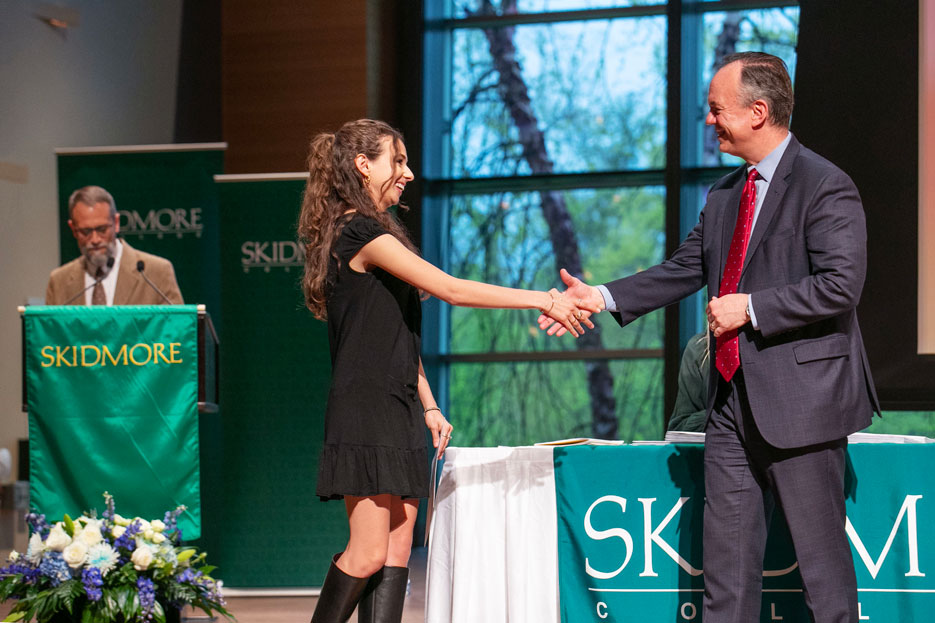 Honors Convocation, a Skidmore tradition that dates back over 60 years, again brought the Skidmore community together to recognize students' outstanding academic achievements, creativity, leadership, and service.
"We gather this evening to celebrate the noble pursuits and achievements of academic excellence displayed by our remarkable students," said Michael Arnush, associate professor of classics and associate dean of the faculty for student academic affairs, in kicking off the May 3 event in Arthur Zankel Music Center's Helen Filene Ladd Concert Hall.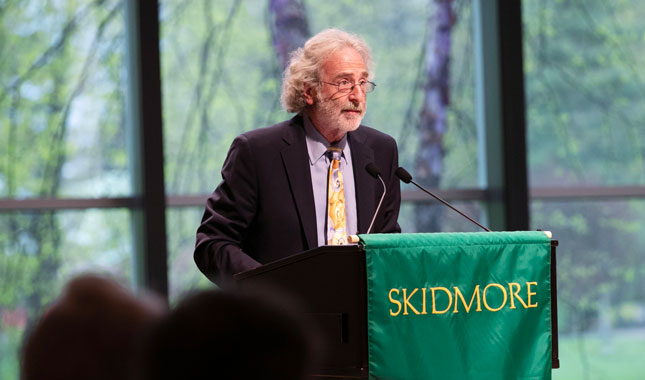 Michael Arnush, associate professor of classics and associate dean of the faculty for student academic affairs, delivers welcoming remarks to open the 2023 Honors Convocation ceremony.


In addition to celebrating these accomplishments, President Marc Conner noted, the ceremony is about honoring students' aspirations for the future — "those hopes and dreams and aspirations that I hope are more boundless than ever," he said.

The showcase of Skidmore students' academic excellence is also an opportunity to see "the fulfillment of their purpose – the mission for which they came here four years ago," President Conner said. He acknowledged the many faculty, staff, friends, and family who have contributed to "the communal foundation" these students have established at Skidmore and provided support and encouragement along the way.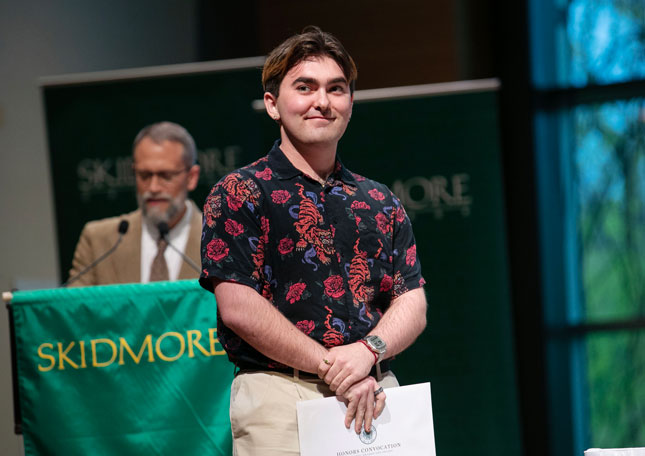 "I hope you will join me not just in celebrating our students but in taking humble pride in what they have accomplished and thanking them for what they have given to Skidmore and for the future that they embody for us," President Conner said. "That future is very bright indeed."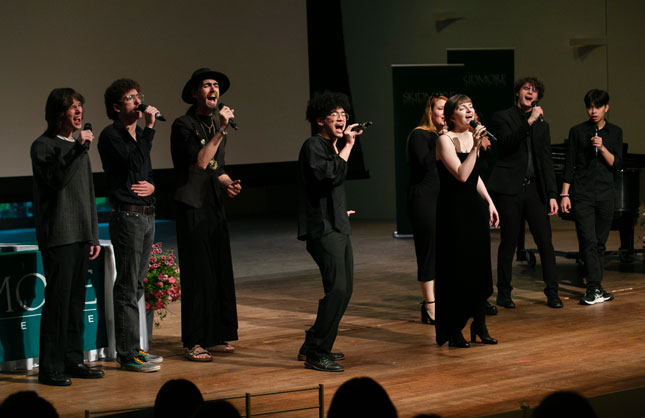 The ceremony opened with performances by the Vocal Soul Collective, under the direction of Visiting Assistant Professor and Choral Director Floydd Ricketts, and Musical Theater-Opera Workshop students, led by Senior Artist-in-Residence Sylvia Stoner-Hawkins and Private Music Instructor Casey Gray.


Here's a look at this year's honors, by the numbers:
22 national merit scholarship and fellowship honorees were recognized. Abigail Grace Monahan '23 and Sydney Leah Kass '23 are the recipients of Fulbright Scholarships, Maria Adriana Cuibus '24 is the recipient of a Goldwater Scholarship, and Rebekah Boon Clapham '19, Bella Lynn Finkel '23, and Katie Yan '22 are recipients of a National Science Foundation Graduate Research Fellowship. Sixteen students were semi-finalists, nominees, alternates, or earned honorable mentions for these awards.
8department and program prizes and opportunity awards were given to a total of 14 students. These awards are given for papers, competitions, field and laboratory research, artistic projects, and other creative endeavors, and they build on close faculty-student collaborative work.
71academic awards and prizes were bestowed across all disciplines, from the President's Racial Justice Awards to those in neuroscience, art history, music, management and business, and everything in between.
25senior class members of the National Honor Society of Phi Beta Kappa were acknowledged. The society exists to encourage and recognize outstanding achievements in liberal arts education, and Skidmore was granted a charter in 1970.
34senior class members of the Periclean Honors Forum were acknowledged. Through honors-designated courses, planned co-curricular activities, and participation in community service, the forum strengthens intellectual life at Skidmore and provides positive leadership on and off campus.
298memberships in national and international honor societies for specific areas of study, from the National Honor Society in Psychology to the International Honor Society in Economics, were recognized.