Faculty-Staff Achievements, March 17, 2013
March 18, 2013
Awards
Crystal Dea Moore (center) with Ashley Reynolds '14 (l) and Teri Kennedy of
Arizona State University, a past Joyner
Award recipient.
Crystal Dea Moore, associate professor and chair, Social Work Program, is the 2013 recipient of the Mit Joyner Gerontology Leadership Award, a national honor presented by the Association of Baccalaureate Social Work Program Directors and AGE-SW. The award promotes leadership in gerontological social work practice for undergraduate students through scholarship, best practices, and/or community connections.
Moore was nominated by colleagues from the University of Portland and the University of West Virginia, with letters of support supplied by a number of people, including students. In their nominations, colleagues cited Moore's "broad knowledge, research, and experience in the field, her teaching at Skidmore, her recent work as a visiting professor in Sweden, and her active membership in the Advisory Committee of Saratoga Vital Aging Network (SVAN)." SVAN is one of several community-based initiatives in which Moore has participated that were cited as examples of work beyond the classroom. Her published research—including a number of journal articles and an award-winning edited book—were among the achievements considered by the award committee.
Moore received the award March 8 during the Baccalaureate Program Directors annual conference in Myrtle Beach. She attended with social work student Ashley Reynolds '14 recent winner of the Newman Award.
Skidmore received three Accolades awards—one gold, one silver, and one bronze—at the 2013 Council for the Advancement and Support of Education (CASE) District II annual conference. Members of the Skidmore web and annual fund staffs were presented with Accolades for their work on the website redesign and online fund raising. Accolades celebrate institutional achievement in communications and marketing, as well as programming in the areas of alumni relations, fund raising, community and government relations.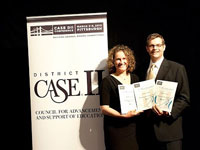 Megan Mercier, CASE District II trustee-at-large, and Andy Camp, web developmentdirector, with Skidmore's Accolades.
The home page redesign received top honors, a gold award in the category "Web Site: Institutional Home Page." The 5/01 501 Donor Challenge, an online fund raising campaign, took silver for "Best Practices in Communication: Four-Year Private Institution." In the "Web Site: Fundraising/Development" category, Skidmore's Support Your Passion web page won bronze.
In addition, Daniella Nordin, online community manager, and Jen Castellani, annual fund gift officer, gave a presentation titled "Getting Social with Your Donors: Creating and Implementing a Successful 24-Hour Online Donor Challenge," during the conference, held March 3-5 in Pittsburgh.
CASE is a national organization of advancement professionals specializing in alumni relations, communications, and philanthropy. District II, the mid-Atlantic region, is the largest CASE district with more than 675 institutional members.
Leo Porter, assistant professor of computer science, was a winner of the "Best Paper Award" for his paper "Retaining Nearly One-Third more Majors with a Trio of Instructional Best Practices in CS1," presented at the March 6-9 Association for Computing Machinery Conference in Denver, Colo. Co-written with Beth Simon, the paper was selected for recognition from among 111 papers accepted at the conference. See below for more details of Porter's conference participation.
Activities
Robert ParkeHarrison, associate professor of art, and Shana ParkeHarrison were the inaugural curators in the Saratoga Film Forum's "Town and Gown Movie Series." They spoke March 4 about Wings of Desire, the 1987 Wim Wenders postmodern fairy tale. The goal of Town and Gown night is to introduce Film Forum audiences to Skidmore artists or scholars whose work has been significantly affected by the movies. The film is selected by the Skidmore speaker, who talks about what the movie has meant to him/her. Said Film Forum President Amy Godine, "To have a resource as close at hand and rich in film savvy as the Skidmore faculty, this ought not to be wasted. Our series 'outs' this hidden resource in our midst."
Leo Porter, assistant professor of computer science, presented three published research papers and one workshop at the 44th Association for Computing Machinery Conference March 6-9 in Denver, Colo. The presentations were as follows:
· Leo Porter and Beth Simon, "Retaining Nearly One-Third more Majors with a Trio of Instructional Best Practices in CS1," in Proceedings of the Special Interest Group on Computer Science Education Technical Symposium;
· Leo Porter, Cynthia Bailey Lee, and Beth Simon, "Halving Fail Rates using Peer Instruction: A Study of Four Computer Science Courses," in Proceedings of the Special Interest Group on Computer Science Education Technical Symposium;
· Daniel Zingaro, Cynthia Bailey Lee, and Leo Porter, "Peer Instruction in Computing: the Role of Reading Quizzes," in Proceedings of the Special Interest Group on Computer Science Education Technical Symposium.
In addition, Zingaro, Bailey Lee, Simon, Porter and John Glick co-presented the workshop "Peer Instruction in CS: Introduction and Recent Developments."
Pushkala Prasad, Zankel Professor in Management for Liberal Arts Students, spoke March 15 at the Kern Symposium on Liberal Arts and Business at Rochester Institute of Technology on the topic "Permission to Wander: Interdisciplinarity and Making a Difference in Management and Organization Studies."
Eleven members of the Skidmore faculty and staff toured the Globalfoundries chip fab factory in Malta March 11. The purpose of the tour was to educate STEM (science, technology, engineering and math) faculty about the company and to enable company officials to more about the College as it continues to build its workforce.
Tour participants were Leo Porter, Mary Odekon, Karen Kellogg, William Tomlinson, Steven Frey, Barry Pritzker, Pierre von Kaenel, David Vella, Judith Halstead, William Kennerly, and Catherine Hill.
Globalfoundries, which has yet to ship its first order, is a fully automated computer microchip manufacturing facility. The firm has hired more than 3,000 people since 2009 and plans to hire an additional 1,000 employees over the next two years. The Malta facility is the most technologically advanced chip fabrication facility in the world. It was built to produce 300mm wafers. Silicon wafers are the substrate onto which computer chips are built.
Due to the extraordinarily precise nature of the chip manufacturing process, chips are built in clean-room environments. The Skidmore group learned that the clean room at Globalfoundries is 1,000 percent cleaner than an average operating room and is the size of six football fields. The Malta facility uses more electricity than all of the residential homes in Saratoga County combined.
Publications
Pushkala Prasad, Zankel Professor in Management for Liberal Arts Students, is co-author (with Karen Ashcraft) of "Organizing: Corporate Social Responsibility as a Case for Understanding Communication History," a book chapter in Handbook of Communication History, edited by P. Simmonson et al. and published in 2013 by Routledge (London).
Denise Smith, professor of health and exercise sciences, is co-author of a manuscript titled "Extreme Sacrifice: Sudden Cardiac Death in the Fire Service" published in the journal Extreme Physiology and Medicine, Vol. 2, No. 6, February 2013. The manuscript reflects a collaboration between Skidmore College and Harvard School of Public Health.
Gordon Thompson, professor of music, describes how "The Beatles Record 'From Me to You,' Tuesday 5 March 1963" for the Oxford University Press Blog, 5 March 2013.