Skidmore Spotlight: Jesse O'Connell
March 22, 2018
Jesse O'Connell, also known by her maiden name, Wakeman, is program coordinator for the John B. Moore Documentary Studies Collaborative (MDOCS).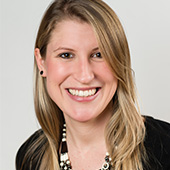 O'Connell joined Skidmore in October of 2015 after relocating from San Francisco where she worked in the documentary film industry. O'Connell says that her role coordinating an academic program brings unexpected similarities to the process of creating a film.

"The opportunity to think creatively with the support of my MDOCs colleagues and the broader Skidmore community is fulfilling and inspiring," said O'Connell.
Some of her favorite things to do on campus include Human Resources' and other sponsored networking events where she can meet new people and socialize.

When not at work, O'Connell spends time with her family on hikes and working in their garden.