Skidmore Spotlight: Lisa Quimby
August 30, 2018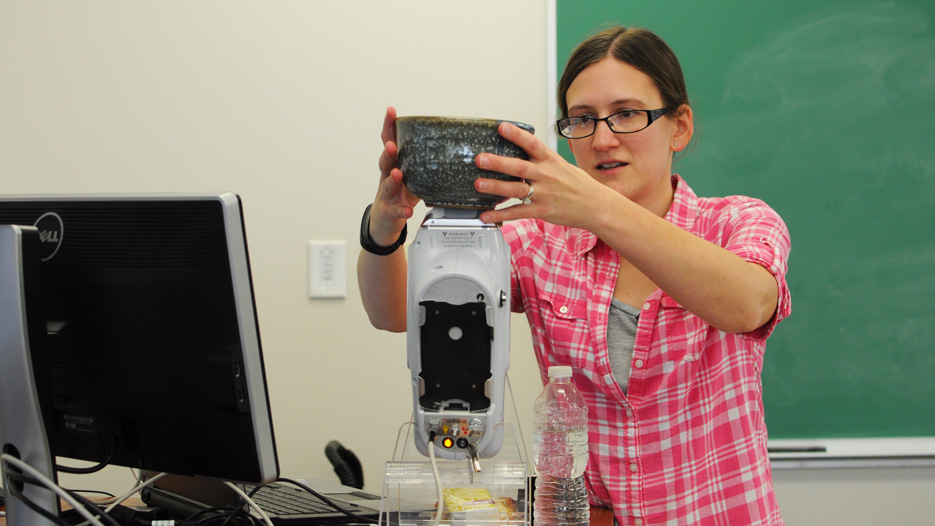 Lisa Quimby works as an instrumentation manager for the Skidmore Analytical Disciplinary Laboratory (SAIL) and the Department of Chemistry. SAIL is a suite of scientific instrumentation that's open to everyone at Skidmore and Quimby ensures the equipment is running correctly while also teaching students, faculty and other researchers how to use it.
Quimby joined Skidmore in 2008 as a visiting assistant professor of analytical chemistry and began her position in SAIL in 2010. Quimby has also taught chemistry at Hudson Valley Community College.
"SAIL is my dream job," said Quimby. "I get to be involved in many interesting research projects across the sciences. I also work with classes using instrumentation, so I'm always learning something new … I truly love my work."
Quimby continued, "It's the people who make my job enjoyable. I feel like I'm part of a community at Skidmore. The faculty are great to work with, the students are a lot of fun and I really enjoy my interactions with other staff on campus, particularly through the Staff Advisory Group."
Quimby said that Staff Advisory Group events are some of her favorite because she "enjoys learning what other staff bring to our community and finding ways that we can collaborate to help each other and our students."
When not at Skidmore, Quimby said she's busy learning taekwondo with her family. She also enjoys crochet and quilting.