Skidmore Spotlight: Tom Marcellus
February 17, 2021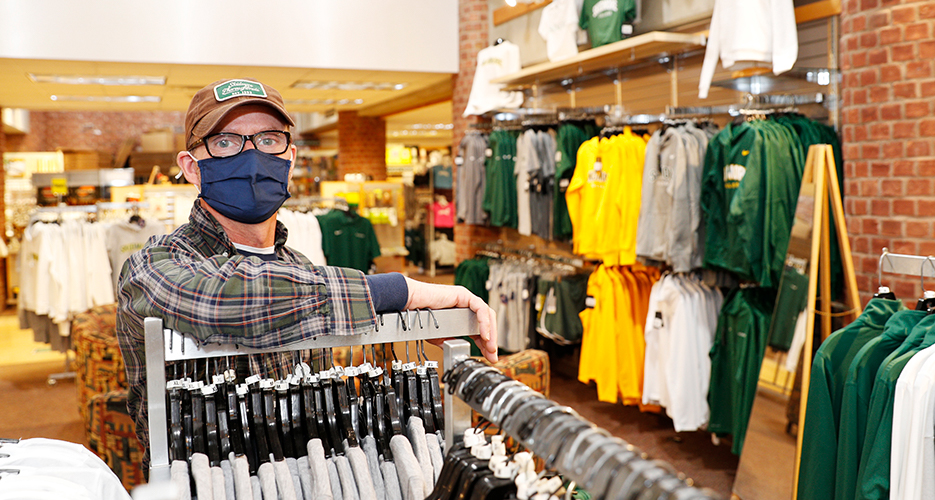 Tom Marcellus is inventory coordinator in the Skidmore Shop, where he coordinates shipments from multiple vendors, keeps shelves stocked, updates displays and performs many other important tasks to ensure students have access to all the materials they need.
Marcellus, who joined Skidmore in 1987 and the Skidmore Shop in 2007, said he always enjoys the excitement of Skidmore Shop's semesterly textbook rush, but this semester was unique: Within days, Skidmore Shop employees, including Marcellus, pivoted to deliver thousands of textbooks to students on an appointment-only basis as part of the College's safe-shelter mode, a series of measures designed to prevent the spread of COVID-19 during the first weeks of the semester.
"It was successful, and we helped to avoid the large gatherings that we usually see," Marcellus said. "I'm always saying we can't do this without each other. That team spirit is one of the things I really value about Skidmore."
It's also something that colleagues value about Marcellus.
"Tom's positivity and team-player mentality are noteworthy and something to aspire to," said Director of Brand Communications and Marketing Martha O'Leary. "In his role at Skidmore and his personal life, he is always going above and beyond to help others by acting as a mentor to students who are learning to drive, performing volunteer work and just being an all-round kind and genuine person."
Giving back is important to Marcellus, who values the diversity of the Skidmore community and the opportunity to work with students. "It's a great feeling to think that we can all make a difference in a student's life."
When he is not on campus and not helping others, Marcellus enjoys running.
---
Would you like to nominate an employee who is contributing to the College's efforts against COVID-19 for recognition? Email us at swb@skidmore.edu.