Skidmore Spotlight: Johanna Mackay
March 10, 2021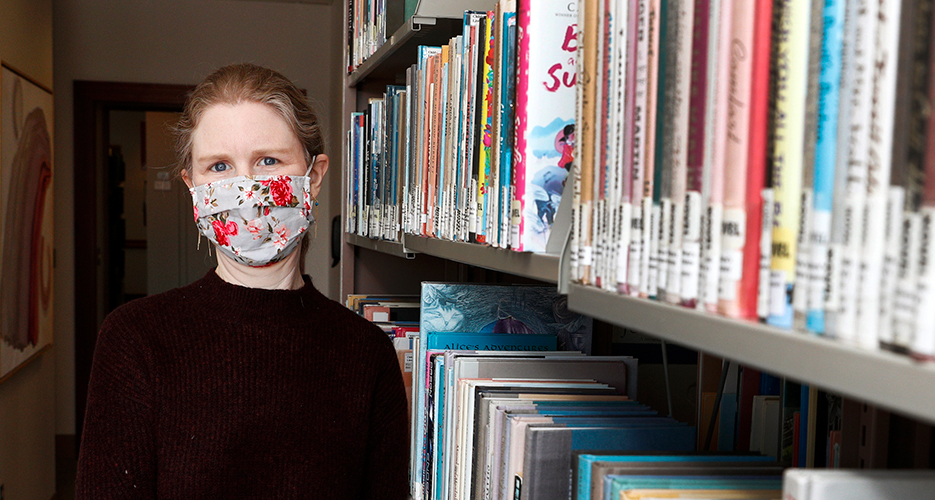 Johanna Mackay, instructional design librarian at Scribner Library, provides reference help to students, faculty and staff, teaches sessions to support student research projects for courses, and coordinates outreach and events for students.
Mackay joined Skidmore in late 2014. Over the past year, she has supported the library's efforts to provide essential services by offering research help through online chat, conducting one-to-one Zoom sessions with students and contributing to online FAQs.
Much of her work focuses on student experiences in the library — eye-catching displays, light-hearted contests and stress-busting finals-week crafting activities. She has rethought many of the popular activities that she helps organize, such as the Pumpkin Challenge, so that students could continue to enjoy them during the pandemic.
"When we had to abandon our in-person library services and spaces during spring 2020, Johanna could have scaled back on her marketing and outreach activities. Instead, she converted as many as possible to remote delivery or took them outdoors," said College Librarian Marta Brunner. "She also kept all of her colleagues' plants alive throughout the spring and summer when few people were able to be in the building."
Mackay, who also takes care of the library's green space on the first floor, said she appreciates the collaborative spirit displayed by her Scribner Library colleagues.
"When the pandemic hit, everyone really pulled together to get our services online and get students the resources they needed," she said. "Everyone is still working really hard to supports our students, faculty and staff as much as possible."
When she is not campus, Mackay enjoys horseback riding and gardening.
---
Would you like to nominate an employee who is contributing to the College's efforts against COVID-19 for recognition? Email us at swb@skidmore.edu.