Mercurial Objects: Luxuriant Obsession
An Invitational Exhibition
March 25 - May 1, 2011
Mercurial Objects: Luxuriant Obsession
, is a vibrant and eclectic exhibition featuring the work of nine regional and national artists who make three-dimensional work in a wide range of materials, including – but not limited to - porcelain, felted wool, carved wood, copper, pipe cleaners, and porcupine quills.
An overriding passion for materials is found in all of the work, as well as suggestions of mysterious purpose or function, and a fascination with nature. Artists in the exhibition are: Betsy Brandt of Diamond Point, NY; Sharon Church of Philadelphia, PA; Ginger Ertz of Schenectady, NY; Rebecca Hutchinson of Rochester, MA; Terrence Lavin of Meriden, CT; Bruce Metcalf of Bala Cynwyd, PA; Stephanie Metz of San Jose, CA; Annabeth Rosen of Davis, CA; and Anat Shiftan of New Paltz, NY.
The exhibit opens March 25, 2011; Gallery talk 5 - 6, reception 6 - 7:30 PM.
Below, images of individual artists works.

---
Betsy Brandt
Akin, a specimen collection of sculptural forms made of decidedly unnatural materials, derives from an interest in growth patterns in the natural world. The intuitive, repetitive process of creating these forms is at once addictive and satisfying. The resulting forms are both beautiful and sinister.
Click here to link to Betsy Brandt's resume

Akin, Betsy Brandt, 2010, overall dimensions 36 x 54 x 3.5 inches. Artificial flower stamens, hot glue, pigment.
Sharon Church
I carve forms inspired by nature, forms that have evolved from seed and a division of cells; they burst with life. I use materials that once were alive and now dead: bone, horn and wood - they physically embody the life cycle. The twinkle of diamonds and glint of metal speak to the riddle of our existence. Through timeless images that are at once tender and powerful, I seek to embody a symbolic language of growth and decay, death and renewal.
I make adornment that girds the wearer, jewelry that embodies shimmering beauty along with its dark, damp and mysterious underpinnings.
Right: Persephone's Bouquet, Sharon Church, 2011, 6.5 x 3 x 2 inches. Carved and dyed boxwood, dyed Baroque pearls, oxidized sterling silver, diamonds.
Click here to link to Sharon Church's website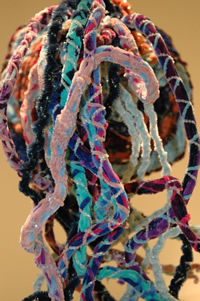 Ginger Ertz
My forms are abstract yet organic, pulled out of my subconscious. They recall simple life-forms like underwater creatures, fantastic plants, or imaginary animals, often incorporating radial symmetry into the composition, at times mingled with references to architectural elements. They are visual ideas brought to life, evolving as they grow in my hands. Creating these three-dimensional pieces feels like drawing in air with the (chenille) stems, in much the same intuitive way that I draw on paper.
(right) Discomedusa detail, Ginger Ertz, 2009, 36 x 14 x 20 inches. Chenille stems & plastic beads.
Click here to link to Ginger Ertz' website
Click here to link to Daily Gazette article on Ginger Ertz
Rebecca Hutchinson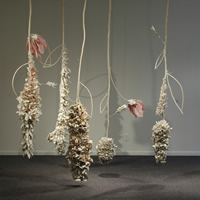 In nature there are diverse states of existence that I continue to study; the structure of nature...the resilience of nature, and the complexity and awe in the engineering of nature. ...
Click here to link to Rebecca Hutchinson's website
Image: Collective Bloom (installation views, Rebecca Hutchinson, 2011, 11 x 7 x 6 feet. Porcelain paperclay, handmade paper, organic materials.
Terrence Lavin
In the midst of a temporal and enigmatic utility, there exists an anomalous zone, a contextual space, in which form contradicts function, and necessity is not necessarily an essential component of invention. This is the space that intrigues me – where machines are no longer derivative to their function, and tools assume a life of their own. The means to articulation and purpose are no longer subservient to an identifiable end....
Right: Vector Tranquility, Terrence Lavin, 2006, 12 x 8 x 6 inches. Brass, bronze, orange calcite, 24k gold plate.
Click here to link to Terrence Lavin's website
Bruce Metcalf
Sexuality used to be decorated. Venus vulgaris, the Venus of earthly love, wore ornaments and luxurious fabrics. Even today, jewelry is caught up in sex. Both men and women wear jewelry to announce social status (and thus sexual desirability), to signal whether they are single or married (and thus sexual availability), or just to make themselves more attractive. But we prefer our references to sexuality to be distanced and coded. No sticky body fluids or musky odors, please. Jewelry is sex that has been sublimated, cleaned up, and made presentable.
Right: Flames and Kisses, (brooch), Bruce Metcalf, 2008, approx 5 x 3 inches. 18k yellow gold, pearls, copper, brass, birch plywood, painted maple.
Click here to link to Bruce Metcalf's website
Stephanie Metz
I create sculpture that invites a reconsideration of the relationship between humankind and the biological world. My soft and fuzzy felted wool creations provide a disarmingly approachable entry point for a dialog on the concept of domestication gone awry. My most recent series, Amorphozoa, are exercises in distilling the essence of a creature-- to functionally and aesthetically simplify living organisms to mere suggestions of parts. ... Mimicking the dichotomy of the concept of nature conceived in a lab they are cold yet warm, cuddly yet menacing.
Right: Amorphozoa #12, 2009, 7.5 x 12 x 6 inches. Felted wool, hair.
Click here to link to Stephanie Metz' website


Annabeth Rosen
There is a hierarchy in ceramics, embodied in its history: unfired vs. fired clay, unglazed vs. glazed ware. There is an order, structure, and organization, dictated by process inherent in the material. Part of my interest as been to tinker with this hierarchy and to question its process.
I break almost as much ceramics as I make, and I think I learn as much about the work in doing so ...Of all the remarkable things in ceramics, the explosion of a piece may be the most shocking. Exploded parts erupt, get turned upside down and back to front – everything is all mixed up, just barely resembling itself. This can be as exciting as it is disappointing. A broken shard can be a more potent idea of the object than the object itself, and a reminder of how elusive the chase is to find and identify elements that excite.
Right: Nella, Annabeth Rosen, 2011, 43 x 25 x 22 inches. Fired ceramic, baling wire, steel stand, casters.
Click here to link to Annabeth Rosen's website
Anat Shiftan
The work examines the painterly tradition of the still life. Included are...historic memory; cross-cultural influences; the content of form and color; issues of perception; and the relation of the invented image to reality.
Click here for more information about Anat Shiftan

Right: Still Life with White, Yellow, and Green, Anat Shiftan, 2009, 12 x 12 x 15 inches. Porcelain and stoneware.
---
Below, installation views of Mercurial Objects: Luxuriant Obsession in the Schick Art Gallery.
| | | |
| --- | --- | --- |
| | | |
| | | |