My service trip to Guatemala: What I loved and learned
April 4, 2018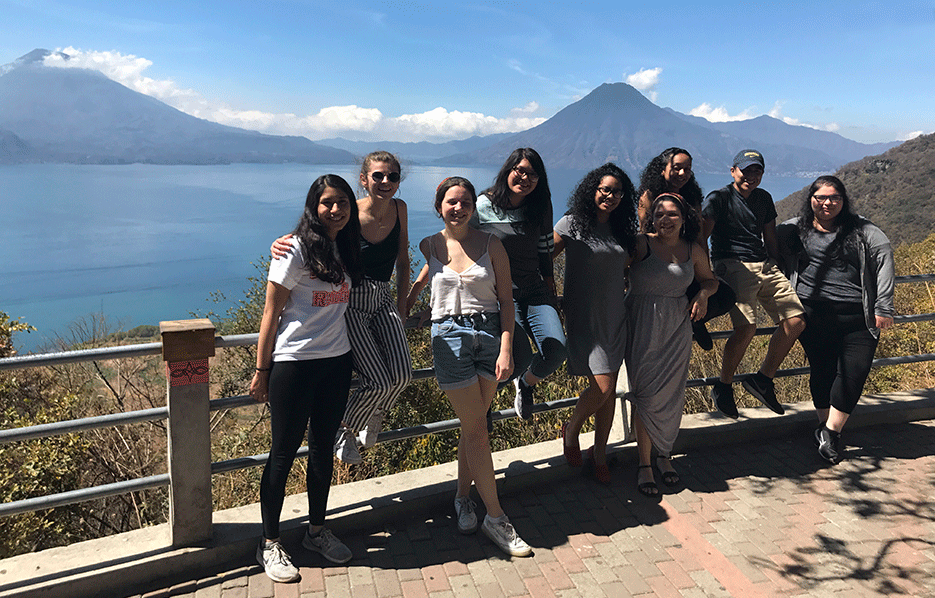 Since high school I've always wanted to study abroad, and the opportunity to do so was a major part of my college selection process. But when I decided to transfer schools, I had to put other priorities first. Primarily, I needed to focus on finding happiness at my new school, Skidmore College. I was willing to give up my international dreams … but then I learned about Skidmore's alternative spring break.
Alternative spring break
Alternative spring break is an exciting opportunity for students interested in dedicating their spring break to something productive and energizing instead of sitting at home or on a beach (which are great options too!). You can apply to the program at the end of the fall semester, and if admitted, you are required to register for a 1-credit course.
I chose Skidmore's trip to Guatemala to participate in service work and a cross-cultural exchange, and I enrolled in the required Latin American and Latinx studies class to prepare me for the trip. Little did I know that it would end up being one of my favorite aspects of the experience.
Preparing for the journey
The course, "Colloquium in Latin American and Latinx Studies," prepared us for some of the phenomena that we would experience in Guatemala. We learned about Guatemala's tumultuous and at times violent history and how it has had a lasting impact on the people there today.
We also learned about Rigoberta Menchú, a revolutionary indigenous leader who gave the underrepresented indigenous people a voice in Guatemalan history. We learned about "voluntourism" and neoliberal professionalism, and had important conversations about how to be effective volunteers and leaders in Guatemala.
While I felt prepared heading into this journey, I never could have expected the life-changing impact that it would actually have on me.
'Planting Seeds' in Guatemala
Upon arriving in Guatemala, we were welcomed by our partners from Planting Seeds, a nonprofit organization doing radical, revolutionary work for people of all ages in Guatemala.
Planting Seeds has started preschool programs in San Lucas and is partnering with people living in Zone 3 (an underserved area of Guatemala City) to develop community leadership programs and provide afterschool programming to children and teenagers.
During the week, we saw the ins and outs of the service work that Planting Seeds does on a daily basis as they invited us to work side-by-side with them volunteering at the San Lucas preschool, teaching English classes in Zone 3 and attending one of their leadership workshops.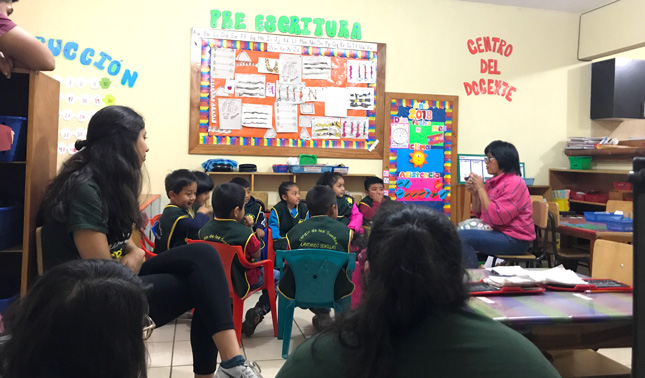 Children listen to a lesson in the San Lucas preschool we volunteered in
Connecting people to people to learn from each other
While in Zone 3, we also participated in a "cross-cultural exchange"—intimate, one-on-one conversations between Skidmore students and community leaders. The goal was to gain a better understanding of their challenges and successes.
For example, one man graciously hosted us in his home and shared a bit of his story. He said, "I don't feel angry about being born in Zone 3, because I know I was born to be a community leader here." The grace and humility with which he spoke and the responsibility he felt for his community absolutely stunned me.
In America a great deal of emphasis is placed on improving social class and climbing the economic ladder. But those living in Guatemala City's Zone 3 were more concerned with bettering their own community than they were with trying to escape it. They saw group progress instead of individual successes and believe that individual improvement comes alongside community improvement. They recognized that through the improvement and dissemination of community resources and services, all individuals could be lifted.

The leadership, social justice–oriented methodological frameworks and compassion that I saw at Planting Seeds and the communities that they serve were astounding. It was an eye-opening, life-changing experience that shed light on the potential for social justice and leadership in underserved communities.


A panoramic view over Lake Atitlan in Guatemala
A different view of home
During our week, we also traveled throughout Guatemala. We stayed in Antigua, traveling daily to places like San Lucas, Guatemala City and Lake Atitlan. Along the way we spoke intimately with the people who live there.
This pairing of travel, volunteering and thoughtful conversations made it a more holistic experience. Home means something different to all of us. It was a special to hear their voices while exploring the beautiful country they call home.

My week in Guatemala was a fantastic way to spend my spring break. The lessons I learned—of compassion and community empowerment—will be with me for the rest of my life.
Photos provided by the author, Marley Amico '19