My Life at Skidmore: Harry Mooney
October 16, 2018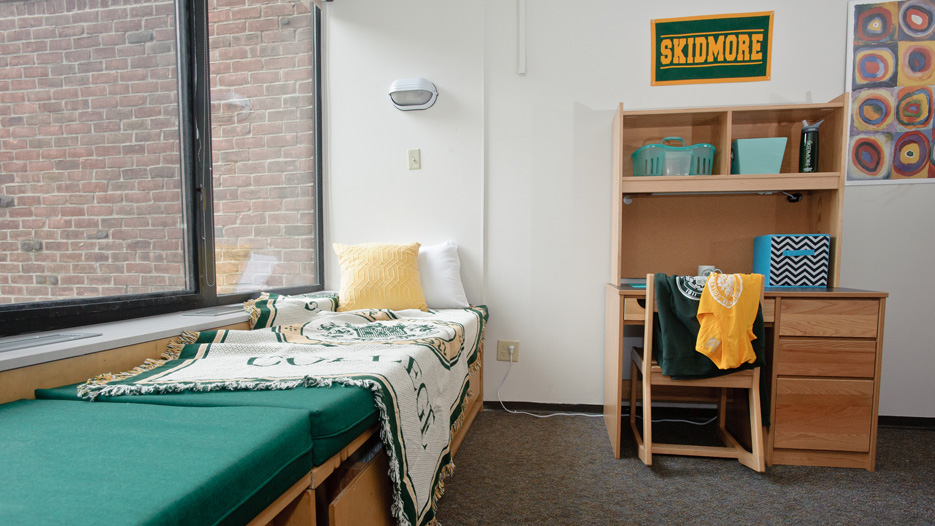 Hi! My name is Harry.

I take philosophy and history courses during the week and climb rocks and hike on the weekends. I have come to Skidmore from the great state of Maine. Needless to say, the ski season at both of my homes is very long …
Having just begun my second year at Skidmore, I find myself reflecting on how radically I, and my life, have changed.
My journey so far has been filled with new and unfamiliar moments. In fact, right after graduating from high school, my whole family moved from where I grew up in New Jersey to where we live now in Maine.
That meant coming to college from a place that didn't really feel like home, far from the familiarity and stability of my closest mentors and friends. But, this ended up creating the perfect mindset because college became an opportunity to rethink, even rebuild my identity.
Coming to Skidmore, I wanted to be open to leaving behind every part of myself that I did not need. I wanted to find the best version of myself. I wanted to embrace unfamiliarity. But along with my excitement for self-reinvention came anxiety-provoking questions.
What will my friends be like? Am I ready for the rigor of college courses? What will my major be? What kind of person will I be when I graduate from here? What if I change too much?
Once you are spiraling in a rabbit hole of insecurity, the questions are inexhaustible. But they did not linger long past the thump of my duffels on the carpet of my first-floor room in Penfield dorm.
Immediately thrown into the fray, I quickly realized that Skidmore was going to make those difficult questions, and the anxiety they caused, feel both normal and unnecessary.
It was comforting to discover that I wasn't alone in my nervousness, and that I had plenty of time to think about my identity and future.
Entering college was certainly a huge environmental and personal change for me. But Skidmore was a blank canvas, primed for whatever I wanted to make of it. And although I had to figure out for myself what kind of experience I wanted to create, the multitude of activities, courses, clubs, events, and different kinds of people provided an enormous array of possible paths.
Skidmore has allowed me to reinvent myself on my own terms, for my own personal wellbeing. In just one year, I've already rediscovered and redefined who I am ... and I've only just begun.