Advice I wish I heard before college
February 6, 2019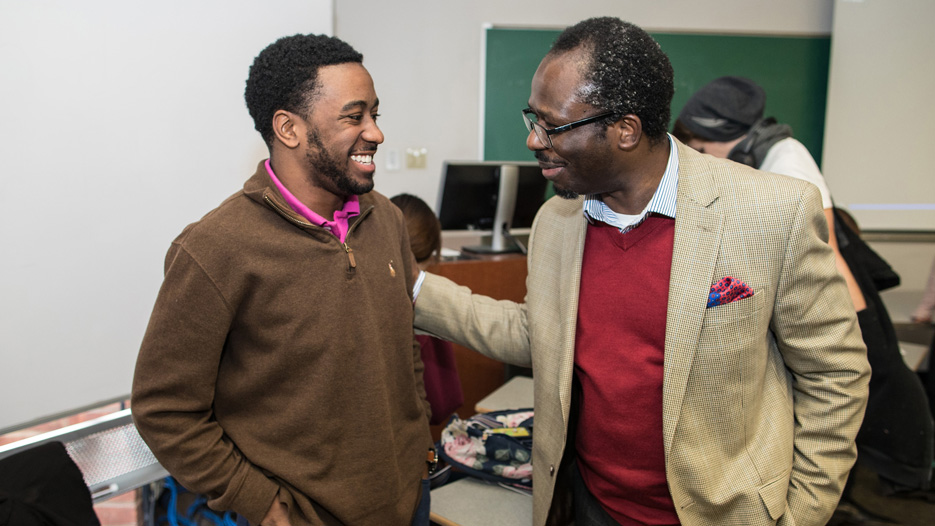 I'm Terence Durrant II. I'm a Skidmore senior from Windsor, Connecticut, and I came here because I wanted to study arts administration.
Four years later, I've discovered chess club, the Bandersnatchers (an acapella group), Skidmore Chorus, Vocal Chamber Ensemble, Skidmore's admissions ambassador program, and an entire liberal arts curriculum. Each new discovery presented a chance for a new perspective and an evolving vision for myself.
I'll graduate as an economics and management business double major with a minor in arts administration. I already have my first job lined up as a consultant for a national insurance company.
But those are just bullet points. There's a lot more to me and my journey here.
With the end of my time here in sight, I'm looking back and sharing three pieces of advice I wish I had as a high school senior.
Dear high school senior,
1. The "feeling" may surprise you
People will tell you that you will know which college is right for you. You will get the proverbial "feeling."
I always thought that was a cheesy thing that only emotional people said.
They were right. I did get that feeling. But the first time, it wasn't at Skidmore: I was dead set on going to a different school.
But when the acceptances came in, I had to take a closer look — at aid, learning opportunities, course work, campus life and more.
Many pro-con lists later, I had a conflict of head and heart. Skidmore was winning.
Obviously, I'm here four years later and I feel happy every single day with my choice.
My advice
Hang in there. You will get the "feeling." But it may happen more than once, later, or over-and-over again somewhere you didn't expect. Set yourself up by doing your research and giving yourself options, because your final decision may surprise you.


The Bandersnatchers are one of the reasons I feel happy every day here. Here we are performing on "The Dr. Phil Show" last year.
2. Don't lose track of time
I was a little caught off guard by college-level academics. I'd always been prepared for the idea that college was the next step after high school. But that's what I thought it was, a next step.
It never registered that it might be more than a single step.
I came in thinking that I could go about my regular high school routines to achieve success in college as well, and I was very wrong!
Your college studies are more challenging than high school. But it's not only that. It's also the fact that while you're getting used to more challenging subjects and assignments, you're also getting used to completely unstructured time.
For some it was easy, but for me, I struggled. Between morning options, evening options, focusing on one day of the week and knowing when to study, when to eat, what my best times to work were — it took a lot of experimentation.
My advice
Unstructured free time at college is a beautiful thing. It can also be a huge challenge to get used to. You'll need to be both kind to yourself that you aren't going to be perfect, but also a little tough on yourself because this is a major part of your success and you'll be better off if you take it seriously.
3. You will fit in
I've been in private school since first grade. I went to an all-male boarding school for high school. With these experiences, I thought going away to college would be seamless. I'm used to being away from home. I'm even used to rooming with people. College adjustment was going to be really easy.
Well, it was in some instances. In others, not so much.
When I first arrived, the biggest thing on my mind had nothing to do with academics. I felt entirely unprepared to tackle a huge thing — who would I hang out with?
Now I wish I could offer some story about how I found my friends, but I can't. The truth is, I don't remember! I started with people I met in my Scribner Seminar. They lived close by and we all felt the same urgency to connect with people. But after that, it's a blur.
My advice
Fear not, the message here is that it will be seamless, natural, instantaneous. You'll meet people in your residence hall. You'll meet people in classes. You'll meet people where you work, where you study, where your clubs meet. You'll meet people you never expected, some of my closest friends are international students.
And even more important is that my friends have changed. Growth here is almost exponential in both knowledge and personal development. No matter what, you will not be alone.