Friendship is a universal feeling
March 15, 2019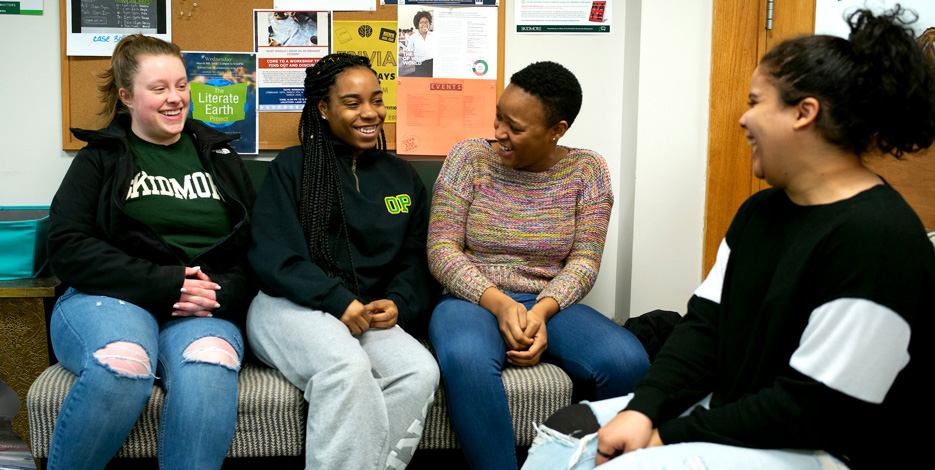 No matter where you come from, going off to college is a big deal. For me, it was an entire other world.
Traveling thousands of miles away, across an ocean to a different continent — from Johannesburg, South Africa to Saratoga Springs — I was worried I might have little in common with people at Skidmore. I was wrong ... in many ways.
Starting fresh
I arrived at Skidmore afraid. I was afraid I would stand out. I was afraid someone might make fun of the way I talked. I was afraid someone might say something insensitive about where I am from. I was afraid I might not belong. But I knew, as someone who values friendship and connection, I had to push through my fears.
It wasn't magic. It didn't just start raining friends. Actually, it was quite the opposite.
At first, I thought I had to play a role. I had to be a certain "type" of person — one that people "wanted" to be friends with. I found that, while my behavior attracted friends, I didn't feel a close connection to them. Thus, they were relationships that were hot and then quickly cold. Far from deep or meaningful.
After a few honest conversations with these friends, I realized what had happened.
By presenting a false version of myself, I had set our friendships up for failure. How could I expect authenticity from them, if I had offered a fabricated version of myself in return? I had created this situation, but it also meant I could start over.
Starting over
Now, when people asked, "How are you today?" I didn't just say the easy thing, "Great!" I said the honest thing, "I've seen better days, but I am grateful for life!"
I was still silly and fun, because part of me is. But I was also sincere and sentimental. Open and honest.
What I found is that when I first shared my authentic self, people reciprocated. And this is how real, lasting friendships are built.
Beautiful friendships
If I could float over Skidmore and look down at my life here from 30,000 feet, I'd see amazing people from all over the world. So many of them I can call friends, family even — brothers and sisters — because they appreciate and celebrate who I am fully.
When I owned my heritage, I gained friends that wanted to learn about it. They love my home language, isiZulu, and my home nickname, Mphile.
When I stepped into being new to this world, I gained friends who were, too. Some of my closest bonds are with friends from Africa. It's a big continent and some of our lives are vastly different, but our shared experiences are priceless — from catching up on the latest celebrity gossip to laughing about family dynamics in our home countries.
When I accepted others, they accepted me. Now, I have friends from Ecuador, Morocco, Connecticut, California and everywhere in between. Sharing our languages, cultures and perspectives has been one of the most impactful experiences of my life.
Friendship is universal, no matter where you're from
Whether someone is from down the street or another hemisphere, deep down we all came here on day one with the same gut-knotting, shoulder-tensing vulnerability that makes us wonder, "Will I find friends?"
Spoiler: We all find our friends.
If you'll be coming to Skidmore from another hemisphere or another state, know that it is OK to be afraid.
We all want to find people who can value and accept us for who we are. As long as you stay authentic and open, you will find amazing people looking to connect.
You might not meet your best friend in the first week of college, but I promise it is possible to find genuine people who you'll love.
And before you know it, you will be a senior with an amazing support system writing about all the great friends you thought you might never make.