My Life at Skidmore: A bicycle journey
July 11, 2019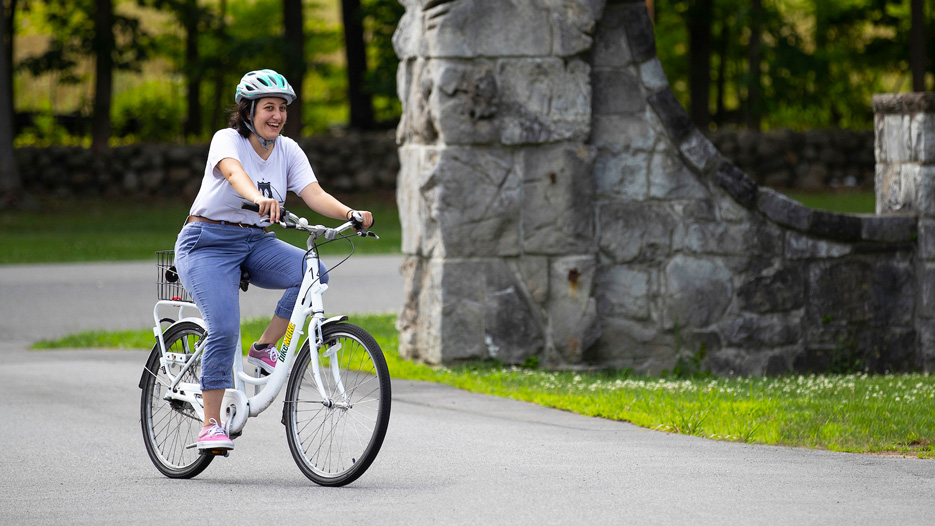 I was somewhat terrified the first time I officially rode a bike. Despite being surrounded by green trees on a beautiful summer day, I was sick with anticipation.
That's because I grew up in Damascus, the capital of Syria and a lively, historical and over-populated city. There, narrow streets and crowds add up to a less than advisable and relatively dangerous situation for bicyclists. Therefore, I never learned to ride.
Flash-forward a decade and I'm here at Skidmore, where riding a bicycle is a way of life for many.
Friends persistently encouraged me to join them on rides around campus. I refused, of course. How could I, a near-adult, tackle the many upward and downward slopes at the College and in Saratoga Springs?
My answer came in the support — and literal hand-holding — of my first-year roommate.
It was time to face my fears of this fast-moving, open-air, entirely precarious bipedal vehicle.
Since a non-bike rider clearly doesn't own a bike, I had the unique experience of also signing up for Bikemore, Skidmore's free bikeshare program that is open and accessible to all Skidmore students.
I spent my entire first day with my bike just learning how to get on it. Just balancing the bike seemed impossible at first. I couldn't even ride by myself, so my friend spent hours running alongside to catch me if, and when, I fell. But after a week or so, I finally got the hang of it. Or at least I thought.
Two weeks in, I wanted to feed my adventurous side and bike downtown. One minute I was passing by Skidmore's beautiful front entrance, enjoying the views of historic Victorian buildings on North Broadway and the feeling of sweet summer wind in my hair. The next minute my anxiety spiked, I forgot how to use my brakes and I completely lost control ... and crashed.
(Transparency note: The Bikemore team had fully equipped me with tips and training and was not responsible for my sudden lack of bike-riding abilities.)
Rattled nerves, a damaged ego and a few scrapes later, I was OK, but the fear was back. I was never biking again.
However, as time passed and my bruises healed, I genuinely missed biking and feeling the Saratoga breeze. Soon, my accidental run-in with gravity took a more positive tone. After all, falling (or failing) is always part of the process, as long as you get back up.
What's the metaphor here?
College is going to have slopes and hills — quite literally at Skidmore, where the campus is winding and beautiful, but also figuratively, as everyone will have highs and lows on their journeys.
My experience hasn't been a flat path, but I learned that with support from all sides, anything can be a learning opportunity ... even falling off your bike.
Today, I bike everywhere I can. And I do it with confidence — thanks, in part, to wearing a helmet and always remembering to use my brakes.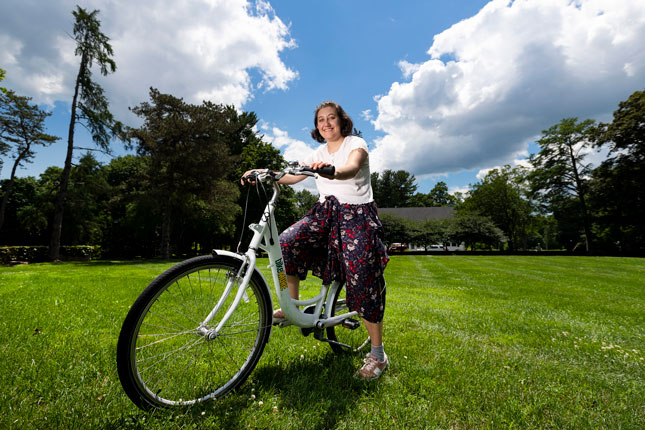 Visit the Office of Sustainability for more information about Bikemore.