Why I applied Early Decision: Clare Driscoll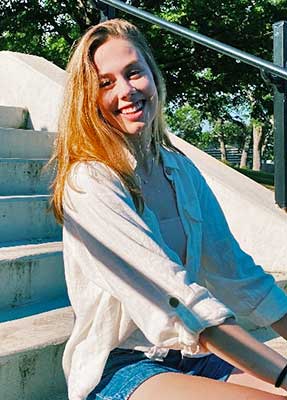 Hometown: Bedford, NH
High School: Bedford High School
Major: Sociology major, Education minor
Activities: Women's Basketball Team
Why did you apply Early Decision (ED)?
I applied Early Decision because I absolutely fell in love with the campus as well as with Saratoga Springs. After visiting the campus, it took me only a day to decide that I wanted to be a Thoroughbred. I also felt Skidmore was a good fit for me since I wasn't clear on what I wanted to major in and I knew the College would offer a broad menu with all its major options and resources.
Best part of college so far?
Being a part of the women's basketball team gives me another purpose as well as instant friendships, which has been really comforting to me, especially in year one. It is a great escape from schoolwork and the other added stresses of college. However, even if you are not a part of an athletic team, Skidmore offers so many clubs where you can find instant friends and escape from your schoolwork!
Biggest surprise of college?
The biggest surprise of college for me was how easy it was to find my group of friends. Before I came to Skidmore, I was scared that I would be alone for weeks and not be able to make friends, but just know that everyone is in the same boat and you are not alone!
Advice on applying to Skidmore ED?
My advice is to try your best to go on a tour of the College and especially to go to downtown Saratoga! Try to picture yourself here and trust yourself with how you feel about it. When it is the right place, you will know!
Something most people don't know about me:
I have been competitive horseback rider in the summers for about six years. I compete in the jumpers category across New England and I absolutely love it. I think my love for horses was also a reason why I chose Skidmore.
Post-Skidmore plans/dreams:
Just as I did not know what I wanted to major in, I am not sure what I want to do with my future. I am looking into several different career paths including becoming an academic athletic counselor.