Eight entrepreneurs jump into Skidmore's "Shark Tank"
Skidmore College is often recognized as one of the top schools for entrepreneurs. One of the reasons that reputation has grown over the past decade is the annual Freirich Entrepreneurship Competition.
The experience begins each September with a call for entries and a series of workshops to help students prepare for semifinal presentations in February. Over 60% of students who enter the competition come from majors other than business.
Hundreds of students then compete through multiple rounds of pitching their dream business plans to a panel of judges. If they make it through to the end, they are rewarded with cash prizes ranging from $5,000 to $20,000 and in-kind services.
In addition to providing winning teams with prizes, the competition provides student entrepreneurs the opportunity to develop and improve their business ideas through workshops, coaching, peer and alumni mentorships, feedback and practice sessions.
The competition is named after Ken Freirich '90, who established the annual contest at Skidmore.
2021 Competition finalists
Uman 4 Uman
Haja Bah '21
Uman4Uman is a social enterprise that focuses on strategically addressing the issue of period poverty and education among young girls and women in Sierra Leone by providing them with reusable, sustainable, healthy and affordable sanitary pads. The Social Entrepreneurship award winner in the 2020 competition, Uman4Uman's education and access to affordable sanitary pads prevents Sierra Leone girls from missing school, so that they have an opportunity for independence and competitive participation in the job market.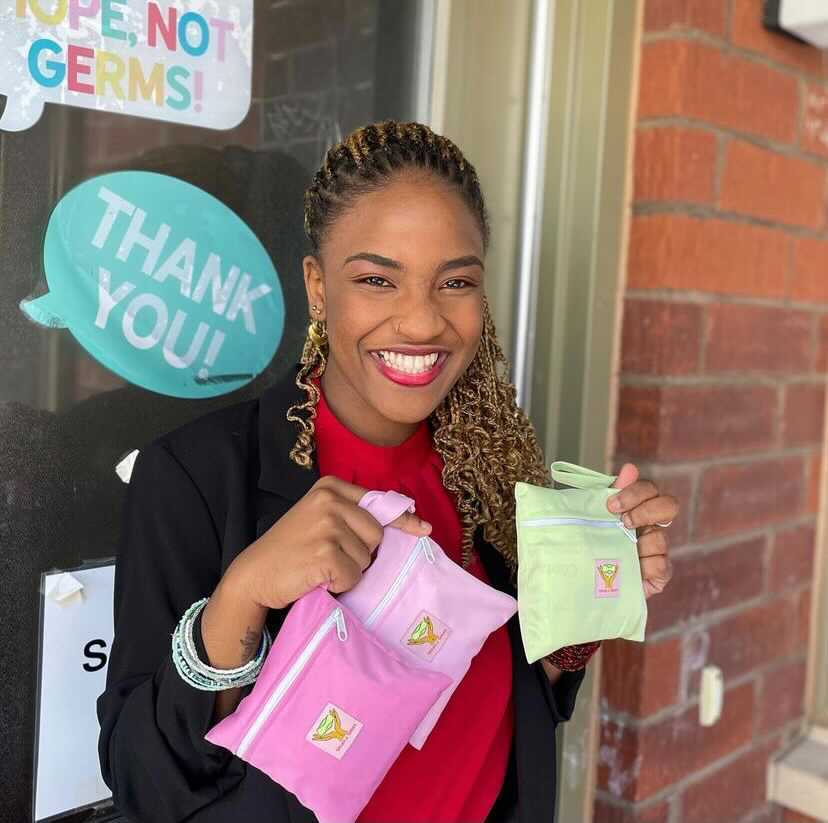 Haja Bah '21 shows off Uman 4 Uman's reusable, sustainable, healthy and affordable sanitary pads. Image courtesy of Uman 4 Uman.
BARE
Dior Fall '22
BARE provides fast-drying, Halal-certified and breathable high-quality gel polish to consumers. Combining the potential of the nail polish and Halal cosmetics market, this company aspires for a unique leadership position in a highly competitive marketplace.
CaraCara Custards
Maddy Colantonio '21
CaraCara Custards is a small-batch, gourmet frozen custard company that provides a getaway in every scoop. Each pint is infused with spices and herbs with origins from around the world, sourced locally from farms and bakeries in the Hudson Valley. CaraCara Custards seeks to redefine premium for the category using whole, plant-based ingredients, avoiding artificial flavors, sweeteners and preservations, and pursuing sustainable and ethical production and packaging methods.
VoyceMe
Dylan Telano '23
VoyceMe is the first and fastest-growing interactive reading and writing platform. The platform makes it easy for authors of all levels to post their stories and engage with their audience while helping readers find and interact with every story. Independent writers are recognized for their work supporting content, facilitating community and driving commerce.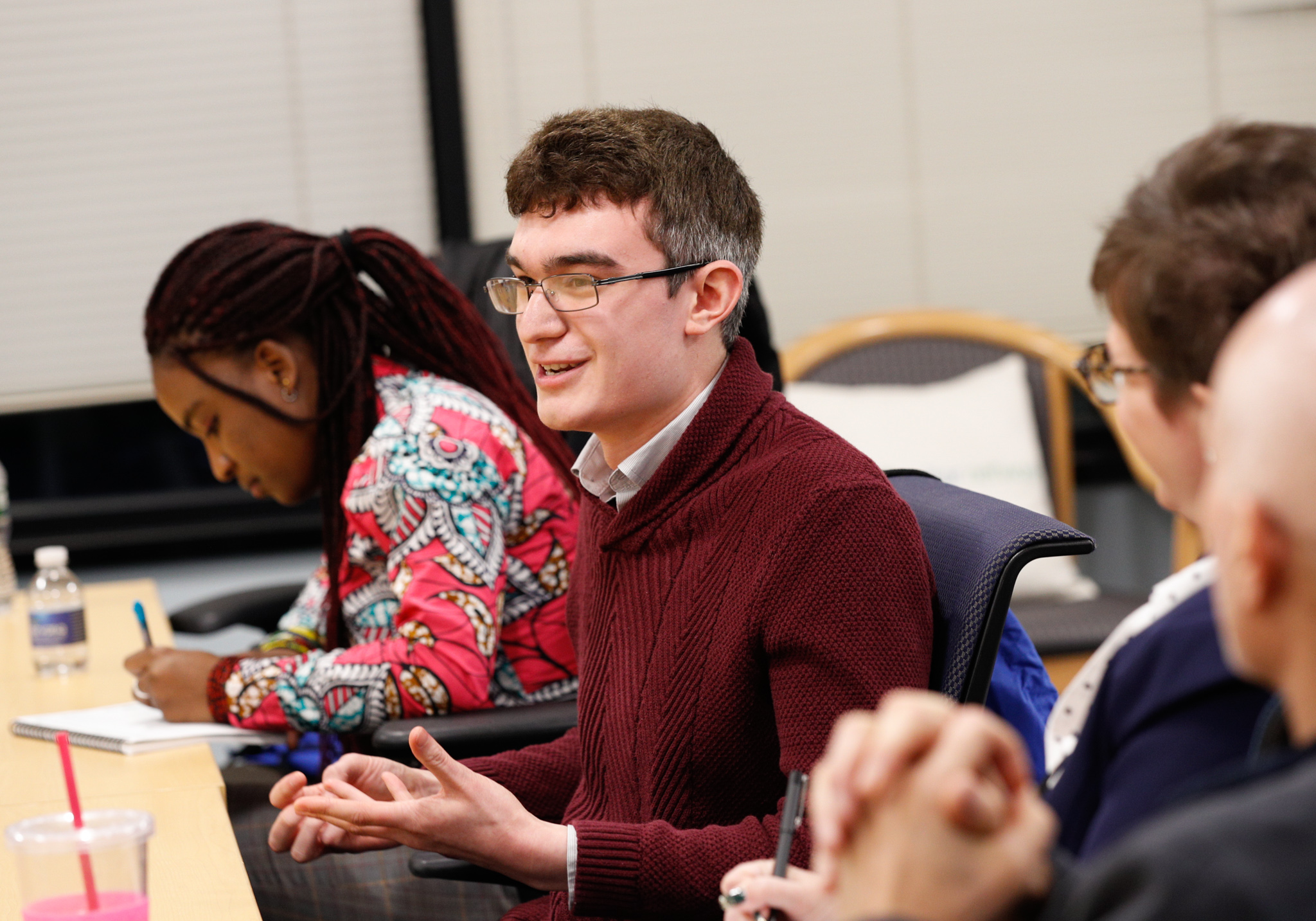 Dylan Telano '23, a repeat contender, presents his plan for VoyceMe in early 2020. He and the other 2021 finalists are presenting virtually this year.
FAME
Hana Sadoff '22, Cecily Szady '22
FAME — Financial Aid Made Easy — is a simple, step-by-step solution for filling out the complicated Free Application for Federal Student Aid (FAFSA), the No. 1 form for securing college loans. This allows families to reduce the financial burden of paying someone else to fill out applications and provides students with the knowledge to complete the FAFSA on their own.
HidroVerde
Arlene Silva '21
HidroVerde is a for-profit, Cape Verde-based company dedicated to implementing innovative and sustainable agricultural solutions to the drought-related challenges long faced by the archipelago of Cape Verde. The company specializes in a hydroponic technique involving the production of pasture for cattle and other agricultural products without the use of soils and providing the seeds and the roots of plants a balanced solution of water and nutrients.
NOVIÉ
Novilhelha Moleni '22
NOVIÉ is a beauty brand that focuses on utilizing African herbs and organic oils to make its products while empowering African women. Winning third place in the 2020 competition, the next phase of growth involves meeting the growing demand for one of Novié's raw ingredients, Shea, and the continued development of its brand products.
SeSa Solutions: BeTech
Mamadou Saliou Sarr '22
SeSa Solutions: BeTech aims to provide individual and institutional farmers in the Senegalese animal husbandry industry with cloud-based tools to improve logistical efficiency. The company's research and development of the safest, most secure GPS tracking device will allow farmers to see where livestock is at any time and facilitate the collection of a massive amount of data on livestock. The goal is to address the issue of livestock theft — a major constraint to Senegalese industry growth that also threatens the country's food security and economic participation.

Over the past decade, more than 350 students representing 225 for-profit and not-for-profit enterprises have participated in the program. More than 125 alumni have also been involved in the competition as mentors and judges, fostering a unique relationship between Skidmore students and their mentors, and supporting the launch of the next generation of entrepreneurial businesses.
To learn more, visit the Freirich Entrepreneurship Competition's website.