Q&A with Erin Hearne '21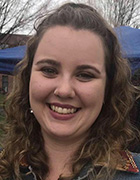 Hometown: Singapore
High school: Singapore American School
Major: Education major and Sociology minor
Activities at Skidmore so far: Vice President of the Big Brothers, Big Sisters club, Skidmore Ambassador/tour guide, Greenberg
Childcare Center
Why did you apply Early Decision?
I took a tour of Skidmore the summer before my junior year of high school, and I fell in love with the campus and the community. I also loved the fact that I didn't have to choose between a liberal arts education and a pre-professional track. I visited the College's Education Department after my campus tour and chatted with the department head while getting to pet her dog. That was really nice. I knew Skidmore was the place I wanted to spend my college years.
Best part of college so far?
Definitely the amazing people at Skidmore. It is very much a community that wants to learn and grow together. People are friendly, open, kind and honestly care about you as a person and how you are doing. I have met some of my best friends here, people I truly love and depend on.
Biggest surprise about college?
How much Skidmore has started to feel like my home. Growing up abroad I never really felt as if I had a place that I truly belonged where I could be myself, but I found that pretty quickly here. I expected to learn a lot academically at college but I didn't expect to learn so much about what it means to feel like you have a home.
Advice on applying Early Decision?
I think Early Decision is a great opportunity if you are very sure about a college, like I was about Skidmore. I applied ED Round 1 in November, so Skidmore was pretty much my only focus in the application process at that point. I knew that I had made the right choice when I found myself taking the virtual tour of campus a couple times a week while I waiting to hear if I had been accepted. If you do decide to apply ED, especially ED Round 1 it is important to get your application organized early. I worked on mine the summer before my senior year, because I knew senior year was going to be hectic.
Something most people don't know about you?
I am terrified of the movie Monsters, Inc. and to this day I still refuse to watch it.
Post-Skidmore plans or dreams?
I hope to go into elementary teaching with the certification that I receive from Skidmore and maybe go on to get my master's in education.