Q&A with Jacques Klapisch '21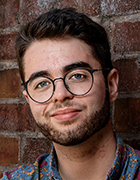 Hometown: Newton, Mass.
High school: Newton North High School
Major: History
Activities at Skidmore: I am the treasurer of Lively Lucy's, an entertainment-focused group that brings live music and events to campus every Thursday night.
Why did you apply ED?
I first visited Skidmore in the summer of 2016 and was instantly enamored with the College. As someone who was stressed out by the college application process like we all are, it was daunting task. After visiting several other smaller liberal arts colleges, Skidmore stood out in so many ways. The atmosphere, the strong campus community, the proximity to nature, the program variety — all of it spoke to me in ways that other colleges didn't. Halfway through my tour, I knew where I belonged.
Best part of college so far?
The best part of college so far has been meeting some fantastic people, and taking classes that I am truly passionate about. Seeing and experiencing how Skidmore truly fosters a positive social and academic environment has been my favorite part of my experience here.
Biggest surprise of college?
It's not as bad as you think. While this may sound like a loaded answer, the work is manageable if you plan your time effectively. Yes, there will be times where you might be up later than you would like and frantically studying in the precious few minutes before a quiz. But those moments are few and far between. The popular perception of college is that everyone is constantly up all night with mountains of work, but Skidmore has done an excellent job providing students with effective resources. College is difficult, but it surprised me that I've rarely felt exceedingly overwhelmed.
Advice on applying ED?
Only apply early decision if your heart is absolutely in it. As a tour guide, a point I emphasize to all my groups is that college is far more than classes. It is a social, political and academic world that is so much more encompassing than college reviews can ever provide. While some may think that applying early decision is a good way to "gain an edge over the competition," applying early decision only based on academic standing is missing half the picture and could leave you feeling trapped with your binding decision.
Something most people don't know about me?
I spent two weeks touring the Panamanian rainforests when I was eight.
Post-Skidmore plans/dreams:
I plan to go onto grad school and hopefully a PhD program in history or political science. Ultimately, I would like to use that degree to teach at a college or university.