2015 Commencement Speakers
Two distinguished guests will participate in Commencement 2015: Sallie W. (Penny) Chisholm '69, the Lee and Geraldine Martin Professor of Environmental Studies at MIT, and Julian Bond, a longtime activist in the civil rights, economic justice, and peace movements who is on the faculty of American University.
Both will address the approximately 640 members of the Class of 2015 at Skidmore's 104th Commencement on May 16, and each will receive an honorary degree at the ceremony, which starts at 10:40 a.m. at the Saratoga Performing Arts Center.
Chisholm, who is also an MIT professor of biology, majored in biology at Skidmore, but was not planning to pursue a career in the field until her academic advisor encouraged her to apply to graduate school and earn a Ph.D. degree. Her decision to follow that advice would be life-changing for her and game-changing for the scientific world. A pre-eminent biological oceanographer, she has long studied the dominant photosynthetic organisms in the sea. Her findings have revolutionized scientists' understanding of life in the world's oceans. Those studies have taken her to MIT and to the White House, where she was presented with a National Medal of Science by President Barack Obama in 2013.
''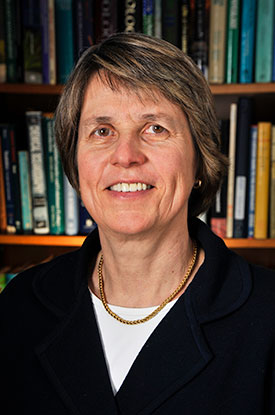 Sallie W. (Penny) Chisholm '69
She has said that Skidmore was where she discovered a passion for science. After earning a Ph.D. in biology at the University at Albany, State University of New York, she pursued postdoctoral research at Scripps Institution of Oceanography. She joined MIT's Department of Civil and Environmental Engineering in 1976 and in 1978 began to also work at the Woods Hole Oceanographic Institute as a visiting scientist.
In 1988, while serving as the MIT director of the MIT/Woods Hole Joint Program in Oceanography, she and a team of scientists discovered Prochlorococcus, the world's smallest, yet most abundant photosynthetic organism. In the years since, she has studied these tiny bacteria on every possible level. They play a critical role in keeping ocean ecosystems healthy and the earth habitable. They exist in astonishing numbers and serve as the base of the ocean food chain. Through photosynthesis they produce as much as 20 percent of the oxygen replenishing the atmosphere each year.
Although much of her work is shared with the academic and scientific communities through her teaching and research, Chisholm also shares her passion for science and knowledge of the earth's ecology with younger students. She is a collaborator (with illustrator/author Molly Bang) on three children's books. The first, Living Sunlight: How Plans Bring the Earth to Life (Scholastic, 2009), was named the 2010 Best Children's Science Picture Book by the American Association for the Advancement of Science.

Chisholm's honors are numerous. She is the recipient of a fellowship from the Guggenheim Foundation, the Alexander Agassiz Medal for original contribution in the science of oceanography, the Huntsman Award for Excellence in Marine Science, and the Rosenstiel Award in Oceanographic Research. She is a member of the National Academy of Sciences and the American Academy of Arts and Sciences.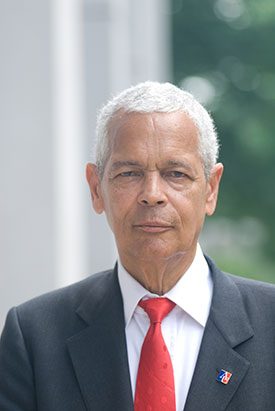 Julian Bond (Courtesy of American University, by Jeff
Watts)

Teacher, author, and activist Julian Bond has been a civil rights leader for more than 50 years, involved in such issues as voting rights and engaged with groups such as the Student Non-Violent Coordinating Committee and the National Association for the Advancement of Colored People.
Born in 1940 in Nashville, Tenn., Bond enrolled in Morehouse College in 1957. There his interests included varsity swimming, an internship at Time magazine and the campus literary magazine, The Pegasus, which he helped to found. He also founded the Committee on Appeal for Human Rights, the Atlanta University Center student civil rights organization that directed three years of nonviolent anti-segregation protests that won integration of the city's movie theaters, lunch counters, and parks.

On Easter weekend 1960, Bond and several hundred students from across the South founded the Student Non-Violent Coordinating Committee (SNCC) and he became its communications director. Bond left Morehouse one semester prior to graduation to join the staff of a new protest newspaper, The Atlanta Inquirer, which he later served as managing editor. He returned to Morehouse in 1971 to complete his degree, a B.A. in English.
In 1965 Bond started his career in politics with election to a one-year term in the Georgia House of Representatives. He won two subsequent elections over the next year but was barred by the Georgia House from being seated because of his outspoken opposition to the Vietnam War. A 1966 unanimous ruling by the U.S. Supreme Court found that the Georgia House had violated Bond's civil rights by refusing him the seat to which he was elected. Bond eventually served four terms in Georgia's House and six in its Senate. During this time he sponsored or cosponsored more than 60 bills that became law.
Bond served as president of the Atlanta branch of the NAACP for 11 years, and from 1998 to 2010 chaired the NAACP national board. He was the first president of the Southern Poverty Law Center and has been an advisory board member with other organizations including the American Civil Liberties Union, the National Federation for Neighborhood Diversity, the Harvard Business School Initiative on Social Enterprise, and the Nicaragua/Honduras Education Project.
He hosted America's Black Forum, the oldest black-owned show in TV syndication, and has narrated numerous documentaries, including the acclaimed PBS series Eyes on the Prize. He has written a nationally syndicated newspaper column titled "Viewpoint," and is the author of A Time to Speak, a Time to Heal, a collection of essays. His poems and articles also have been published in The Nation, Life, and The New York Times.
Bond's recognitions are numerous and include the 2002 National Freedom Award and being named a "Living Legend" in 2008 by the Library of Congress. He holds 25 honorary degrees and currently teaches in American University's Department of Government.
Bond has recently been speaking about the Oscar-nominated movie Selma, which depicts the struggle for voting rights and has been criticized for its depiction of the role of President Lyndon B. Johnson. In a recent interview (KVUE, Feb. 8, 2015), Bond asserted, "LBJ is treated as an enemy of the Civil Rights movement, and LBJ was the best Civil Rights president America has ever had." Bond also believes the film is unfair in its characterization of student organizers. Nevertheless, "With those exceptions it's a movie that every American should see," he said.