Co-Creation Initiative Participants
Black Dimensions in Art (BDA) || Eunice Ferreira (Theater)
Black Dimensions in Art - the longest running black arts organizations in NYS (outside of NYC) has partnered with Prof. Eunice Ferreira's course, Theater: Social Justice & Change, and is planning a series of interactions with the class ranging from visits with the founding members to interviews of local artists to student performances. These moments will be captured on film for potential inclusion in a feature-length documentary film BDA is working on about their history, local artists and current activities.
C.R.E.A.T.E || June Paul (Social Work)
Local arts organization C.R.E.A.T.E is hosting a series of storytelling events at the historic Frederick Allen Elks Lodge talking about The Legacy of Urban Renewal in Saratoga Springs.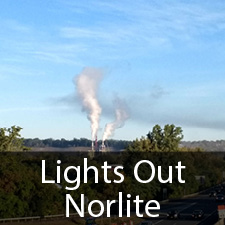 Lights Out Norlite || ESS Capstone Course
Environmental Studies & Sciences seniors enrolled in the year-long capstone course will be working closely with the community group Lights Out Norlite to collect scientific data to help in their case to shut down the Norlite waste incineration plant that has been a frequent violator of environmental regulations and is polluting the local region and risking the health of nearby residents. Along with the collection of waste particulate, students may also help support the production of a documentary film about the issue.
Ndakinna || Siobhan Hart (Anthropology)
Ndakinna is a local Abenaki community group and education center. Members of this group have partnered with Prof. Siobhan Hart's Archeological Research Lab course to share site-specific stories at sacred locations located within the Northwoods. These storytelling events and moments of interaction with the class along with other cultural events will be captured on film to add to the Ndakinna archive.
Troy 4 Black Lives (T4BL)
Troy 4 Black Lives is an intergenerational collective of volunteer organizers from Troy, NY who have been working for years to challenge the violence, brutality, and lethal force of the Troy Police Department and local officials against ALL Black Diasporic lives. The group is working on a podcast to capture their efforts behind the historic event, Troy Rally for Black Lives on June 7th, 2020, that brought 11,000 people together peacefully in Troy to celebrate and affirm Black life.